Cooler Master Cosmos SE Full Tower Case Review
By
Cooler Master Cosmos SE Final Thoughts and Conclusion
The Cosmos SE is another case in the Cosmos line, which Cooler Master made some significant changes since the first version. Just for the record, Cooler Master had the Cosmos 1000, 1010, S, and II.
This case looks fantastic on the outside. Cooler Master designed this case by taking note of the sleek curves and design of supercars to design this case and I really do enjoy the curves that this case has. I do really like the aluminum handles, too, as they just add that extra eye candy and also provide an easy way to move the case around. The blue LEDs do add a nice touch of flare and Im happy that a button to turn these off was designed in. We all know that blue LEDs can be obnoxiously bright!
The windowed side panel on this case adds a nice touch of flare if you want to show off your system.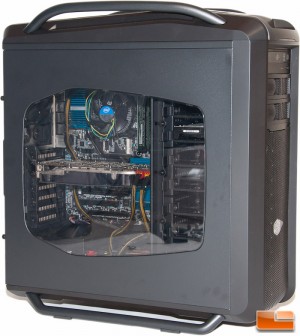 The Cosmos SE is a very solid feeling case. The side panels seem a bit cheaper than the original Cosmos 1000 case, but they were not so cheap that they flexed all over the place like a sheet of tin. Reattaching the side panels was actually nice and easy and I never had an issue getting them to go where they should.
Overall I must say the interior of this case was very tight to work with. Cooler Master markets this case as a full tower design, but it certainly didn't feel like a full tower case. Cooler Master chopped off over 100mm to the depth of the case in comparison to the other Cosmos cases, and that is absolutely significant! I ended up being quite displeased with the grommet holes as they were mostly covered up by the motherboard. Sure they were functional yet, but having to bend the ATX power connector 180 degrees is not ideal at all. Even connecting SATA cables to the motherboard was tricky and tight.
On the positive side, this case has a ton of room for internal storage, accommodating up to eight 3.5″ HDDs or eighteen (18) SSDs. That's some crazy storage options!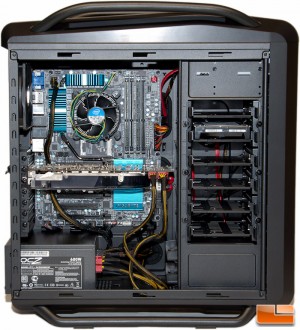 With this case being designed towards enthusiasts, you can almost bet that youll lose two HDD bays off the bat. My 8800 GTX used in this build measures 275mm long and I only had a few millimeters left to work with, without removing the HDD bays next to it.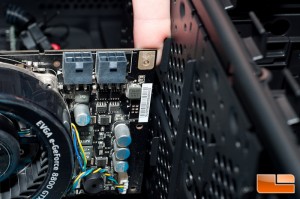 One other thing that I really like about this case is the water cooling potential. My Cosmos 1000 wasnt really designed with water cooling in mind, so I had to modify it. With the Cosmos SE, no modification is necessary, as you can fit 120, 280, and 360mm (back, top, front) radiators inside this case.
Both versions of the Cooler Masters Cosmos SE are available as of today and will set you back with an MSRP of $169.99 for the Windowed version that we reviewed today, or hopefully a little less for the version with a mesh side panel. Both cases include a 2 year warranty if you happen to have an issue with your case. This updated Cosmos ends up being not only smaller, but a fair amount less expensive, which definitely helps direct the Cosmos SE towards a bigger audience.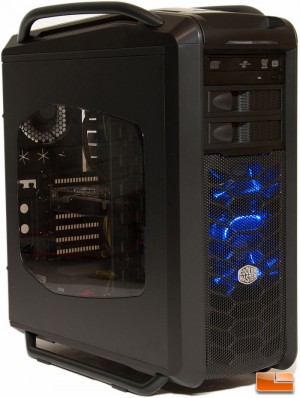 With the tightness of the Cosmos SE aside, I really did enjoy working with this case. The potential, sleek design, and air filtration system are all huge positives that you dont get with every case.
Legit Bottom Line: Cooler Masters Cosmos SE is very pleasing to the eye, but comes in a more compact package compared to its older siblings. The storage and cooling potential inside this case are nothing short of awesome, which helps make this case a winner!