Cooler Master Cosmos SE Full Tower Case Review
By
Cooler Master Cosmos SE Full Tower Introduction
Cooler Master has been known for making some great computer hardware, and cases are no exception. Back in 2007, Cooler Master came out with the first iteration of the Cosmos case, named the Cosmos 1000. This case was well received by enthusiasts, and even I myself purchased one because I loved the design, features, and size. Over time, Cooler Master came out with different versions to add new features or even just minor updates to the original Cosmos 1000 case under the Cosmos 1010 name. Today were going to take a look at another version of the Cosmos, the freshly available Cosmos SE. The Cosmos SE is significantly smaller than its siblings, so lets take a look and see what the Cosmos SE has to offer inside a smaller package!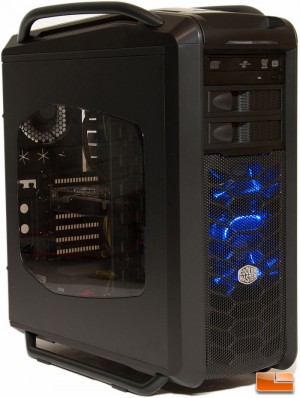 Shown off earlier this year at Computex and announced a few weeks ago at Gamescon, the Cosmos SE is again the smaller sibling to the original Cosmos cases. This case comes in at 263.8 x 569.4 x 524.4mm, compared to the Cosmos 1000s 266 x 598 x 628mm; width, height, depth, respectively. With that said, this tighter package does indeed have a lot to offer, and youll catch that by the specifications below.
Cooler Master has taken note by the sleek curves and design of supercars to design this case, while still featuring the signature aluminum handles found on the other Cosmos cases. Sporting a flat black finish inside and out, this case surely should go along with the rest of your gear. Inside, there is a ton of room for air or water cooling support, as well as plenty of room for a full sized ATX motherboard with multiple video cards! If you want to go the water cooling route, this case supports up to three coolers at once, these being 120, 240/280, and 360mm (back, top, front respectively) in size.
Whats even more interesting is the ability to have up to EIGHTEEN (18) SSDs installed in this beast! Talk about insane! Of course if you want to have that many SSDs installed you lose the ability to install any standard hard disks. On the other side, you can have up to eight (8) standard 3.5 HDDs placed in here, so this case has a ton of storage potential.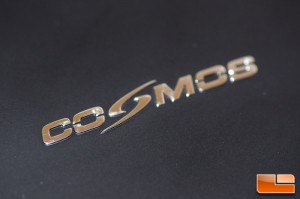 Dust filters throughout the system will help ensure that your hardware stays clean and operates optimally; Well, if you clean the filters off every once in a while, anyway. (Im guilty!!)
The Cooler Master Cosmos comes in two models, one with a window and one without. The one that were going to review today is the windowed version (Model: COS-5000-KWN1), which has a retail of $169.99 and will be available October 9th! Should you not care to have a window, the non-window mesh side version (Model: COS-5000-KKN1), but we aren't sure what the price will be on that version just yet. Both products have a warranty of 2 years should you have a problem with your Cosmos SE.
Cooler Master Cosmos SE Technical Specifications:
Model Number: COS-5000-KKN1 / COS-5000-KWN1
Available Color: Midnight Black
Materials: Polymer, steel, aluminum, mesh front bezel, rubber
Dimensions (W x H x D): 263.8 x 569.4 x 524.4 mm / 10.4 x 22.4 x 20.6 inch
Net Weight: 10.8 kg / 23.8 lbs
M/B Type: ATX, microATX, Mini-ITX
5.25″ Drive Bays: 3 (exposed)
3.5″ Drive Bays: 8 (hidden)
2.5″ Drive Bays: 18 (hidden; 16 converted from 3.5″ bays)
I/O Panel: USB 3.0 x 2, USB 2.0 x 2, Audio In & Out
Expansion Slots: 7
Cooling System:

Top: 120/140mm fan x 2 (one 140mm black fan installed, 1200 RPM, 19 dBA)
Front: 120mm blue LED fan x 2 (installed; with LED on/off), or 140mm fan x 1 (optional)
Rear: 120mm fan x 1 (installed, 1200 RPM, 17 dBA)
Side: 120/140mm fan x 1 (optional)

HDD cage: 120mm fan x 2 (optional)
Power Supply Type: Standard ATX PS2
Maximum Compatibility VGA card length:

with HDD bracket: 276mm / 10.9 inch
without HDD bracket: 395mm / 15.5 inch

Maximum CPU cooler height: 175mm / 6.9 inch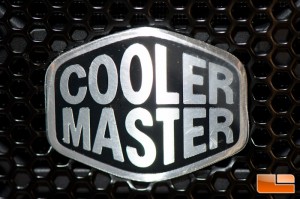 This case does include four fans in total, with the front fans having blue LEDs and measuring 120mm, while the rear and top mount measure 120mm and 140mm respectively. I know some people really dislike blue LEDs, since they can be overly bright, so Cooler Master allows you to turn these off if you wish. Lets just say, they were thinking like the consumer, here! I personally like the blue LEDs featured on many systems, so I probably would keep them on.
Lets move on and check out how Cooler Master packed this case up and accounted for abuse during transit.