Building A Gaming PC For Under $400 With SteamOS
By
Wrapping It Up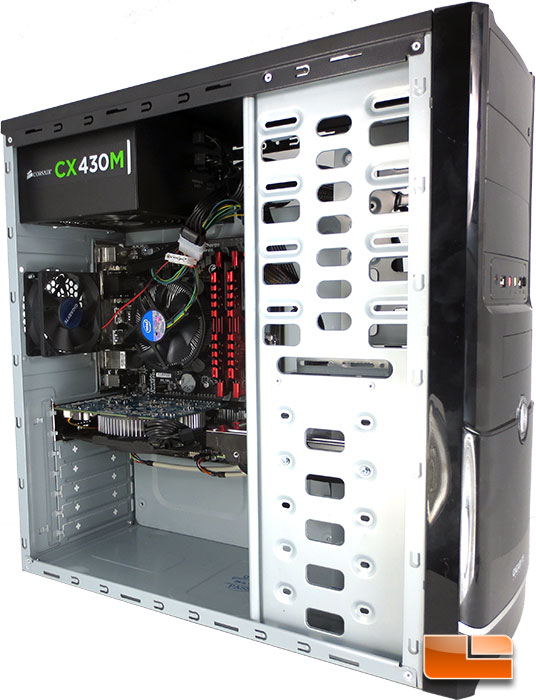 It's hard to say if the components that I'm using for the SteamOS build are going to be as good as I hope they are going to be. From the point of looking strictly at the parts list, it looks like it will be a pretty solid build. Especially since the entire cost of the build is going to be under $400 after the three rebates come back in. What I do know, is that everything went together without a hitch. The GIGABYTE GZ-F3HEB is a pretty solid case for being only $29.99.
Component
Amazon.com
Newegg.com
Motherboard
GIGABYTE GA-B85M-DS3H
$55.99
$45.99 AR ($10)
Processor
Intel Pentium G3258
$69.99
$69.99
Graphics Card
GIGABYTE GeForce GTX750OC 2GB
$109.99
$94.99 AR ($15)
Memory
G.Skill Ripjaws X 4GB (F3-12800CL9D-4GBXL)
$48.96
$38.24
Hard Drive
Western Digital Blue 1 Terabyte HDD
$54.99
$54.99
Chassis
GIGABYTE

GZ-F3HEB PC Case

$29.99
$29.99
Power Supply
Corsair CX430M Modular Power Supply
$44.99
$24.99 AR($20)
Total Cost:
$414.90
$359.18 AR($45)
I think the only aspect about this build I would I would have changed at this point is adding USB 3.0 to the front of the Steam box. The chassis I chose doesn't have USB 3.0, but the GIGABYTE B85M-DS3H does have an internal SuperSpeed USB3.0 header. It's not a huge deal, but next time I would have gone with a different case. It was likely noticed the I opted to skip an optical drive, I decided since Steam is done entirely online, there would be no need for a Bluray or DVD player. Maybe that's something you'll want, but it won't be needed for a Steam Box.
Over the next week or so I am going to install the SteamOS Beta and see what all the buzz is about, is it going to be the next big thing in gaming? Or is going to fall flat? Did we just waste ~$400 on a system for the SteamOS? I guess only time will tell! Come back early and often to check for the second part of the Steam Box build!
Legit Bottom Line: While I haven't applied power to the system just yet, I have high hopes that these components will give us a quality SteamOS machine for hours of gaming enjoyment! Especially since everything cost only $386!