ASUS Prime Z270-A Motherboard Review
By
ASUS Value Added Software
Using the DVD to install drivers and software isn't a bad way to get your system up and running. However, keeping in mind that these can quickly get outdated, it is always highly recommended to check ASUS's website for updates. The ASUS installation tool provides a menu that allows you to select only the tools and drivers you want to install.
Many of the included ASUS tools are pretty common, however Aura is a fairly new one. This is ASUS's method of controlling any built-in LED's and LED strips. ASUS-Aura ready RGB LED strips are readily available from different manufacturers. The Bitfenix RGB 2.0 Magnetic LED Strips we have for testing are just one of the options. Within the tool you are presented with a range of lighting modes, that ranges from the standard single color, or any number of flashing, or alternative color options. Each one of these mods has built-in options which allow you a wide range of fine tuning controls. Options such as individual LED control includes color, and speed. The color control is done through a color wheel, it would be nice if there was a way to enter the standard RGB color codes. Also built in are options to control the LED's by the temperature of your system or for the LEDs to have a strobe type effect depending on your music preference.
One of ASUS's main tools is the AI Suite 3, this is their main application launcher and is their system control tool. Within this tool you can control nearly every aspect of your system from fan speeds, power voltages/usage, CPU/Memory frequency and more. Along the left edge is a sub-menu that provides additional tools such as EZ Update, which will automatically check ASUS's servers for updated drivers, BIOS and software.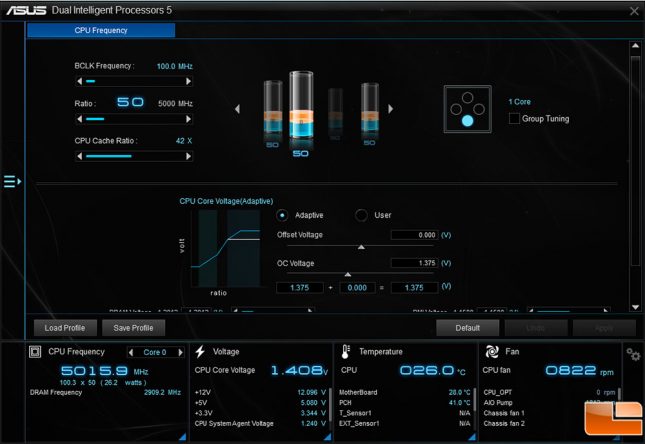 Within the ASUS AI Suite 3 is the Dual Intelligent Processors 5 tool. Within that tool, you can do overclocking from within Windows. For the CPU Frequency, you can adjust the Frequency (base 100MHz), the CPU Ratio (base is 42 for the i7-7700K) and CPU Cache Ratio. Plus if you can make adjustments to the voltage, or leave it set to Adaptive. With all the tools that ASUS provides there isn't much you can't do within Windows to get a perfect overclock on your system.