ASUS Prime Z270-A Motherboard Review
By
Power Consumption and Temperature
Using a P3 Kill-A-Watt meter, we will monitor the power consumption of the test system throughout the all phases of testing. During testing, HWMonitor was used to monitor the temperatures as reported by the various sensors on the motherboard. The highest and lowest reading for the CPU will be tracked.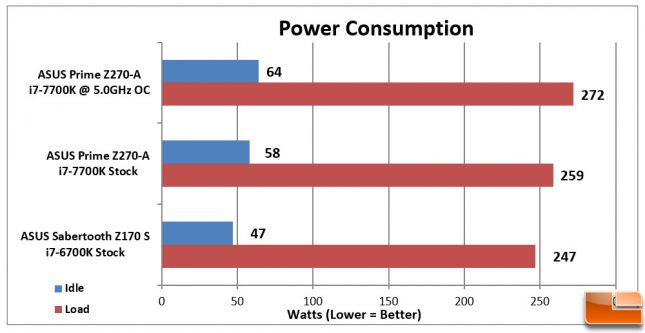 The ASUS Prime Z270-A was pulling down around 11W of power more than the previous generation ASUS Sabertooth Z170S. The power increase wasn't unexpected, as the new processor is known to be more power hungry than the Intel i7-6700K. Under a full load, the difference increased to 12W difference. Of course, as we overclocked the test system, the power usage went up. Going from 58W at idle to 64W when Overclocked. Load testing, it went from 259W to 272W; a 13W increase.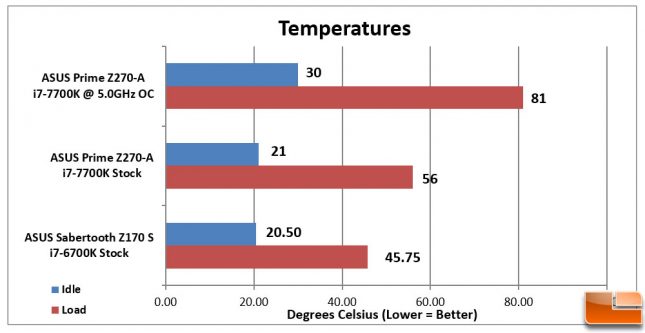 During the idle state, the ASUS Prime Z270-A was running 21C, which isn't too far off from the previous Z170 chipset. So that's the good part. Once we started using the system, the temperature climbed pretty fast, reaching a maximum temperature of 56C. This is still a decent temperature, so it's nothing to worry about. However, once overclocked, everything changed pretty quick. Idle temps jumped from 21C to 30C, and load temperatures went from 56C to 81C. That's a 25C increase, and is starting to get a bit too high for comfort, but still within acceptable tolerance.