ASUS N81Vp Gaming Notebook Review
By
Sandra 2009 & HD Tune
Sandra 2009 Memory Bandwidth
The Sisoft Sandra 2009 benchmark utility just came out recently and we have started to include it in our benchmarking. With Sandra 2009 you can now easily compare the performance of the tested device with its speed and its (published) power (TDP)! Sandra XII SP2 also has SSE4 (Intel) and SSE4A (AMD) benchmark code-paths, which is great for those of you testing next-generation AMD & Intel chips.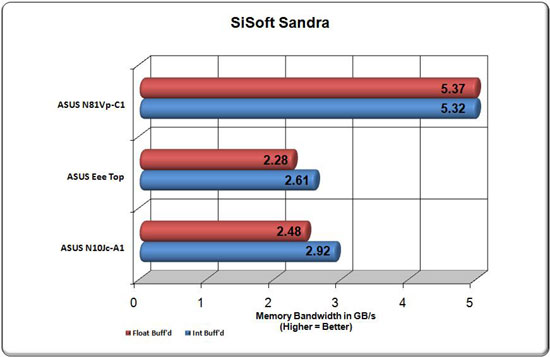 The dual memory channels in ASUS' N81Vp show nearly double the bandwidth of the single channel Atom-based systems of the N10Jc and Eee Top.
HDTune
HDTune is a free benchmark that measures the disk's transfer rates, access time, burst rate, and CPU utilization when reading from the disk.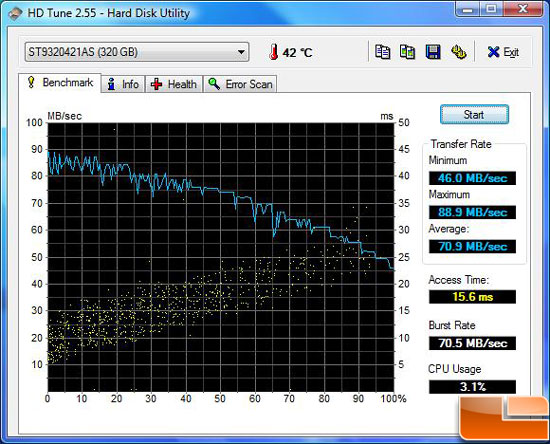 HD Tune shows some decent performance from the N81Vp's 320GB 7200RPM hard drive. When comparing to the N10Jc, the Transfer Rate averaged about 20 MB/sec faster, the access time was about 8ms faster, and the CPU usage was almost 3% lower. The only difference is that the Burst Rate is about 10 MB/sec slower than the drive in the N10Jc, but overall, this was clearly a better performing drive.