ASUS F2A85-V Pro AMD FM2 Motherboard Review
By
Final Thoughts & Conclusions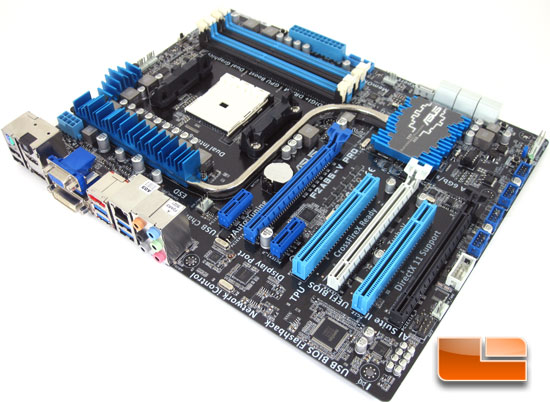 The ASUS F2A85-V Pro was definitely a very solid board today. Though we didn't see a whole lot of performance difference between the two AMD A85X motherboards that we have tested so far. The ASUS F2A85-V Pro and the GIGABYTE F2A85X-UP4 were running neck and neck with neither really standing out. Granted both ASUS and GIGABYTE are top tier manufacturers so we wouldn't expect any less, and if one truly pulled ahead of the other we would start looking for an issue with it. Fortunately both boards were performing great, so it's a good bet that neither have any issues. It's all going to come down to brand loyalty, and the features that you are looking for out in your choice.
When it comes to brand loyalty, there really isn't much to say on the subject. It's all a matter of personal preference and as well as personal history with that brand. I'm sure we all have a friend of a friend that has had bad experiences with every company out there. Personally I have friends that swear by ASUS and others that only use Brand X. I tend to go where the performance is, and you can't really go wrong when you go that route. The ASUS F2A85-V Pro definitely has the performance to keep up as well as out-perform the GIGABYTE F2A85X-UP4.
Graphics performance is where it's at with the new AMD Trinity systems. The A10-5800K and the ASUS F2A85-V Pro were easily able to out-perform the previous generation AMD APU's and the much more expensive Intel 'Ivy Bridge' platforms. It is certainly fair to say that when coupled with the latest AMD Trinity APU's the ASUS F2A85-V Pro can give you the latest Microsoft DirectX 11 eye candy, without breaking the bank. Right now you can find the AMD A10-5800K Socket FM2 APU for only $119.99, the ASUS F2A85-V Pro is available for only $130.98. For only ~$250 you can have the start of a solid gaming PC. Down the road you can always pop in a dedicated graphics card, or three since the ASUS F2A85-V Pro will support 3-way CrossFireX.
I was impressed at how easily we were able to overclock our AMD A10-5800K APU to 4.5GHz today. Without having to adjust the voltages or other various settings we were at 4.5GHz in just a short time. Though it's certainly fair to say that we were severely limited due to the retail heatsink that we were using today. Once we pulled off the chunk of aluminum that comes with the AMD A10-5800K and sent it to the wayside, and put on our trusty Corsair Hydro H100 CPU cooler we saw much better performance at 4.5GHz. If you plan on doing any overclocking I would definitely couple a better CPU cooler with the ASUS F2A85-V Pro and APU. By simply changing the CPU cooling over we were able to eliminate throttling and bring the system performance in Cinebench from a score of 2.86 to 3.65! A 28% increase from only changing out the CPU cooler!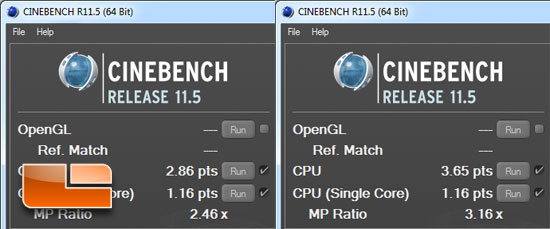 The ASUS F2A85-V Pro is can be found for as little as $130.98, which considering all of the features that you get, is a pretty solid price. As with just about all ASUS motherboards, the F2A85-V Pro is backed by a three year warranty for a little peace of mind in your investment.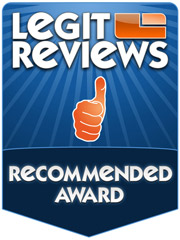 Legit Bottom Line: The ASUS F2A85-V Pro is a very solid AMD Socket FM2 motheboard from one of the top companies out there. If you're in the market to build AMD's latest 'Trinity' platform the ASUS F2A85-V Pro should be on your short list if not on the top of it!