ASUS F2A85-V Pro AMD FM2 Motherboard Review
By
ASUS F2A85-V Pro ATX AMD FM2 Motherboard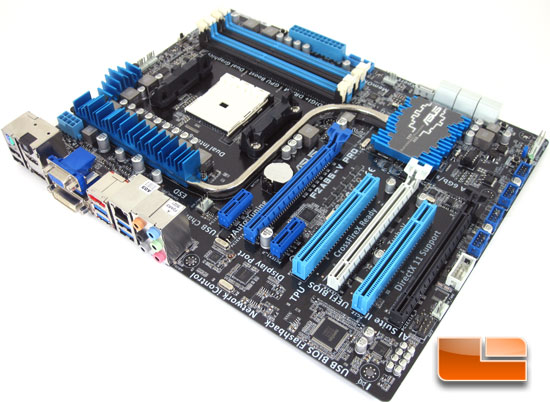 ASUS is one of the go-to brands for many PC enthusiasts these days, and rightfully so. Over the years ASUS has developed a reputation of rock solid performance and reliability. ASUS has set the bar high, and we don't doubt that the ASUS F2A85-V Pro will live up to the expectations. The ASUS F2A85-V Pro is built with the latest AMD 'Trinity" APU's in mind in the Socket FM2 package. Along with the new FM2 socket, AMD also launched the AMD A85 chipset. The AMD A85 chipset brings with it a couple of added features over the AMD A75 chipset. The AMD A75 chipset had the ability to run six SATA III 6Gbps ports and two SuperSpeed USB 3.0 ports. The AMD A85X chipset has added two of each to the FM2 motherboards. This allows us to run up to eight SATA III 6Gbps devices and four SuperSpeed USB 3.0 devices without the need for third party controllers.
In addition to the added features of the AMD A85X chipset, ASUS has also included a long list of features exclusive to them. One of the sets of features that ASUS is excited about is their Windows 8 Exclusive features. The Windows 8 Exclusive features consists of three parts, Fast Boot, ASUS Boot Setting, and DirectKey. According to ASUS, the new fast boot is a combination of hardware and software designs that will shorten system boot-up times to 2-seconds allowing for a user experience that removes delays under Windows 8 as well as earlier versions of Windows. The ASUS Boot Setting can do a number of things for your user experience. From within the Windows 8 environment you can select the way you want your PC to boot the next time, or every time. If you like to be at your desktop inside of seconds you can choose Fast Boot, or regular boot with the full P.O.S.T.. If you need to stop into the BIOS you can choose to do that as well from within the ASUS Boot Setting. The third feature in the ASUS Windows 8 Exclusive features is the DirectKey. It is similar to the ASUS Boot Setting as it allows up to head straight into the UEFI BIOS, but it's a hardware based option rather than software. If you are frequently needing to go into the BIOS, you can re-purpose the reset button and attach it to the DirectKey pins, and be able to enable this from outside of the case.
ASUS has also implemented their Dual Intelligent Processors 3 with new DIGI+ Power Control on the F2A85-V Pro. What exactly does that mean for the end user, well according to ASUS it will give you full hardware control, and total performance tuning. Here's a little bit of information on the Dual Intelligent Processors 3 directly from ASUS:
The world's first Dual Intelligent Processors from ASUS pioneered twin onboard chips – TPU (TurboV Processing Unit) and EPU (Energy Processing Unit). Third generation Dual Intelligent Processors with New DIGI+ Power Control provides a total APU, memory and SMART DIGI+ Key profile tuning digital power solution, which includes two digital voltage controllers allowing ultra-precise DRAM tuning in addition to ultra-precise APU voltage control. It's upgraded with one-click extreme performance optimization with the user-friendly AI Suite II utility. This evolution of innovative and industry-leading ASUS technology provides super-accurate voltage tuning for better efficiency, stability and performance.

The DIGI+ Power Control has two digital voltage controllers which is an upgrade to the motherboard power delivery solution on AMD FM2 motherboards. One of the digital voltage controllers is specifically for the DRAM, and the other is for the APU. Both receive ultra-precise voltage control as a results.

When the first Intel P67 motherboards started hitting the market in January of 2011, we have seen many different variations of UEFI BIOS come through the Legit Reviews labs, one of our favorites from the start is the ASUS UEFI BIOS. If you aren't real comfortable in the BIOS, the EZ mode allows you to tweak a few items including the boot order. We can also do some minor performance tuning here, nothing real extreme, but it does give us a little extra performance without much risk. I think you would be pretty hard pressed to make any damaging changes in the ASUS EZ Mode. The Advanced mode is a different story, here we can do some damage if we aren't a little careful. Though nothing that we weren't able to do in the more traditional BIOS. The Advanced section of the ASUS UEFI BIOS is one of the best laid out that we have seen, everything is right where you would expect it to be, and there are more options than you can shake a stick at.
ASUS has plenty more features on the F2A85-V Pro that make this a killer board. Features like USB 3.0 Boost that can improve transfer speeds by 170%, Remote GO! that allows you to check your PC from a smartphone or Tablet, DLNA Media Hub streaming, Wi-Fi connectivity, USB BIOS Flashback, Network iControl, Fan Xpert 2, USB Charger+, Complete SUB 3.0 Integrations, and of course native SATA 6Gbps support there isn't much that the ASUS F2A85-V Pro doesn't offer.
ASUS F2A85-V Pro AMD FM2 Motherboard Specifications:
CPU
AMD Socket FM2 Athlon/A- Series Processors Supports CPU up to 4 cores Supports AMD Turbo Core 3.0 Technology
Chipset
AMD A85X FCH(Hudson D4)
Memory
4 x DIMM, Max. 64GB, DDR3 2400(O.C.)/2250(O.C.)/2200(O.C.)/2133(O.C.)/2000(O.C.)/1866/1600/1333/1066 MHz Non-ECC, Un-buffered Memory
Dual Channel Memory Architecture
Support AMD Memory Profile (AMP) memory
Graphic
Integrated AMD Radeon HD 7000 Series Graphics in A-series APU
Multi-VGA output support : HDMI/DVI/RGB/DisplayPort ports
– Supports HDMI with max. resolution 1920 x 1080 @ 60 Hz
– Supports DVI with max. resolution 2560 x 1600 @ Hz
– Supports RGB with max. resolution 1920 x 1600 @ 60 Hz
– Supports DisplayPort with max. resolution 4096 x 2160 @ 60 Hz
Maximum shared memory of 2048 MB
AMD Dual Graphics technology support
Supports DirectX 11
Multi-GPU Support
Supports AMD 3-Way CrossFireX Technology
Supports LucidLogix Virtu MVP Technology
Expansion Slots
2 x PCIe 2.0 x16 (x16 or dual x8)
1 x PCIe 2.0 x16 (x4 mode)
2 x PCIe 2.0 x1
2 x PCI
Storage
AMD A85X FCH(Hudson D4) chipset :
7 x SATA 6Gb/s port(s), gray
1 x eSATA 6Gb/s port(s), red
Support Raid 0, 1, 5, 10, JBOD
LAN
Realtek 8111F, 1 x Gigabit LAN Controller
Audio
Realtek ALC892 8-Channel High Definition Audio CODEC
– Supports : Jack-detection, Multi-streaming, Front Panel Jack-retasking
Audio Feature :
– Optical S/PDIF out port(s) at back panel
USB Ports
ASMedia USB 3.0 controller :
2 x USB 3.0 port(s) (2 at back panel, blue)
AMD A85X FCH(Hudson D4) chipset :
4 x USB 3.0 port(s) (2 at back panel, 2 at mid-board)
AMD A85X FCH(Hudson D4) chipset :
10 x USB 2.0 port(s) (2 at back panel, 8 at mid-board)
Overclocking Features
Overclocking Protection :
– ASUS C.P.R.(CPU Parameter Recall)
Special Features
ASUS Dual Intelligent Processors 3 with New DIGI+ Power Control :
SMART DIGI+ :
– Smart DIGI+ Key- Quickly delivers optimized VRM frequency, voltage and current for superior APU/DRAM overclocking performance with one click.
ASUS TPU :
– Auto Tuning
– TurboV
– GPU Boost
– TPU switch
ASUS EPU :
– EPU
– EPU switch
ASUS Digital Power Design :
– Industry leading Digital 6 +2 Phase Power Design
– CPU Power Utility
– DRAM Power Utility
ASUS Exclusive Features :
– Remote GO!
– USB BIOS Flashback
– MemOK!
– AI Suite II
– Ai Charger+
– USB Charger+
– Anti-Surge
– ASUS UEFI BIOS EZ Mode featuring friendly graphics user interface
– Network iControl
– USB 3.0 Boost
– Disk Unlocker
ASUS Quiet Thermal Solution :
– Stylish Fanless Design Heat-pipe solution
– ASUS Fan Xpert 2
ASUS EZ DIY :
– DirectKey
– Precision Tweaker 2
– ASUS CrashFree BIOS 3
– ASUS EZ Flash 2
– ASUS MyLogo 2
ASUS Q-Design :
– ASUS Q-Shield
– ASUS Q-Slot
– ASUS Q-Connector
100% All High-quality Conductive Polymer Capacitors
Back I/O Ports
1 x PS/2 keyboard/mouse combo port(s)
1 x DVI
1 x D-Sub
1 x DisplayPort
1 x HDMI
1 x eSATA
1 x LAN (RJ45) port(s)
4 x USB 3.0 (blue)
2 x USB 2.0
1 x Optical S/PDIF out
6 x Audio jack(s)
Internal I/O Ports
1 x USB 3.0 connector(s) support(s) additional 2 USB 3.0 port(s) (19-pin)
4 x USB 2.0 connector(s) support(s) additional 8 USB 2.0 port(s)
1 x COM port(s) connector(s)
7 x SATA 6Gb/s connector(s)
1 x CPU Fan connector(s) (4 x -pin)
4 x Chassis Fan connector(s) (4 x -pin)
1 x S/PDIF out header(s)
1 x 24-pin EATX Power connector(s)
1 x 8-pin ATX 12V Power connector(s)
1 x Front panel audio connector(s) (AAFP)
1 x System panel(s)
1 x DirectKey Button(s)
1 x DRCT header(s)
1 x MemOK! button(s)
1 x TPU switch(es)
1 x EPU switch(es)
1 x USB BIOS Flashback button(s)
Accessories
User's manual
I/O Shield
4 x SATA 6Gb/s cable(s)
1 x Q-connector(s) (2 in 1)
BIOS
64 Mb Flash ROM, UEFI AMI BIOS, PnP, DMI2.0, WfM2.0, SM BIOS 2.7, ACPI 2.0a, Multi-language BIOS, ASUS EZ Flash 2, ASUS CrashFree BIOS 3, F12 PrintScreen Function, F3 Shortcut Function and ASUS DRAM SPD (Serial Presence Detect) memory information
Support Disc
Drivers, ASUS utilities, ASUS Update, Anti-virus software (OEM version)
Form Factor
ATX Form Factor
12 inch x 9.6 inch ( 30.5 cm x 24.4 cm )