ASUS ARES II Video Card Review
By
ASUS ARES II Overclocking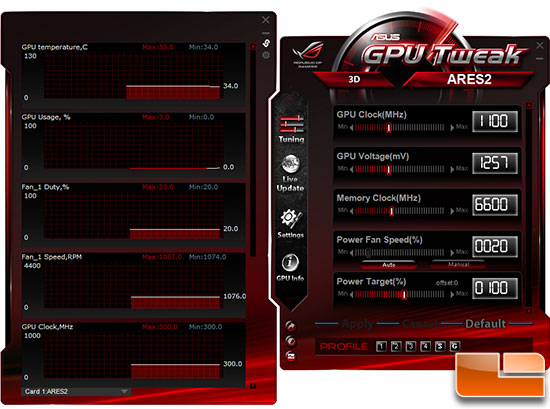 To overclock the ASUS ARES2 we used ASUS GPU Tweak version 2.3.0.2. This is a great overclocking utility that allows you to adjust the GPU boost clock, memory clock, and fan speed settings. If you want to enabled advanced features you can enable adjustment of the GPU voltage and the power target. On the ASUS ARES II it should be noted that GPU Tweak supports async voltage and frequency adjustment. By locking these two variables together ASUS was hoping to make the overclocking experience super easy. You also have the latest version of GPU-Z built-in and live monitoring tools all in this one utility.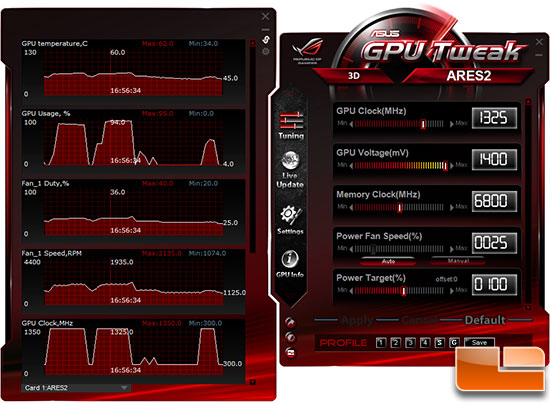 Overclocking the ASUS ARES2 video card was simple thanks to GPU Tweak and we had great results for a dual-GPU video card. The defaults speed core clock speed on this card are 1100MHz on the core and 6600MHz on the 6GB of GDDR5 memory. We were able to take the card up to 1325MHz on the core and 6800MHz on the memory! The voltage automatically maxed out for this GPU clock speed since it is linked. We did not need to adjust the power target ranges were pretty much maxed out to get this 225MHz overclock. The memory was able to overclock a bit, but setting it much closer to 7000MHz caused Windows to hard lock and have to be restarted. The AMD Radeon HD 7970 reference card runs at 925MHz with just a single GPU and here we have a single card with two cores running at 1325MHz! ASUS did a great job designing this card and it easily overclocks!
Let's take a look at some Futuremark 3DMark11 on the performance preset to see how the overclock helped performance.
ASUS ARES2 at 1100MHz core and 6600MHz memory: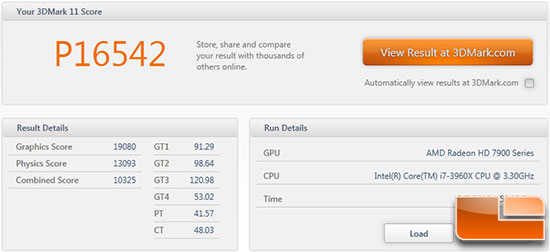 ASUS ARES2 at 1325MHz core and 6800MHz memory: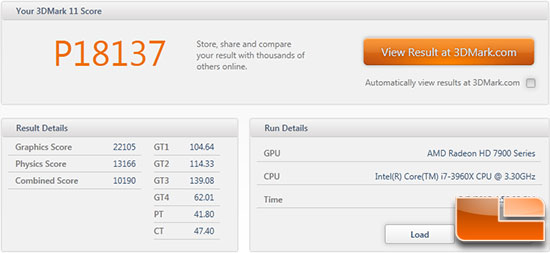 We tried out this overclock with Futuremark 3DMark 11 on the performance preset and saw the score go from P16542 to P18137, which is a 9.6% improvement over the reference speeds! This is the first time that we have broken the 18k mark on 3DMark11 with a single video card!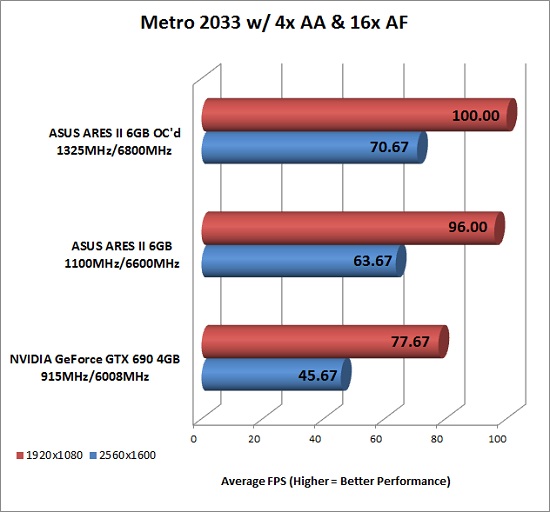 Real games also showed some pretty decent improvements! In Metro 2033 we saw a nice ~10% performance gain at 2560×1600, but at 1920×1080 not much of a gain was seen.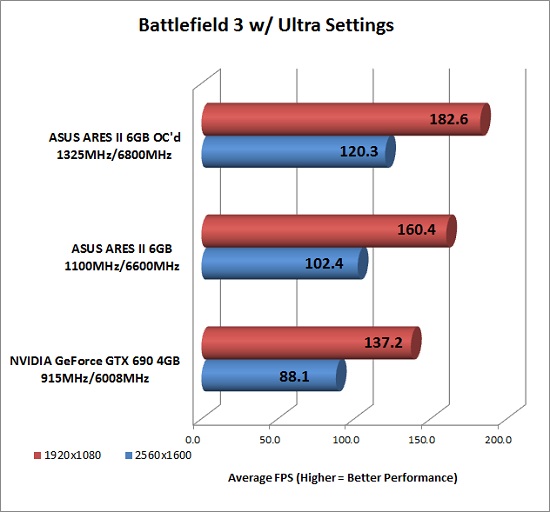 In Battlefield 3 we saw roughly 20FPS performance gains at both 2560×1600 and 1920×1080! This is a huge increase and it's pretty wild playing Battlefield 3 and having such buttery smooth gameplay!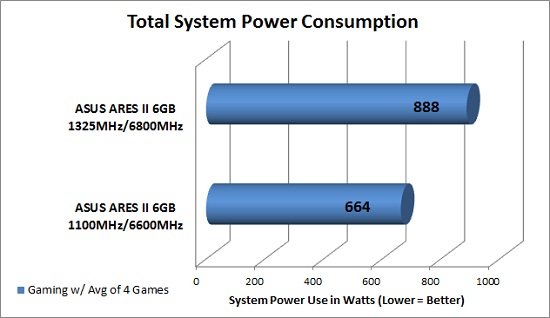 Just for fun we took a look and overclocked power consumption and we were shocked to see the average power draw go from 664W to 888W in games. The card also runs hotter and the fans are running faster, which makes them louder. Overclocking is fun to do, but it isn't something that you'd likely do 24/7 on this card due to the how power numbers! It can do it though, so the choice is up to you!