ASUS ARES II Video Card Review
By
The ASUS ARES II – AMD Radeon HD 7990
If you are looking for a new gaming graphics card and money is not an issue, you are in for a real treat today! ASUS recently sent over the ASUS ARES II and we have been pounding on this card for days on end. In case you haven't heard about the ARES II, you are missing out. The ARES II is what happens when you take two overclocked AMD Radeon HD 7970 'Tahaiti' GPU's and let the engineers over at ASUS do what they do best without and budget restrictions. After seven months of work, ASUS has launched the ARES II and hopes to take the performance crown when it comes to the fastest video card in the world.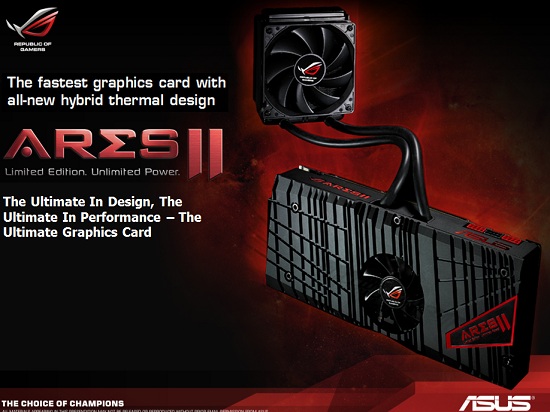 At one point in time, AMD was supposed to launch the Radeon HD 7990 dual-GPU video card on a single PCB, but that never happened. Then we saw the PowerColor Devil 13 become one of the first cards to come to market with such a configuration, but it was running stock clock speeds. With the ASUS ARES II it appears that ASUS has come to wipe the competition from the table and release a video card that makes the original AMD Radeon HD 7990 plans look like a joke.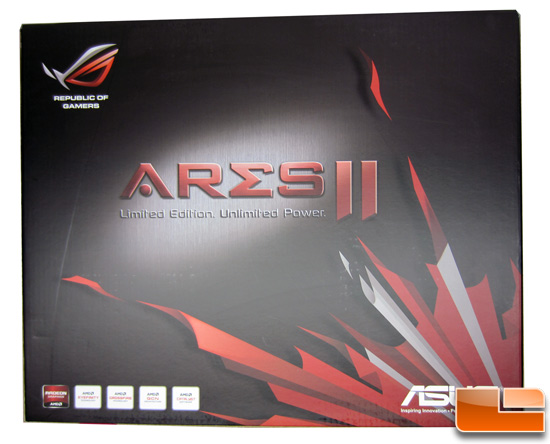 The ASUS ARES II Limited Edition graphics card comes in a humongous cardboard retail box that lists the cards key features.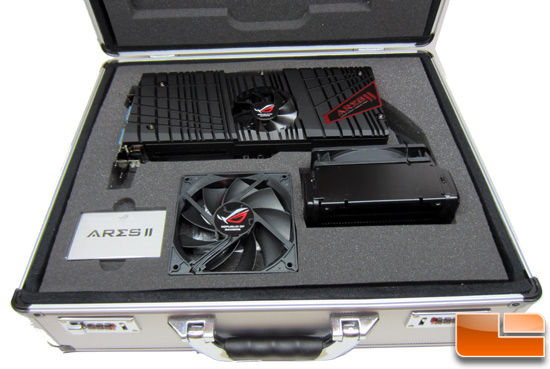 Inside the outer retail box you'll find a nice briefcase with the ARES II safely secured in protective foam packing. One of the first things we noticed is that there is a metal placard that shows that the card we have here today is #509 of 999 cards being produced. ASUS wouldn't give us exact numbers, but fewer than 200 of these cards will ever be sold in the United States with the rest being sold around the globe. Inside the case you'll also find three 8-pin PCIe power adapters, a CrossFire bridge, extra 120mm cooling fan for a push/pull fan configuration and all the mounting screws for the fan.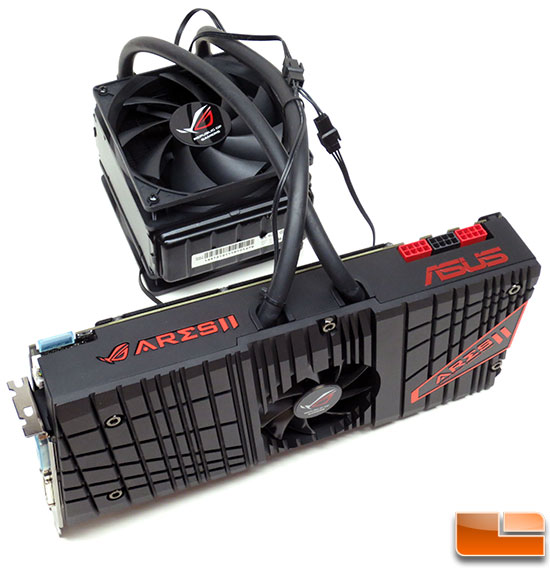 The ASUS ARES II video card has two Radeon HD 7970 GHz Edition GPU's on a single 12-layer PCB that uses ASUS' DIGI+ VRM with 20-phas Super Allow Power design. The two 'Tahiti' GPU's are linked together with a PCIe 3.0 PLX bridge and both are kept cool with a water cooler that was designed in conjunction with Asetek. The video card itself still has a dust proof fan, but that is to keep the power management components, 6GB of GDDR5 memory ICs and other critical areas on the PCB nice and cool. The water cooling loop has a water block for each GPU and a 120mm radiator that is 1.9″ thick to help keep everything nice and cool. ASUS includes two 120mm cooling fans for a push/pull air cooling setup and advises running the ARES II with both fans. ASUS says that this hybrid cooling solution keeps the ARES II 31C cooler than the AMD Radeon HD 7970 reference design. Not bad considering that the ARES II is clocked at 1100MHz on each GPU and 6600MHz on the 6GB of GDDR5 memory!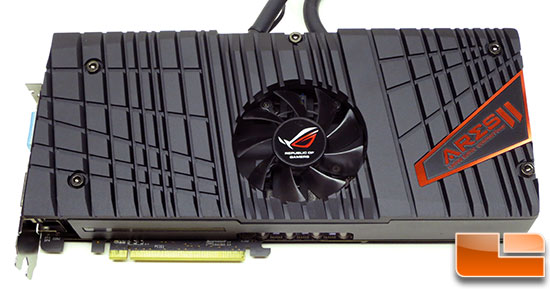 The ASUS ARES II measures in at 11.8″ in length and stands 5.5″ in height. The metal front plate is machined out of one piece of metal and has an aggressive look to it.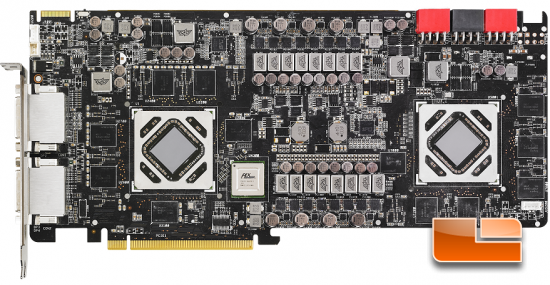 Internally, ASUS really beefed up this card and used top of the line components on everything. For example AMD uses six 60 Amp chokes on the Radeon HD 7970 reference design and ASUS went with eight 45 Amp chokes on the ARES II. Both total 360A, but ASUS wanted to spread out the heat generated by the Digital PWM to improve stability. The capacitors are Japanese Nichicon GT "Black" Capacitors with a 10K lifespan vs. the standard 2K used on most cards. ASUS says that besides the longer lifespans that they have superior tolerances for hotter and colder ambient environments. The DIGI+ VRM with 20-phase Super Alloy Power (SAP) should provide all the solid, clean power that any enthusiast would need!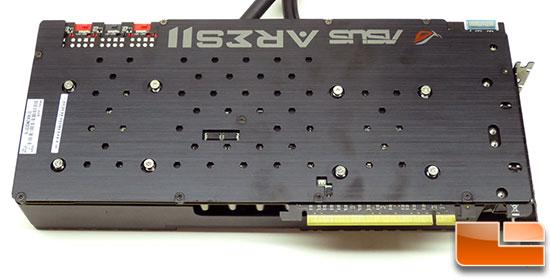 Flipping the ASUS ARES II over you can see that there is a nice metal backplate being used on this card and that the PCB of the card is black.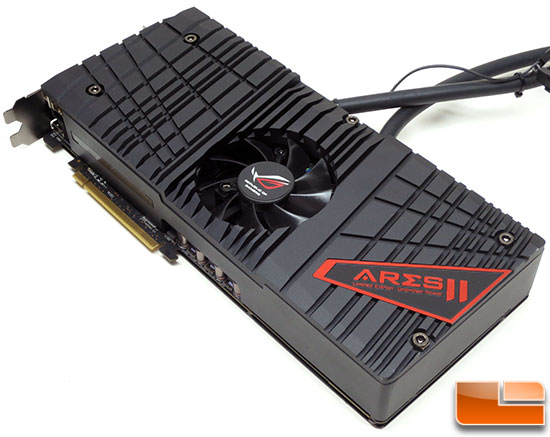 The butt end of the ARES II and bottom of the card are closed off for the most part and everything is black with just an accent of red where the branding is. This goes along with the ASUS Republic of Gamers (ROG) color theme.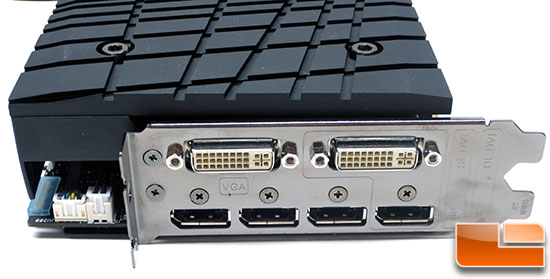 The ASUS ARES II has four full-sized Display Port connectors, one single-link DVI and one dual-link DVI port. This means that the ASUS ARES II supports 3-way, 5-way and 6-way AMD Eyefinity right out of the box!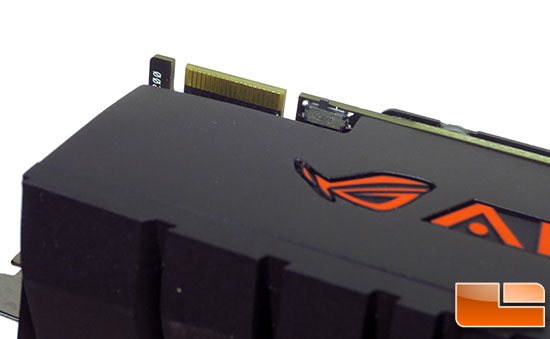 The ARES II does have a single CrossFire interconnect available, so you can pair this card with another ARES II for even higher performance! There is a small switch next to the CrossFire interconnect and that enables dual-link DVI. For users with a monitor running 2560×1600 that are running a DVI cable, you need to make sure the switch is positioned fully to the left enabling Dual Link DVI display output. If you want to run 6-way Eyefinity, the switch needs to be all the way to the right.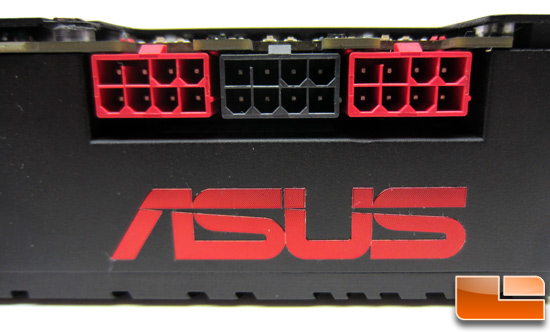 When it comes to power connectors the ASUS ARES II features three 8-pin PCIe power connectors. ASUS recommends using at least an 850 Watt power suppling that is 80 PLUS Gold or Platinum rated. If you plan on overclocking the ARES II at some point down the road then ASUS suggests a 1000 Watt or great power supply. If you wanted to run the ARES II in CrossFire then you are looking above 1200 Watts!
ASUS has a pair of LED lights under each PCIe power connector. These two LED lights are a form of quick diagnostic for issues when connecting power to the video card. Depending on the presence or lack of presence of power connections ( or secure fitting ) the card will display an LED – RED or Green. Green meaning power connections are correct and Red meaning power connections are not.
ASUS ARES II Power Draw & Features:
Idle:50-80 Watts
Load: 400-500 Watts
Full power target control up to 120 (20% increase)
Full GPU Core Voltage control up to 1.400V
Full control for the central VRM/PCB fan
As you can see the ASUS ARES II looks pretty epic on paper, but how does it perform in our test machine and against the NVIDIA GeForce GTX 690? That is what we are going to find out on the next page!