AOpen Nouveau B-350B Case Review
By
Final Thoughts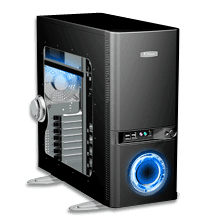 Justin's Thoughts:
After going through the process of making this case the home to my everyday, personal system, I must say I am very satisfied. I had to add a cold-cathode tube light to my previous case in order to light up the system, but I did not transfer that over to the Nouveau. I also had issues with my previous case's door because the plastic latch started giving way and the door did not always stay shut. The Nouveau will not have that problem because there is no latch on this door. It is held shut by a small magnet embedded in the plastic! So you won't have to worry about this latch breaking and the door popping open.
Another improvement I see in this case over my previous is there is no little door covering the front I/O panel. On my previous case, there was a little plastic door that had its latch break as well! So not having a door to begin with means the front I/O panel is more accessible, easier to use and there is one less thing that could break over time.
Overall, I must say the feature set that comes with the AOpen Nouveau is very nice. The drive bay screwhead rail system allows you to install the screws on your drives away from your case so you don't have to worry about losing any tiny screws. It also allows you to not have to hold anything on the drive while you try starting your first screw. So while it is not screwless by design, it is the simplest and easiest way to use a rail system that requires screws.
I'll also comment once more on the portability of this case. While still bearing the bulkiness of a full-size case, the aluminum and plastic combination allows for an ultra light-weight combination. The only steel component in the case when I received it was the included optional power supply unit. The two locks on the case (one in the back for the side panel, and the other for the front panel door) allow for you to feel a little safer about letting your rig sit alone while at a LAN or other event.
As I mentioned earlier, if you are a hardcore overclocker who requires a massive heat sink on your CPU, the included ductwork on this case may cause a clearance problem. Similarly, if you use water cooling, the included ductwork will look a little out of place if it is there for no reason.
Legit Bottom Line:
The AOpen Nouveau will be perfect for the average gamer who may do some mild to medium overclocking and is looking for that elegant and clean external look and feel. With most cases that are deemed 'elegant' comes an impressive price tag. The Nouveau currently carries a price tag of over US$150.00 with the 350 Watt PSU included. However, if you are like me, most of my case purchasing decision for my next LAN rig is based on if the case positively captivates my attention… and the Nouveau did just that!