AOpen Nouveau B-350B Case Review
By
Intro & Specs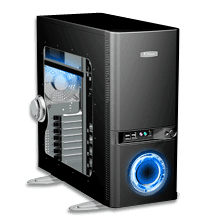 AOpen is in the middle of expanding their computer housing product line and today we bring to you an in-depth, detailed look at their 2005 Cadillac: the Nouveau B-350B. The Nouveau is currently AOpen's high-end case that offers a clean, professional, and elegant look and feel. The glossy finish of the paint job will have the owner of this US$150+ chassis showing it off and constantly buffing out fingerprints like it was their brand new Rolls Royce! The shiny Nouveau comes in the featured colors of Elegant Black and Vivid Silver.
The Nouveau line of AOpen cases are made with aluminum in order to cut down on the weight for easier portability. With a case like the Nouveau, you will want others to see it! Sometimes that means tearing down your rig from its home place, packing it up in your car, and visiting your local LAN. If this be the case, it is so much easier when your precious components are housed in an aluminum case.
Now the light-weight aluminum is not the only feature of this elegant case. Following the LAN-theme, the Nouveau comes with a set of keys to allow you to lock both the windowed side panel and the front drive-bay door. This will prevent wandering hands from nabbing your hardware, or your favorite DVD while away from your PC.
Now before I give everything away on the first page, let me give the rest of the standard specifications for the AOpen Nouveau, then I'll give a detailed tour of the case with lots of pictures so you can see for yourself what features are contained in this case.
Housing Material
Aluminum
Color
Black
Case Dimensions
200 mm (W) x 475 mm (H) x 450 mm (D)

Drive Bays

Front Accessible

Internal

12

4 x 5.25″ and 2 x 3.5″

6 x 3.5″

Cooling System

1 rear 120 mm blue LED fan
1 front 90 mm blue LED fan

Power Supply
350W AOpen Prima 350 (AO350-12AHN)
Motherboards

ATX / Full AT

Front I/O Panel

4 USB Ports
1 IEEE 1394 – Firewire Port (optional)
1 Mic Input
1 Audio Output

Package Includes

1 Tower Case
1 350 Watt Power Supply (pre-installed, optional)
1 Power cord
1 120 mm blue LED Fan (pre-installed)
1 90 mm blue LED Fan (pre-installed)
All Necessary Screws and motherboard standoffs
1 Installation manual
1 Polish Cloth
Pair of keys
Let's take a look at the case during motherboard installation!