AOpen Nouveau B-350B Case Review
By
Installation Part 2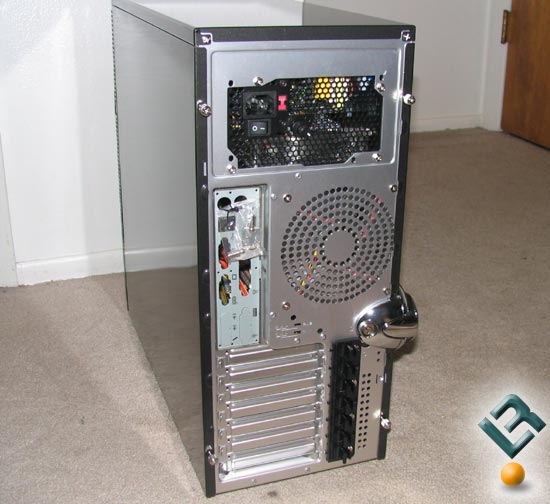 The rear of the case shows the optional, pre-installed power supply unit, the back I/O panel, 120 mm fan grill, side panel lock, and the 7 available expansion slots. Notice each side panel is secured by two thumb screws for screwdriver-less entry.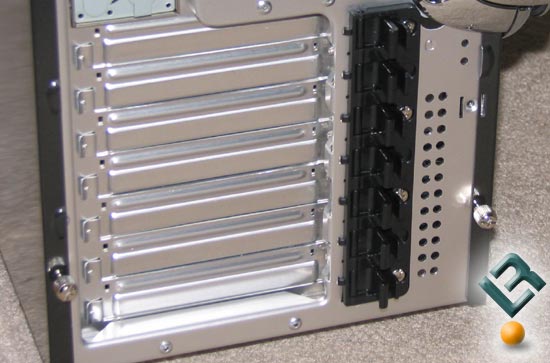 One of the qwirks I found with this case is the lack of functionality of the expansion slot locks. The design of the case requires you to still screw down a card or cover because there is nothing that will lock the plate in place to prevent it from sliding. So, there is nothing 'screwless' about this feature.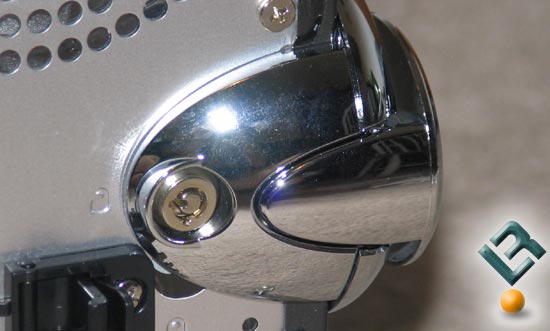 The locking mechanism for the side panel is functional and discrete. The only down side is that you have to reach to the back of the case to unlock it, but in most scenarios, this would not be an issue because the case will usually be in the open if you needed to get inside it.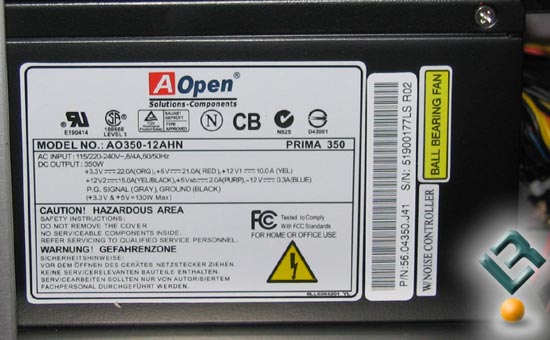 The optional 350 Watt PSU will satisfy the needs of an average user. This PSU is manufactured by Silentek and is ATX 2.0 compliant and does include SATA power connectors. It is a shame that AOpen does not offer a higher wattage PSU with this case. The simple take-home message here is if you are an enthusiast, skip out on the optional PSU and purchase one that will meet your needs on your own.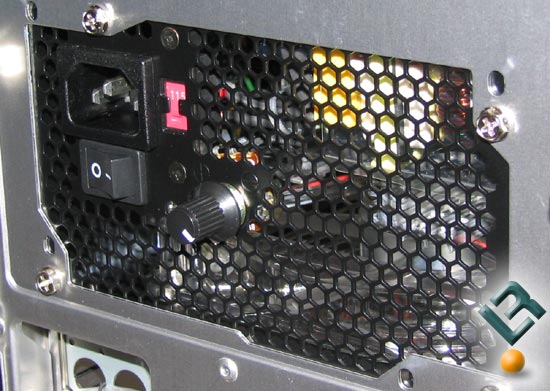 One of the nice features about this PSU is that you can control the fan speed by turning the knob on the back of the PSU. The power supply fan is quite loud on high, and virtually silent on low.
Here you can see that there is a 120 mm exhaust fan on the back of the case, and another 120 mm intake fan for the PSU. There is no exhaust fan on the optional PSU, but the intake fan in the PSU matches the other two case fans on the Nouveau by having blue LEDs! Between the LED fan in the PSU and the LED fan on the back of the case, you really don't need any alternate lighting to illuminate your PC's innards.
Another benefit of the optional PSU is that it comes ready for either a 20 or 24 pin ATX connector by allowing the user to slide off the unnecessary 4 pins when using a 20 pin ATX power connector.