AMD Radeon RX Vega 56 versus NVIDIA GeForce GTX 1070
By
Radeon RX VEGA 56 versus GeForce GTX 1070
On August 14th, AMD announced three new graphics cards based on the 'Vega' GPU architecture: Radeon RX Vega 64 Liquid Cooled Edition, Radeon RX Vega 64 with air cooling and the Radeon RX Vega 56. The Radeon RX Vega 56 came a little sooner than we expected and we frankly weren't prepared for it when the card arrived. AMD allowed reviews of the Vega 56 to be published on August 14th and actually asked reviewers to focus on it, but it won't be available to purchase until August 28th. When the AMD Radeon RX Vega 56 becomes available in the retail channel on August 28th it will command a $399 MSRP and AMD expects it to be the clear leader at that price point.
All of the Radeon RX Vega graphics cards support HDMI 4K60 and DisplayPort 1.4, Radeon FreeSync displays, Ultra HD, ultrawide, and single-cable 5K resolutions. So, if you are looking to pick up a new display and want some flexibility and an affordable adaptive sync solution the Vega lineup looks pretty solid on paper. The Vega 56 at $399 has 56 Compute Units with 3,584 stream processors running at up to 1471MHz for 10.5 TFLOPS of peak single-precision compute performance. Vega 56 also comes tacked with 8GB of HBM2 memory running at 1.60 GHz (effective) and that gives this model 410 GB/s of memory bandwidth. When it is comes to board power you are looking at 210 Watts for this model. Over 10 TFLOPS of compute and over 400 GB/s of memory bandwidth for $399 seems like a steal for gamers.
The only problem for AMD is the NVIDIA GeForce GTX 1070 8GB GDDR5 series graphics card that was released in June 2016 for $449. NVIDIA has reduced the MSRP on the GeForce GTX 1070 over the past year and the MSRP on this model is $379. The NVIDIA GeForce GTX 1070 has 1,920 CUDA cores running at up to 1683 MHz or 6.5 TFLOPS of peak single-precision compute performance. The 8GB of GDDDR5 memory on the GTX 1070 is clocked at 8,000 MHz (effective) and runs on a 256-bit bus for 256 GB/s of memory bandwidth. NVIDIA was ableto get all that performance in the GTX 1070 and managed on keeping it at a 150W TDP rating.
| | | |
| --- | --- | --- |
| | RX Vega 56 | GeForce GTX 1070 |
| GPU | Vega 10 | GP104 Pascal |
| Transistor Count | 12.5 Billion | 7.2 Billion |
| GPU Cores | 3584 | 1920 |
| Base Clock | 1156 MHz | 1506 MHz |
| Boost Clock | 1471 MHz | 1708 MHz |
| Texture Units | 224 | 120 |
| ROP Units | 64 | 64 |
| Memory | 8 GB | 8 GB |
| Memory Clock | 1600 MHz | 8000 MHz |
| Memory Interface | 2048-Bit HMB2 | 256-bit GDDR5 |
| Memory Bandwidth | 410 GB/s | 256 GB/s |
| TDP | 210 Watts | 150 Watts |
| Peak Compute | 10.5 TFLOPS | 6.5 TFLOPS |
| Process Node | 14nm | 16nm |
| MSRP (Aug 2017) | $399 | $379 |
Looking at the numbers on paper makes it look like a clear win for AMD, but is it going to be? Could the tale of the tape be wrong?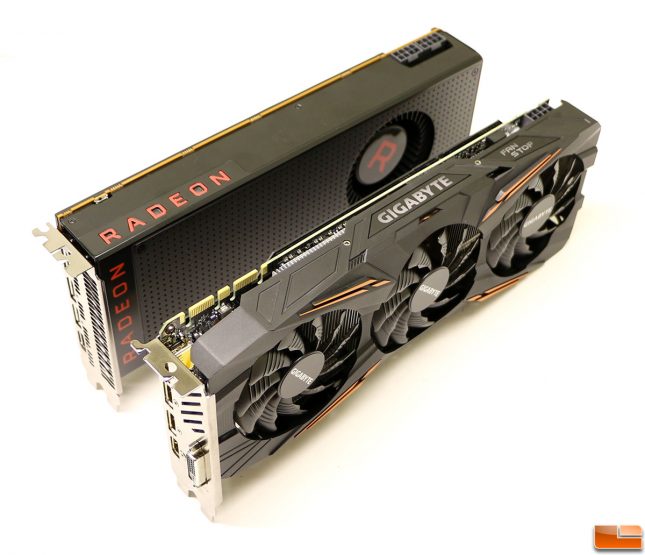 To figure out if the Radeon RX Vega 56 or GeForce GTX 1070 is the best GPU for under $399 we grabbed both cards and ran them through a series of benchmarks at 1080P, 1440P and 4K display resolutions. We have several GeForce GTX 1070 video card models here to pick from, so we actually randomly drew brands from a hat and the Gigabyte GeForce GTX 1070 G1 Gaming graphics card (part number GV-N1070G1 GAMING-8GD) was the sacrificial lamb from the group. This card has a base clock of 1594MHz and a boost clock of 1784MHz, so it has about a 100MHz factory overclock on it. The MSRP on this card is $429.99, but good luck finding any high-end gaming graphics card at its suggest retail price thanks to the cryptocurrency mining boom!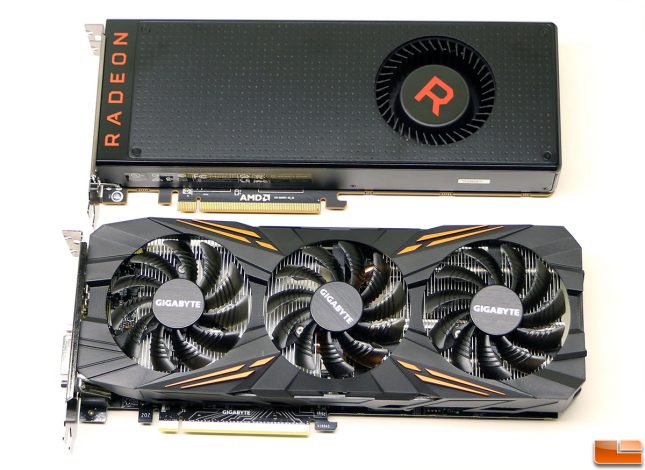 The AMD Radeon RX Vega 56 measures 10.5-inches in length versus the 11-inch long Gigabyte GeForce GTX 1070 G1 Gaming. When it comes to GPU cooler designs the Vega 56 model has a blower style fan and the GTX 1070 has the WINDFORCE 3X cooling system. We hate to compare a custom board partner card to a reference design, but lets face it not many are buying a GeForce GTX 1070 Founders Edition today.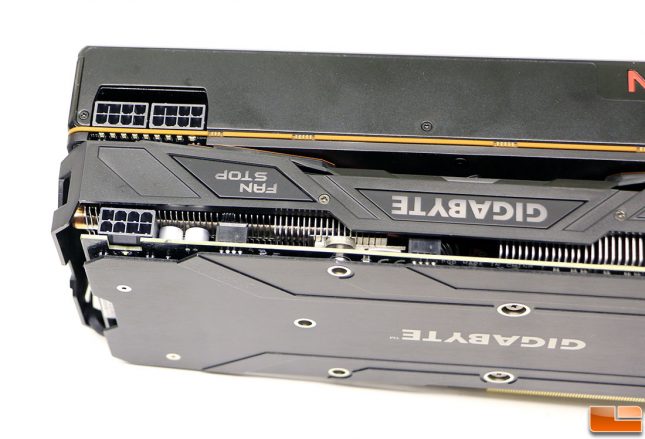 To get these cards running properly in your gaming PC you'll need to hook up two 8-pin PCIe power connectors on the Vega 56 whereas there is just one needed on the GTX 1070 model that we are comparing it to today. Both cards have backplates and lighting on the tops of the card.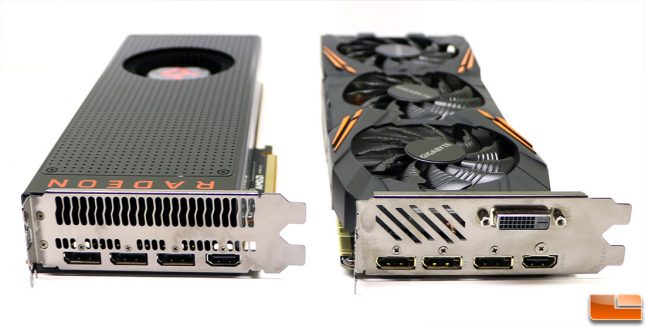 When it comes to video outputs for display connectivity both cards have three standard sized DisplayPort connectors and one full sized HDMI port. The GeForce GTX 1070 does have a DVI output though that isn't seen on the AMD Radeon RX Vega 56 reference design.
How about we spare you the chit-chat and let's do this! Let's take a look at the test system and then see the benchmarks!