AMD Radeon HD 4830 512MB Graphics Card Review
By
AMD Introduces a $129 Radeon HD 4830 Graphics Card
Update: Shortly after Legit Reviews published our Radeon HD 4830 articles we were notified by AMD that every reference card they sent out to reviews came with an incorrect BIOS. The BIOS that shipped on the Radeon HD 4830 had one too many of the SIMDS disabled and that the Radeon HD 4830 had just 560 stream processors enabled instead of the 640 stream processors that it should have been running. Read this article to see what the right BIOS does for performance!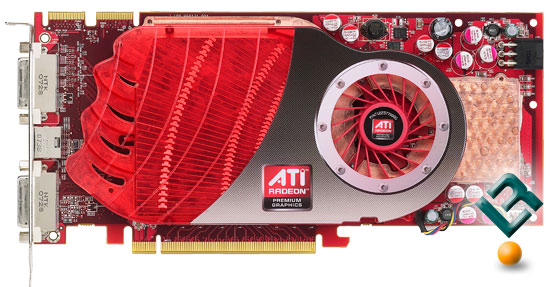 AMD has been pretty aggressive in the video card market lately and with the success of the Radeon HD 4800 series who could blame them. Today AMD is announcing the ATI Radeon HD 4830 graphics card, which looks like the Radeon HD 4850 at first glance. It would be easy to confuse the two cards as they use similar printed circuit boards and both use 512MB of GDDR3 for the frame buffer. What is the difference then? The Radeon HD 4830 has lower clock speeds across the board in conjunction with 160 fewer stream processors and eight fewer texture units than the Radeon HD 4850. With less features comes a lower price tag and at $129 the Radeon HD 4830 can still offer great performance for the price being paid.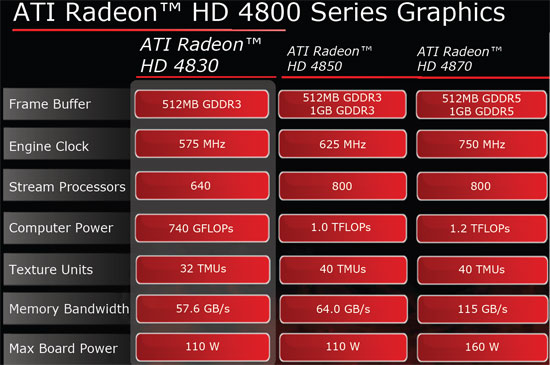 When you compare the specifications on the three single GPU Radeon HD 4800 series cards you can see how they stack up across the board. Notice that the max board power remains the same on the Radeon HD 4830, so power consumption and temperatures should be close to what is seen on the Radeon HD 4850 graphics card. The clock rate on the Radeon HD 4830 is 575MHz with the memory clock being 900MHz. The Radeon HD 4830, 4850 and 4870 all have 956 Million transistors and are built on the 55nm process.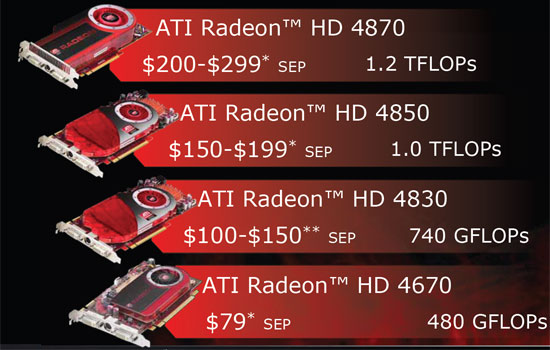 AMD has a very nice product stack in the market now with mainstream gaming graphics cards from the $79 price point all the way up to the $300 mark for those looking to spend a little more for performance. The Radeon HD 4830 is set for the $100-$150 price point, which makes it direct competition to the GeForce 9800 GT graphics card from NVIDIA. Now that we have a basic understanding of the specifications, let's take a closer look at the card itself.