Alienware High Definition Media Server Review
By
Conclusions & Wrap Up

In the weeks following the 2008 Consumer Electronics Show, we have seen a huge push from manufacturers who are focusing more than ever on delivering products and solutions for customers who are looking at home theater/home system solutions. AMD/ATI and NVIDIA motherboards and video cards are coming with standard HDMI outputs and 7.1 digital sound. Manufacturers like Microsoft, Apple and Logitech are releasing hybrid products good for not only desktop PCs, but for game consoles and home theater PCs.
George Dilanian of Audio Video City sees each of these manufacturers as an example of what many insiders see the growth of the computer industry going to. We would agree, for the majority of technology users out there, no more is it just a race to see who has the fastest chip or who has the best benchmark in a particular game. Rather, the question is which company has the best overall solution for not only my gaming, but processing my video, or doing work, and can this piece of hard satisfy my need for a home server? Its a much more complicated world now than 5 years ago when all we worried about was being able to run Quake and Doom.
Alienware is betting that those looking at building Home Theaters will take all of this into consideration and start to look at what effort it will take to make available television content, HD video, music, etc. to each computer and television in the house. With the Alienware High Definition Media Server, the capability is there in a ready-to-go solution. Of course, you can spend time building your own server technically, its not that hard, but by the time you add all the great features that Alienware has thrown in (along with the headache of getting everything running together correctly), the price tag of $4000+ isnt that bad.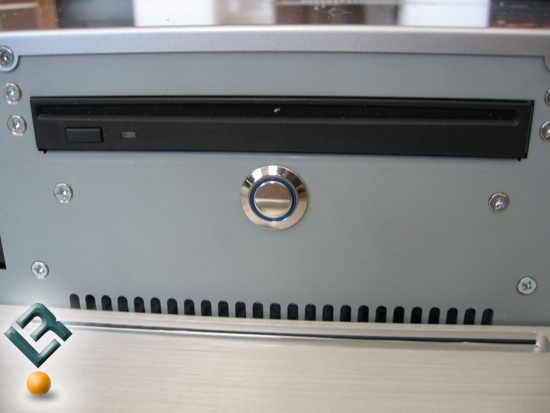 Again, you cant just go to the Alienware website and order one of these things you have to go through a professional installer or distributor to place your order. But before they can place the order for you, they have to be part of Alienwares Digital Home Channel Program so that they become authorized resellers of the media server. We can only imagine what kind of price padding will be associated with these units as well. Alienware, it would seem, wants strict quality control on how the HDMS is distributed and most likely wants to use these select distributers to cut down on basic installation and use questions. Still, it seems like an awful lot of hoops to jump through for something that is mirrored on a much lower level with a basic Home Theater PC or even a Playstation 3 or Xbox 360.
Audio Video Citys Dilanian put it best, The Alienware High Definition Media Server is designed to be acquired by professionals, installed by professionals, and used by someone who wants the maximum out of their home theater and networked computer system. As an installer, we would want to make sure that this box is set up correctly and all of the computers and televisions in the house have access to it before leaving the work site. I kind of worry that even after our normal customer training, we would get a barrage of phone calls asking about basic functionality or expandability.
What if the user wants to add another computer or change out a video source? Dilanian responds, We would probably have to return to the work site for sure.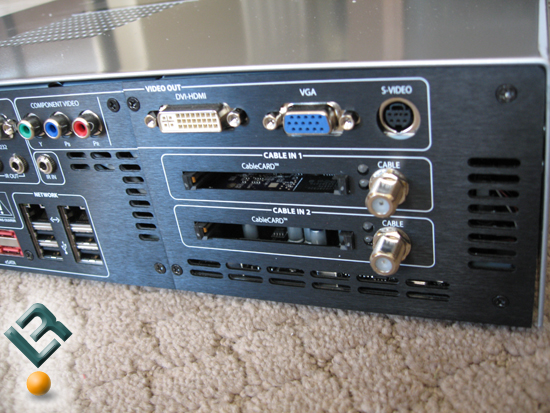 Depending on the installer, this type of service might cost the user even more money. Its one thing to get this system installed, its a whole other thing to live with the system if you are used to your basic cable or satellite system.
For those not inclined to pay for Alienwares top of the line media server or spend the time to build their own, Alienware has also introduced a tamer machine in the Hangar 18 HD Home Entertainment Center. On the surface, the Hangar 18 server looks to perform many of the same functions as its big brother the HDMS, but at the core, the Hangar 18 is really the junior varsity to the HDMS Professional quality. More like your traditional home theater PC, the H18 is built on AMDs low wattage Athlon 64 X2 technology and comes with the same Blu-ray writer, video processing, and networking that the HDMS has. Running on Windows Vista Home Premium, the Hangar 18 can have up to 2 Terabytes of storage (not hot swappable), but does come with a nice little memory card reader. The look of the Hangar 18 is typical Alienware (in a good way) and will be ready to power your speakers with its built-in amplifier. Where the High Definition Media Server is designed to augment an established Home Theater, the Hangar 18 starting at a much lower retail price of $1700 is the center hub of a Home Theater. You can purchase this one directly from Alienware on their website

Is this the perfect solution for everyone? Not hardly, but its a huge step forward to anything that is on the market today. Alienware is setting the bar high for those companies who want to be more than fringe players (hello Sony & Microsoft!)
The HDMS is certainly expensive, but according to our installers, the price point is not that bad. According to Thanh Duong of Control Box, Inc., Our customers would certainly pay $4000-$6000 for this sort of solution a turnkey solution that works. The Alienware is sweet!
For the rest of us, we might look into building our own, but we will most likely have to give up that great Alienware case, some hard drive space, and probably some memory to a DIY media server under the $3000 price point. In the future, Legit Reviews will try and build our own High Definition Media Server to compare to Alienwares, but until then, the Alienware HDMS is the best media server on the planet.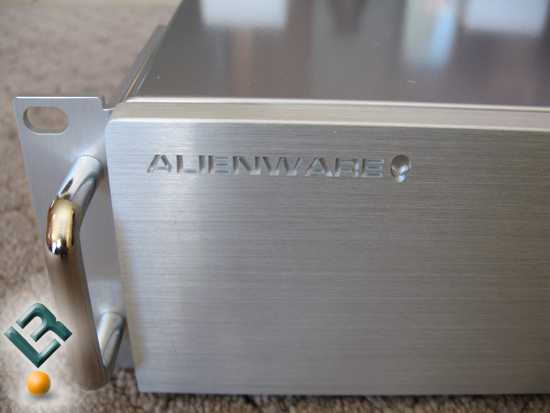 Legit Bottom Line:
The Alienware High Definition Media Server is not the Cadillac of media servers its more like a Maybach. If you have to ask how much, you probably cant afford it, but once you drive one everything else is pretty much crap. In a world that is moving towards complete home integration, Alienware has drawn first blood and set a high standard for others to beat.