Alienware High Definition Media Server Review
By
Alienware High Definition Media Server

Last month, we teased Legit Readers with first look pictures of the Alienware High Definition Media Server. Alienware has taken the monumental task of delivering a centralized and fully integrated home entertainment distribution center to its customers. The point of the HDMS is to have an easy way to collect and serve up media content to many rooms and display panels simultaneously. Whether it be high-def video, music, pictures, or watching your favorite program, the HDMS is designed to take all of these different media in and serve them seamlessly to different parts of the house.
Anyone who owns or has used a Microsoft Xbox 360 or Sony Playstation 3 knows about having this capability and power. Each of these consoles is making a huge effort to get their users to use their box as the hub of their home theater. The problem is that even though these solutions exist in the Xbox, Playstation, and others, these systems are limited in the kind of material that they can serve up and it is still a sort of black art to get these systems to work properly and consistently. Alienware sees an opportunity for company growth moving into a world that is much different from their traditional enthusiast hardware by providing an all-in-one product for audiophiles and home theater users.

As we described in our preview, the Alienware HDMS is a high-end media server designed for users looking to create a connected and fully-integrated home theater. The price of the media server is between $5000 and $7000 depending on the configuration that you are looking for.
If you are like me, then the options that Alienware offers will make you drool. With up to 4 Terabytes of storage, you can hold a lifetimes worth of digital movies, music, and photos. Once the data is on the HDMS, it can be shared and distributed amongst all users in your network (or remote) network. This data can be streamed all over the house via the servers dual gigabit Ethernet LAN or the 802.11B/G/N wireless. Intels Core 2 Quad processor powers this beast to talk with every room of the house if necessary. This is a perfect example of how Intel wants to use its Viiv architecture Intels hafnium-infused 45nm multi-core predecessors designed for HD audio and video.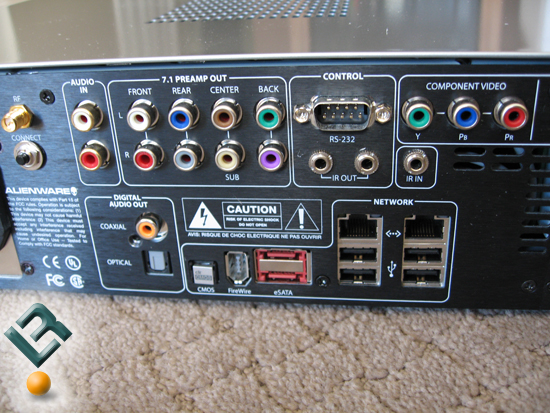 What we want to do today is take a closer look at Alienwares Media Server to see if it is worth all of the hype and costs. We will even hear directly from the installers who will deploy this monster in users home and see if their customers think its worth the cost and effort to install.