ACER Switch 11 Pro 2-in-1 Laptop Review
By
ACER Switch 11 Pro 2-in-1 Laptop
ACER recently loaned Legit Reviews one of their latest 2-in-1 tablets to check out, the Aspire Switch 11. The ACER Aspire Swtich 11 is a 11.6 inch tablet that runs Windows 8.1. It is available in multiple models ranging from an Intel Atom Z3745, Intel i3-4012Y or an Intel i5-4202Y processor. Depending on the model, you might select a screen with a resolution of 1366×768 or 1920×1080. In addition, other options include 2GB or 4GB of memory or the mount of storage 32GB Flash, 60GB or 128GB SSD, finally two options for the operating system, Windows 8.1 (Consumer) or Windows 8.1 Pro (Professional). Lots of choices to ensure you get what you need. Depending on the configuration, the suggested retail price can range from $349.99 up to $799.99 with either a one year warranty or two year warranty.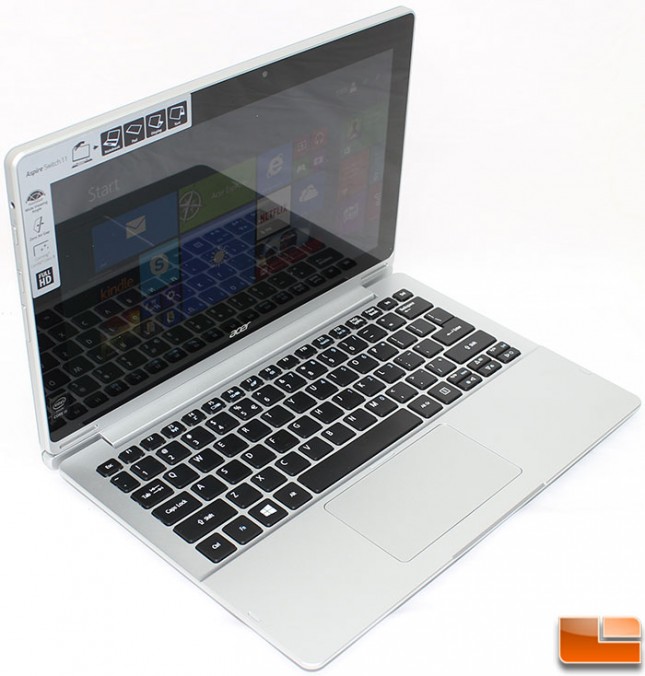 The Switch 11 is a tablet that comes with a keyboard dock that allows the tablet to convert into a laptop; or you can think of it the other way around, it is a laptop that the screen detaches to turn it into a tablet capable of 1920x1080p with 10 point multi-touch. The screen itself is made out of Gorilla Glass 3, so it should be a touch screen able to provide a high level of scratch resistance. The Switch 11 weighs in at 3.4lbs making it a leightweight laptop. Most of the weight is in the screen though so as most of these type of devices it is top heavy.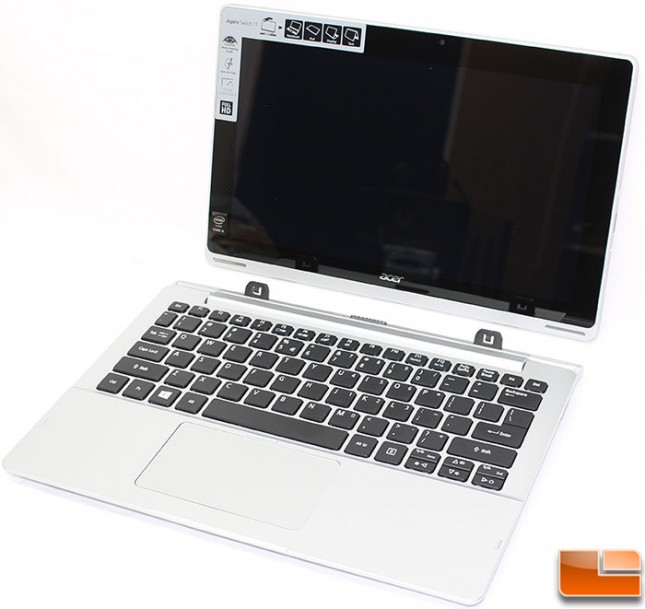 Out of the various models, ACER sent us the SW5-171P-82B3, the professional model, which features the Intel Core i5-4202Y 'Haswell' processor running at 1.6GHz along with Intel HD Graphics 4200 (200MHz base frequency, 8.50MHz max dynamic frequency). The Intel i5-4202Y processor is a 11.5W TDP dual-core processor with Hyper-Threading technology that is rated at 1.60 GHz with maximum turbo frequency of 2.0 GHz. There is also 4GB of memory, a 128GB SSD, 802.11n 2×2 wireless and Windows 8.1 Pro. This is the best model that the Switch 11 is available in, and has a suggested retail price of $799.99 and a two year warranty. We found that Amazon sells what appears to sell a similar sku for $499 shipped.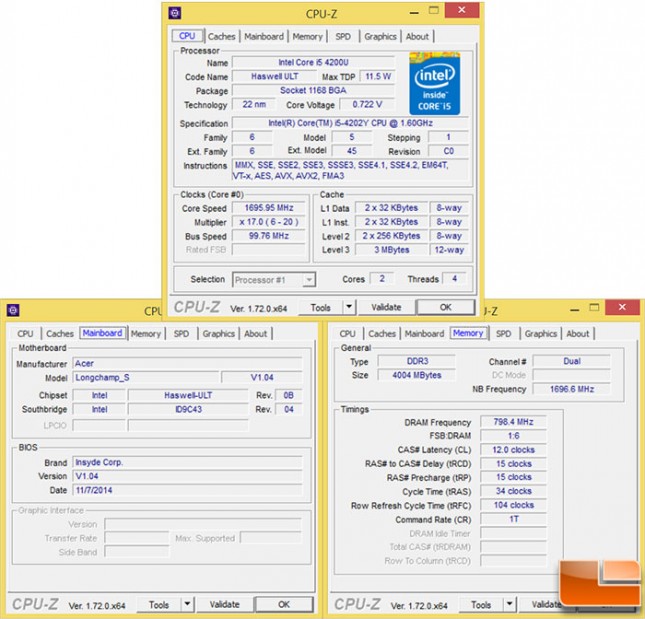 With the ability to flip, rotate or detach the screen, ACER has designed the Switch 11 to work however you are most comfortable. The keyboard easily detaches from the screen allowing you to leave the keyboard behind, and using the on screen keyboard or the included Active Pen to write or draw on the screen.
Acer Switch 11 Features and Specifications
Acer Switch 11 Specs
Processor
Intel i5-4202Y
1.5GHz
Dual-Core
Memory
4GB DDR3
Storage
128GB SSD
SATA 6Gbps
Additional Storage
MicroSDXC
Screen
11.6in.
Active TFT LED IPS
1920×1080
Multi-Touch
Wireless Network
801.11 a/b/g/n
Bluetooth
4.0
USB Ports
USB 3.0 x1
Operating System
Windows 8.1 64-bit
Battery
3 Cell Lithium
2850mAh
Camera
1MP Front (720p HD recording)
Audio
Front Facing Stereo Speakers
Dimensions
1 X 11.7 X 8.1 in (HxWxD)
Weight
1.55kg (3.4lbs)
Warranty
1 Year