7-Way 550-600 Watt Power Supply Roundup Review
By
7-Way 550W-600W PSU Review – Conclusion
It would be hard to recommend a single power supply over all others, as the selection of any product is almost always a decision based on multiple criteria which greatly vary between users. We can however make an educated analysis of our results and base our recommendation on those, for users which seek a summarized guidance about a specific model.
| | | | | |
| --- | --- | --- | --- | --- |
| Manufacturer | Model | Wattage | 80Plus Qualification | Price (at print time) |
| Be Quiet! | Dark Power Pro 10 | 550W | Gold | |
| Corsair | CX600M | 600W | Bronze | |
| Corsair | GS600 | 600W | Bronze | |
| Cougar | PowerX | 550W | Bronze | $69.99 MSRP |
| InWin | Commander III | 600W | Gold | |
| Seasonic | G Series | 550W | Gold | |
| Thermaltake | TR2 | 600W | Bronze | |
Be Quiet's Dark Power Pro 10 550W unit was undoubtedly the higher performance power supply that was included in this roundup review, almost always finding its way at the top of our charts. This model also excels on quality, with a long manufacturer warranty and a majestic external appearance. However, its ludicrous retail price places this product at a huge disadvantage against the competition, essentially limiting its probable target group down to only users who want the best possible 550W-600W power supply regardless of the monetary cost. You get what you pay for with this power supply. Price aside, it gets our Editor's Choice award for being the best of the group.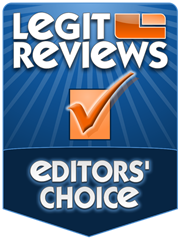 Corsair's CX600M and GS600 are a more complicated matter. The performance of both units is similar and the only advantage of the GS600 is the lighting and external appearance of the unit. On the other hand however, the CX600M is a modular power supply, while the GS600 is not. The price difference between the two units is small but significant, giving the CX600M a distinctive edge, yet the final choice is up to the user. The overall performance and quality of both units is very good and the CX600M would probably be our first recommendation for a choice balancing performance, quality and value, if not for Seasonic's extremely aggressive retail pricing at this point of time.
The Cougar PowerX 550W is a power supply trying to merge value with aesthetics. At just 0.127 USD/Watt, the power supply does offer very good value and quality. However, the electrical performance of the PowerX 550W falls short when compared to the competition, with mediocre voltage filtering results. That would not keep us from recommending it for its good price to those that are drawn to it aesthetically, yet it would not be our first recommendation to any user that considers performance a primary driving factor.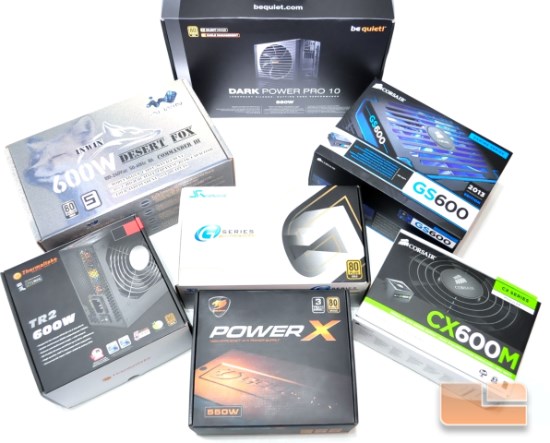 InWin took a completely different approach with their unit. The militaristic name of the Commander III suits it because it truly is built like a tank. It appears that the company did not settle with anything less than the highest quality (and most expensive) components possible, while the assembly quality is immaculate. Quality wise, we would rate it as the best unit that was included in this roundup. The retail price is reasonable for that level of quality and performance ratings. However, the Commander III suffers from unexceptional ripple filtering, which drops its electrical performance lower than that of other 80Plus Gold certified units. We also are unsure regarding the Cornsilk yellow color of the unit and how many users will actually enjoy its militaristic appearance.
Seasonic's G-Series 550W unit was the surprise of our roundup review. Seasonic managed to create an 80Plus Gold certified power supply with exceptional electrical performance which today retails for less than far technologically inferior products. Albeit its aesthetic appearance is simplistic and the G-Series 550W may leave certain groups of users aesthetically unsatisfied, it is extremely capable and the retail price which this power supply retails for is, simply put, a steal.
Our last contender, the Thermaltake TR2, left us with mixed feelings. Albeit the electrical performance of this power supply is nothing more than compliant with the design guide specifications, the quality is good and the power supply sells at a really low retail price. Also, the company backs it up with a 5 year long warranty, which is exceptional for a 50 USD product. It is a product meant to be utilitarian, not to set new performance records. Therefore, even if the competition can smash it in terms of performance and or even aesthetics, the TR2 is not a bad choice at all for system builders and users on a tight budget seeking the lower retail price possible.