XPG Starker Mid-Tower PC Case Review
By
XPG Starker: Interior Review
With the tempered glass side panel removed, we have a better look at the interior of the case. The motherboard tray has many cable cutouts, which have rubber grommets installed for aesthetic purposes and to prevent damage to cables. The CPU cutout is also very large for installing CPU coolers without the removal of the motherboard. On the power supply chamber, there is a large cutout to reveal the power supply unit along with the company logo next to it.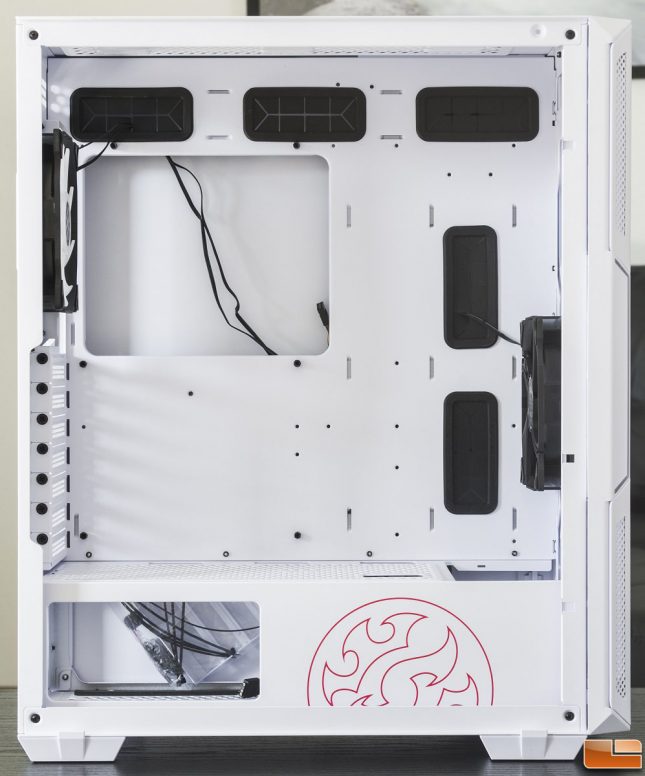 Behind the motherboard tray, there are many cable tie-down points for cable management. This is very useful especially since the Starker comes with RGB components. Computer systems with RGB components require additional effort with cable management, so I am very happy to see the many tie-down points on a computer case in this price category. Below the CPU cutout is a removable drive plate for two 2.5″ SSDs or one 3.5″ HDD. With a 3.5″ HDD, the mounting tray will have to be installed on top of the power supply chamber.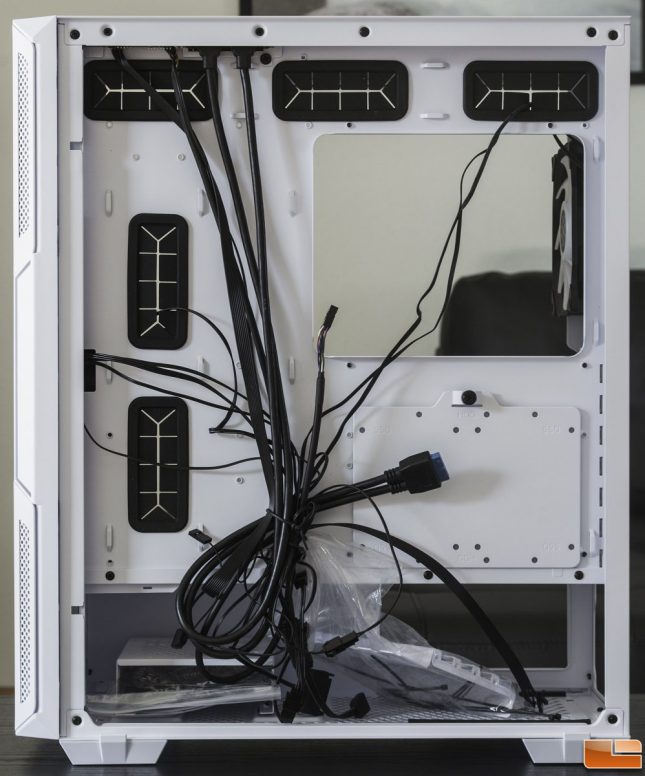 The top portion of the power supply chamber is fully ventilated. This allows air to the power supply unit even if the fan is facing upwards. The chamber has four cable cutouts and a mounting location for the rear drive plate for installing a 3.5″ HDD.
Using the included vertical GPU mount, it takes up six of the seven horizontal expansion slots to mount the GPU vertically. The mount does have four expansion slots, meaning the graphics card is adjustable to be closer or farther away from the side panel. Do note a PCI-E riser cable does not come included with the Starker.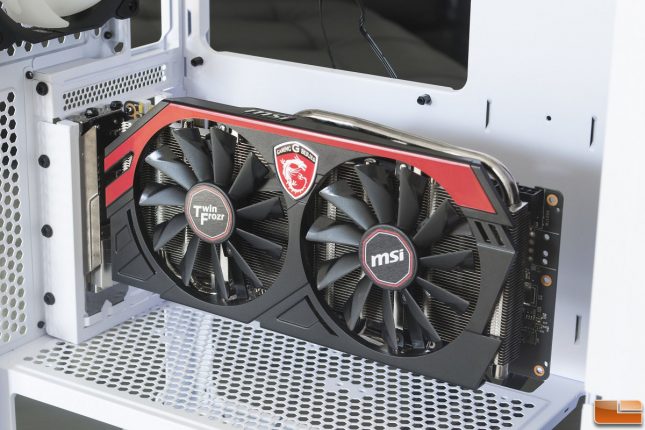 The front panel is simple to remove since it is held onto the case via magnets. With it removed, we have access to the front dust filter. The dust filter slides out from the top of the case, which makes it accessible even without having to remove the front panel.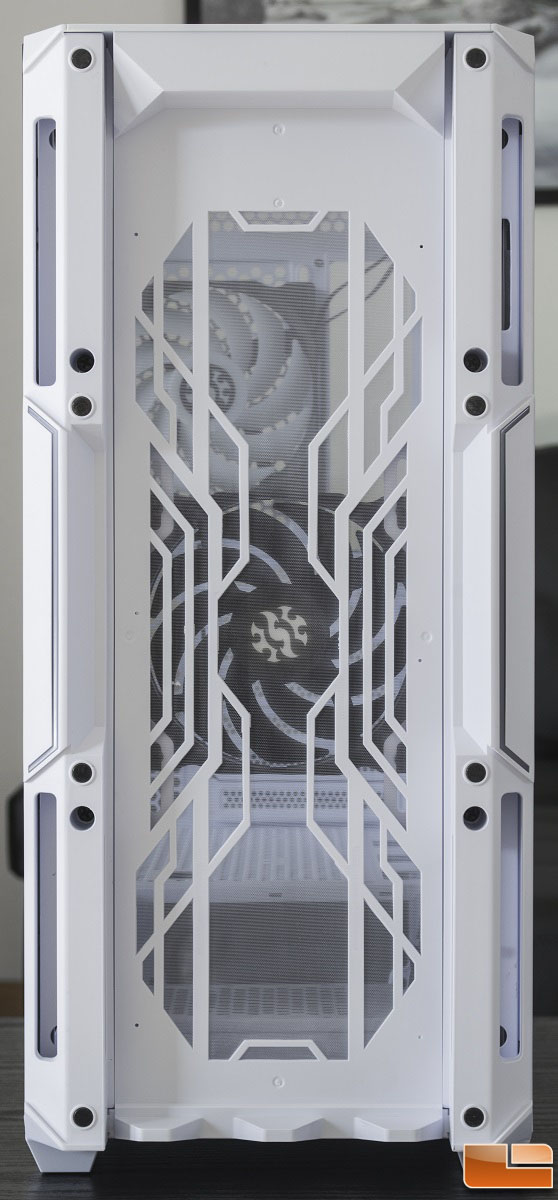 With the front dust filter out the way, we get a better look at the front fan mounts as well as the included XPG Vento 120mm fan. The Starker offers good cooling support like the more expensive computer cases. As for front fan and radiator support, there is room for three 120mm or two 140mm fans and a 360mm or 280mm radiator.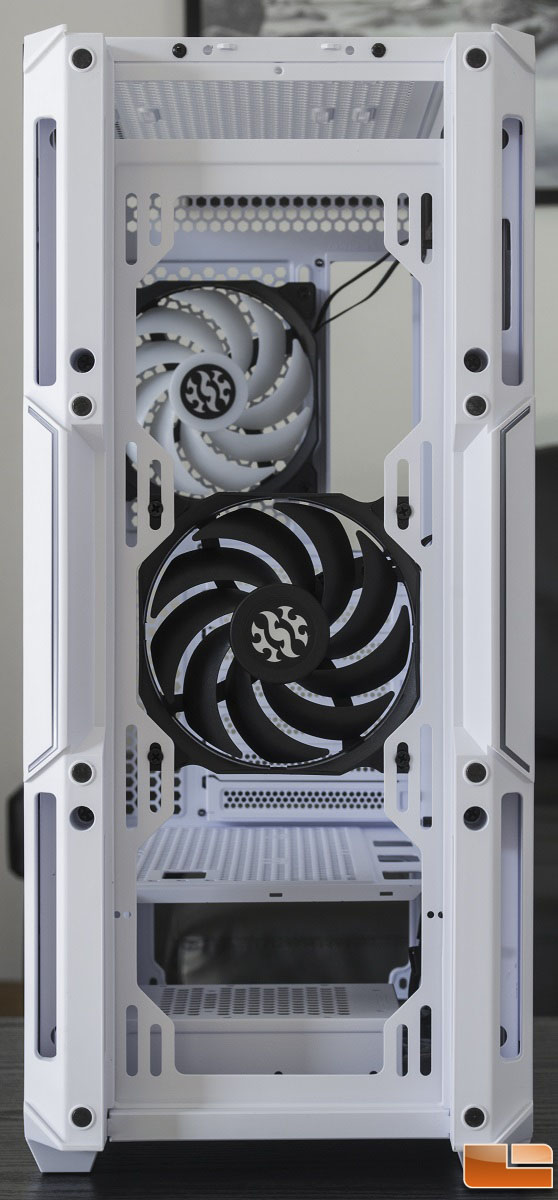 Because of the compact design of the case at 400mm in length, the top does not support three 120mm fans and a 360mm radiator. It does support two 140mm fans and a 280mm radiator, which is more than enough for most people.
In the next section, we will talk about the build process and go through some temperature tests for the Starker.