XFX Radeon R9 Fury Triple Dissipation Video Card Review
By
Rise of the Tomb Raider
Rise of the Tomb Raider is a third-person action-adventure video game developed by Crystal Dynamics and published by Square Enix. It is the sequel to the 2013 video game Tomb Raider, which was itself, the second reboot to its series. It was released for Microsoft Windows in January 2016. Players control Lara Croft through various environments, battling enemies, and completing puzzle platforming sections, while using improvised weapons and gadgets in order to progress through the story.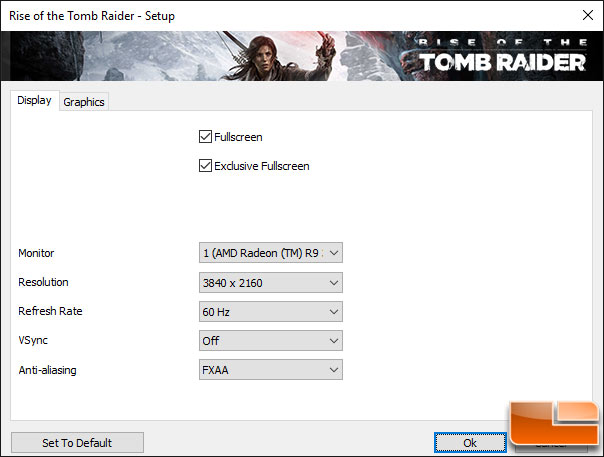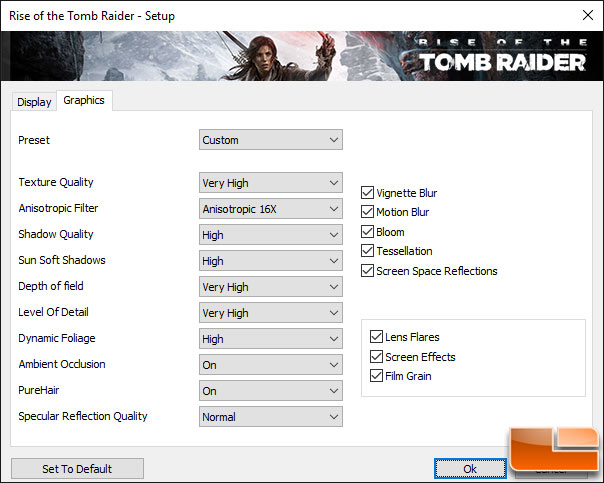 Crystal Dynamics used a proprietary game engine called 'Foundation' for Rise of the Tomb Raider and it is able to create some pretty nice looking graphics. We tested Rise of the Tomb Raider with the Very High preset, but then changed the ambient occlusion setting from HBAO+ (an NVIDIA developed feature) to 'ON' to have as fair of a match up as we could. We also disabled VSync.
Once we had the graphics and display settings figured out we used FRAPS to manually benchmark a section of the Siberian Wilderness that is about 10% into the game for a couple minutes. Rise of the Tomb Raider does not have a built-in benchmark, so this is one of the only ways you can benchmark this particular game title.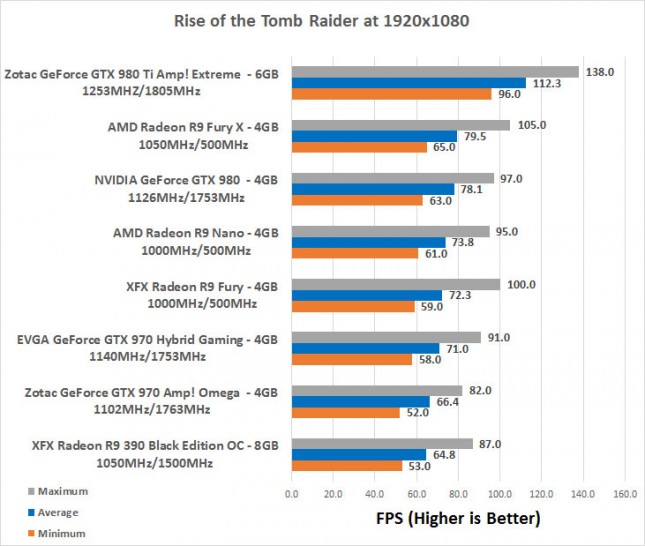 1080P Benchmark Results: For those running Full HD 1080P displays the good news is that all higher-end desktop graphics cards are able to play Rise of the Tomb Raider with 60 FPS averages. The XFX Radeon R9 Fury dipped below 60 FPS just a couple times in our benchmark run and averaged 74 FPS.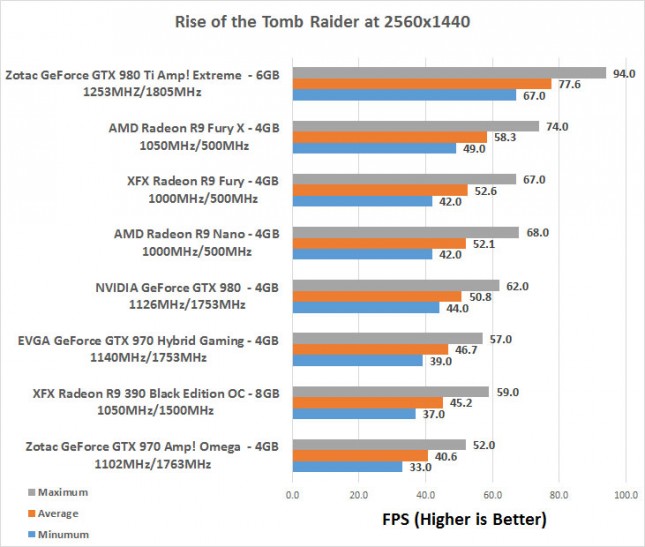 1440P Benchmark Results: With the resolution cranked up to 25×14 the Fury card was able to ahead of the Nano card and averaged 53 FPS.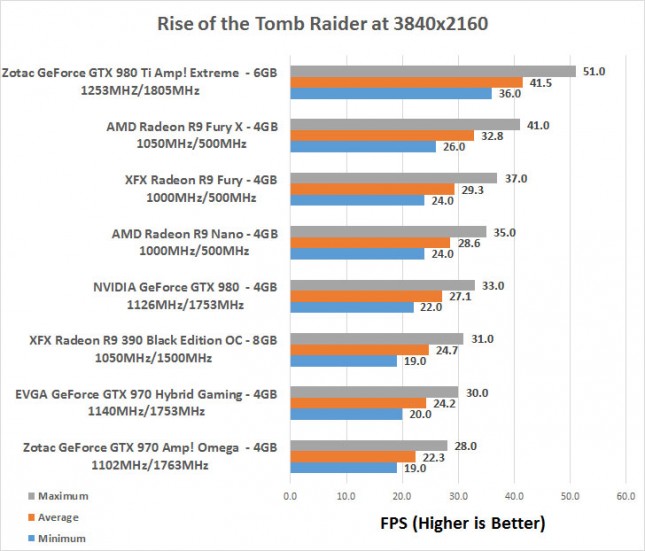 4K Ultra HD Benchmark Results: Rise of the Tomb Raider with these image quality settings were tough on all of the cards and the XFX Radeon R9 Fury was only averaging 29 FPS with the minimum frame rate being 24 FPS.
It should be noted that we did get have the XFX Radeon R9 Fury video card crash on Rise of the Tomb Raider on more than one occasion. AMD let us know that this was due to the high image quality settings (Tessellation and/or SMAA enabled). This explains our random crash and AMD claims that the SMAA bug has been fixed in Crimson 16.2 drivers that just happened to come out today. The game crashing with Tessellation enabled is still an open known issue.