WD TV Live Hub Media Player w/ 1TB of Internal Storage Review
By
Using the WD TV Live Hub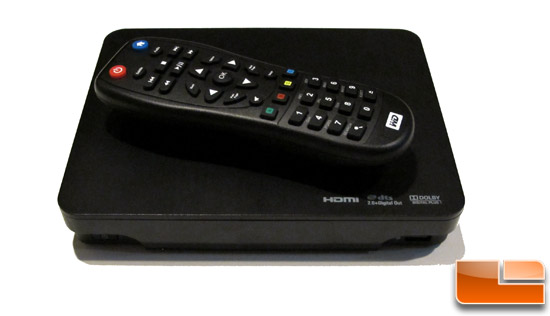 With its 1TB internal hard drive, the WD TV Live Hub gives you plenty of space to consolidate your media in one place. In fact, the hard drive is accessible from your Windows desktop so you can drop media files and folders into the player from anywhere on your network. I was able to transfer files easily by dropping and dragging files from my desktop and laptop straight to the Live Hub. I could even create and edit folders on the fly.
The WD TV Live hub has a great little feature that those who Bittorrent will definitely appreciate. The Mochi GUI can automatically sync drives or folders. If you have a machine or a drive that is constantly changing, the Live Hub can keep up and copy those file to its local drive. You can also implement this synching for USB attached drives. Again, for those who Bittorent or who create media files, this is an excellent feature to have.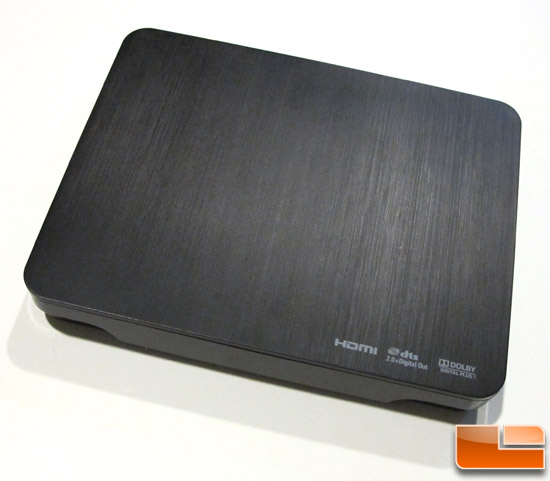 We really had no limitations to the types of files we tested with the WD TV Live Hub. We loaded a USB hard drive with all sorts of media files (AVI, ISO, M2TS, MKV, MOV, MP4, MPG, TS, VOB, WMV, MP3, FLAC, OGG) and the Live Hub was able to play each one quickly with no problems whatsoever. Many people are not only concerned with how HD MKVs and WMVs play, but if Blu-ray ISOs work. Im happy to report that the Live Hubs functionality is consistent with the WD TV Live Plus playing the BD ISO files with no problem, but unfortunately, we still dont get BD ISO Menu support.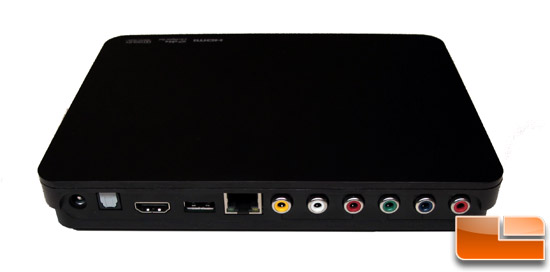 It was also a pleasant surprise to see how the WD TV Live Hub easily passed the audio signals through to my receiver. Many times when I rip video, I encode the movie with more than one audio stream and using the Live Hubs 37-button remote control, it was very easy to select the audio track that I wanted to listen to. In fact, the remote control is a huge step up from Western Digitals offerings with the WDTV Live and Live Plus.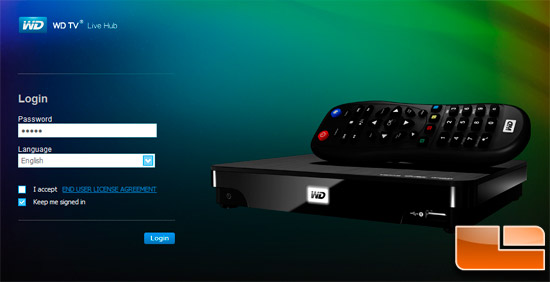 You can even access the WDTV Live Hubs GUI and control it remotely from your Smartphone, laptop or tablet.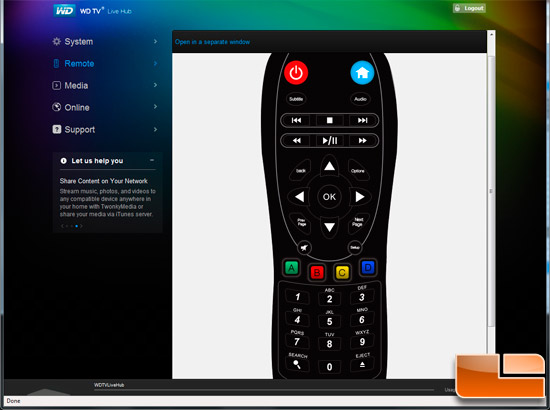 Of course this is light-years more advanced than Apples remote control of the Apple TV not limiting control to certain devices. I found myself using the soft keys quite a bit as it made searching my large media collection housed on various drives and computers, much simpler. The Mochi GUI even allows you to store shortcuts to get to your favorite files and folders. Lastly, you can even plug in a standard USB keyboard so that you can type out your searches and navigate around easily. Its not quite a full-blown HTPC, but you certainly get a lot of bang for the buck!
During audio play, we were pretty amazed at the players ability to grab metadata off the net and display it. Unfortunately, this feature didnt work like we expected with all of our audio files. Many times the Mochi interface would find the artist, and album title, but it wouldnt return the artwork or even match the track with the ID3 tag embedded on the audio file. Clearly, there is potential here to display a great deal of information for the user. We wouldve liked to see the bugs worked out on it already.
Overall, this player is the best overall media player and streamer that we have used. Western Digital already had one of the best players on the market with the WDTV Live Plus, but the WD TV Live Hub is really a step up and a major upgrade to their home entertainment offering. These players were already in front of their peers based purely on how many codecs it supported and files they played. WD not only picked the right processor (in this case Sigmas 500 MHz 8654AD), but the GUI overhaul is simply amazing. When you use the player, the GUI is quick to respond to the remote commands and the layout is clear and logical. The GUI and hardware combination will make you forget about all the other players out there.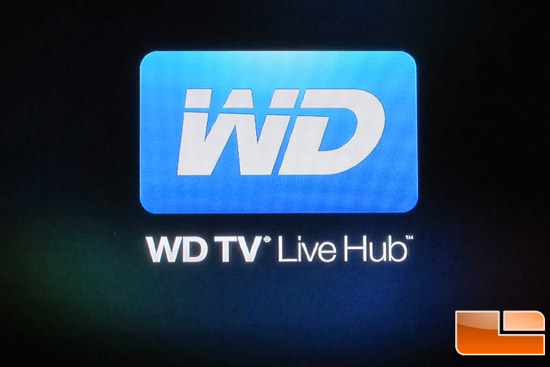 When Western Digital informed me that they were going to sell the WD TV Live Hub for less than $200, I didnt really think that it could be possible – there had to be some corners cut. Based on the $129 WD TV Live Plus and containing a $120 WD Scorpio Blue 1TB hard drive, this player is actually quite a bargain at $199. You throw in a new and very functional GUI, programmable remote control, and the ability to act as a media server, the Live Hub is by far the best overall internet media streamer on the market. The WD TV Live Hub media center comes with a 12-month warranty in North/South America (24-months in Europe and Africa) and is initially available exclusively at Best Buy online and at all 1,093 Best Buy stores nationwide.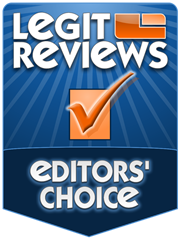 Legit Bottom Line: The Western Digital WD TV Live Hub plays almost every kind of multimedia file available and acts as a network attached storage device as well as media server to anyone on your local network. This media player is by far the best Western Digital has produced and we consider this the best player on the market today.