WD TV Live Hub Media Player w/ 1TB of Internal Storage Review
By
Introducing the New Standard in Media Players – WD TV Live Hub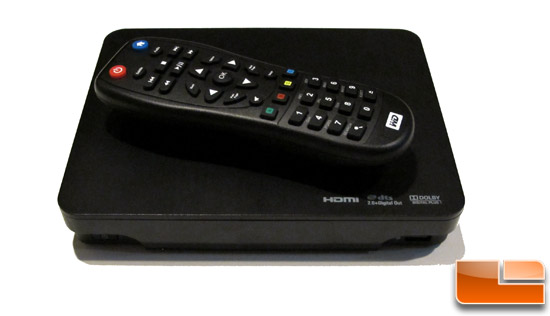 Western Digital has released an all new media player called the WD TV
Live Hub. This new media player is based on previous hardware designed
around the 500Mhz Sigma 8654 SoC which gives it the ability to play High
Definition MKVs, ISO, AVI files and much more. The WD TV Live Hub has a
1TB, 2.5-inch Internal Hard Drive to go along with an all-new graphics
user interface. Priced at $199 it is one of the most expensive media
players we have reviewed lately, but none of the set-top players come
with a built in hard drive.
The Western Digital TV Live Hub is designed to not only play multimedia
that you have in your collection but it is designed to play media that
you that is on the internet as well. The Live Hub has the ability to
play content from Netflix, Pandora, Blockbuster, YouTube, Facebook,
Flickr, MediaFly, and Live365.com. It can even grab you local weather
for your favorite city.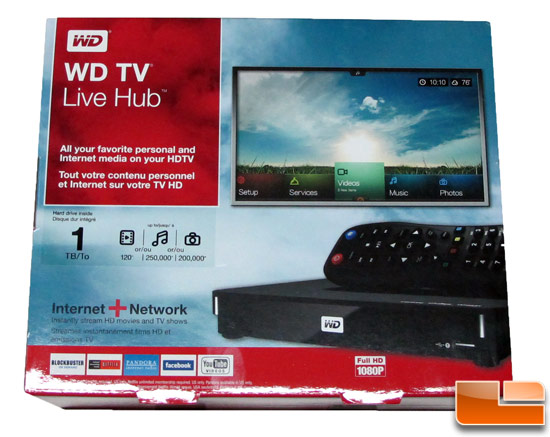 Because this player is based on the Sigma 86xx chipset, we expect this box to play all of our favorite content that we have in our library. If you look at the our comparison chart, you see that the WD TV Live Hubs performance profile looks identical to that of the WD TV Live Plus! This makes sense because they both have the same brains. For $100 more, however, Western Digital gives you 1TB of on-board storage for data as well as a Gigabit Ethernet upgrade and a brand new operating system and user interface.
Not only is the WD TV Live Hub a media streamer, but Live Hub can be considered a Media Server as well. If you have other devices on network, the WDTV Live Hub can serve up audio and video via its iTunes or Twonkey server. You can also share the contents of the hard drive with anyone on the network so that they can access the media files with a PC. This player has a full-sized remote control and can work wired or wirelessly and output Full-HD 1080p.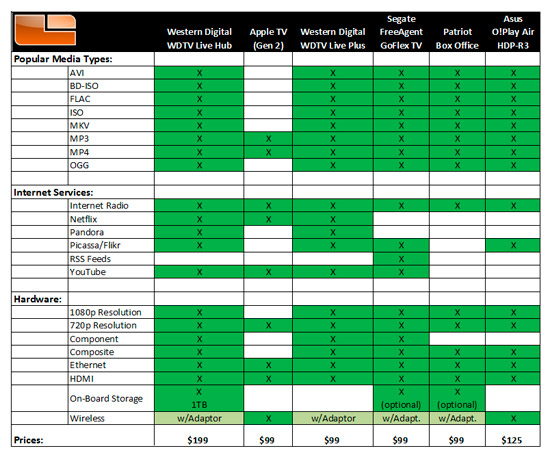 You can see from the chart above (click for larger version) that this looks like a very robust and complete player. We aren't going to call it the "Apple Killer" yet, but it is very apparent that Western Digital did not want their users to complain about lack of formats and codecs supported.
The WDTV Live Hub isn't that big of a unit but at almost 8-inches wide, it is much larger than the Apple TV and slightly larger than the WDTV Live Plus. The Live Hub is still quite thin and looks very stylish sitting in your living room or A/V rack.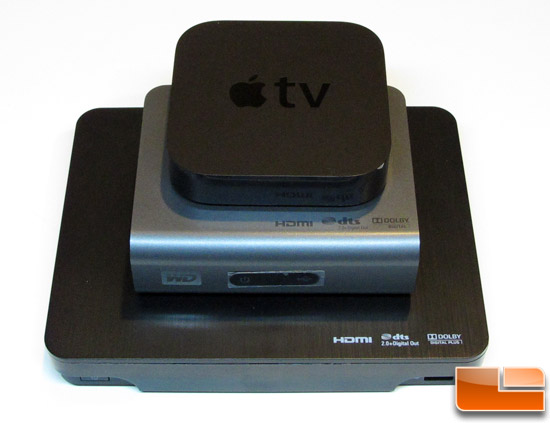 WD TV Live Hub Featured Specifications:
Video – AVI (Xvid, AVC, MPEG1/2/4), MPG/MPEG, VOB, MKV (h.264, x.264, AVC, MPEG1/2/4, VC-1), TS/TP/M2T (MPEG1/2/4, AVC, VC-1), MP4/MOV (MPEG4, h.264), M2TS, WMV9
Photo – JPEG, GIF, TIF/TIFF, BMP, PNG
Audio – MP3, WAV/PCM/LPCM, WMA, AAC, FLAC, MKA, AIF/AIFF, OGG, Dolby Digital, DTS
Playlist – PLS, M3U, WPL Subtitle – SRT, ASS, SSA, SUB, SMI
File Formats Not Supported:
Does not support protected premium content such as movies or music from the iTunes Store, Cinema Now, Movielink, Amazon Unbox, and Vongo
Physical Specifications:
Gigabit Ethernet, USB 2.0, HDMI, Composite A/V, Component video, Optical audio
Physical Dimensions:
Height 1.25 Inches
Depth 7.80 Inches
Metric:
Height 31.75 mm
Depth 198 mm