WD TV Live Hub Media Player w/ 1TB of Internal Storage Review
By
Inside the WD TV Live Hub and New Mochi GUI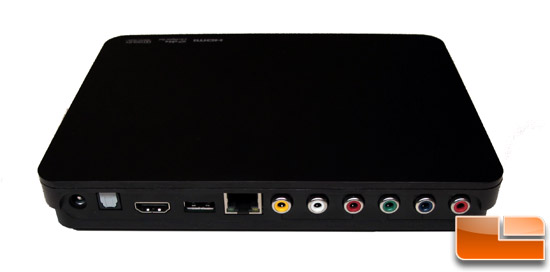 The Western Digital WD TV Live Hub has its roots firmly planted with the success of their WD TV Live and WD TV Live Plus. These were easily two of the top performing media players on the market but they still lacked all of the internet functionality or the slick GUI that the Apple TV box has.
The last player to be introduced by Western Digital was the Live Plus which added Netflix playability to an already solid WDTV Live player. All of these players are based on the same Sigma 86xx chip, but the Hubs chip (Sigma 8654AD) supports HDMI 1.4 and has the ability to play copy protected Blu-ray files such as those encrypted with Macrovision.
Not only were the Live/Live Plus media players firmware upgradable from Western Digital, there was a large contingent of people around the world who were building customized firmware for these devices. In fact, there is already a slight admission from Western Digital to the success of this underground community: If you go to the WD Support page and look up the latest available firmware, you will see that WD offers a GPL Code disk loader program so that you can load a third-party or user-modified firmware. We think this is a brilliant move to embrace open standards and further distance WDs players from mainstream streamers such as the Apple TV.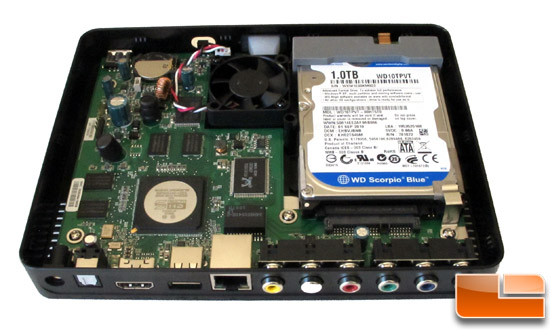 When we take a closer look at the inside of the WD TV Live Hub, we can see the board is dominated by the 1 TB WD WD10TPVT Scorpio Blue hard drive. This SATA drive is Western Digitals flagship 2.5 internal notebook model featuring a 5200RPM drive motor, 8MB of cache and a seek time of 12ms. The drive offers a very good balance of performance and low-power consumption and retails for $117.99 shipped online. Remember the entire WD TV Live Hub Media Center retails for $199.99 at Besy Buy. The vast majority of this price appears to be the 1TB drive that the player comes with.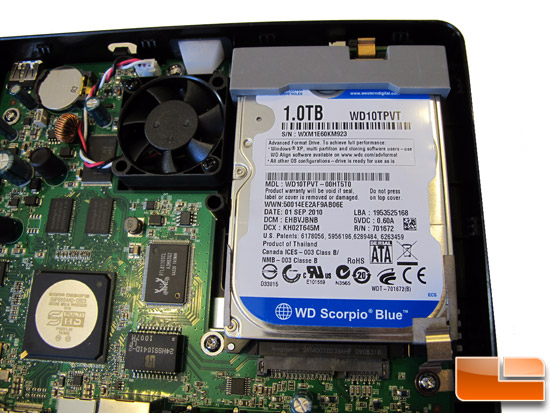 We can clearly see the Sigma Designs SMP8654AD-CBE3 Processor which drives the WD TV Live Hub. As mentioned before, this is the same processor family that drives the WDTV Live Plus. Sigma designed this 500Mhz chip to work with an array of high-definition multimedia formats as well as support Gigabit Ethernet. We are expecting the same great performance from the Live Hub as we got from the Live Plus.