WD My Passport Wireless Pro Review
By
WD My Passport Wireless Pro – 2nd Gen Portable Device
Western Digital (WD) introduced the WD My Passport Wireless mobile storage back in 2014 that allowed tech savvy users to wirelessly connect up to eight devices to backup or share content for up to six hours of streaming. The appeal of a wireless drive is high among photographers where many would like to sync files straight from their Wi-Fi enabled camera or their SD straight to the cloud where many have Dropbox accounts or something similar. The original model was a bit tough for some users to setup and connect to, the interface was a bit slow and as any first generation device there were some inevitable issues that required firmware updates to fix. Still, it was hit for photographers in the field that needed to backup or offload SD cards quickly.
The good news is that for the past 1.5 years the engineers at WD have been able to take all the feedback from the original device and try to improve it. The result of their hard work would be the WD My Passport Wireless Pro. Designed specifically for the creative community, the WD My Passport Wireless Pro has arrived as the new and improved model and features a slew of improvements to ensure easy editing, streaming and sharing of content.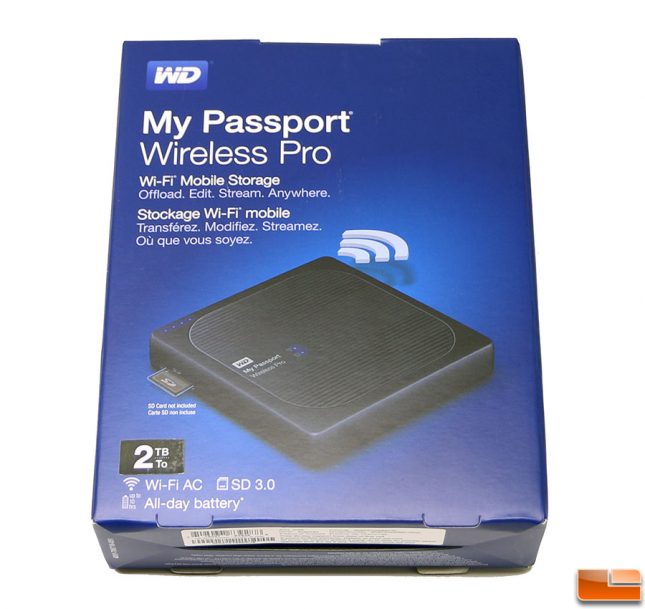 The new WD My Passport Wireless Pro is available in 2TB and 3TB capacities and can be found today on Amazon for $190.70 shipped and $217.63 shipped, respectively. Each model is backed by a 2-year warranty. Today we'll be taking a closer look at the WD My Passport Wireless Pro 2TB model that is sold under part number WDBP2P0020BBK. This 2TB capacity model features a single 2TB WD Blue WD20NPVZ 5400 RPM hard drive that would run you $129.99 by itself. This SATA III 6Gbps drive with 8MB of cache uses the 2.5-inch notebook form factor and used up to 1.7 Watts of power according to the data sheet.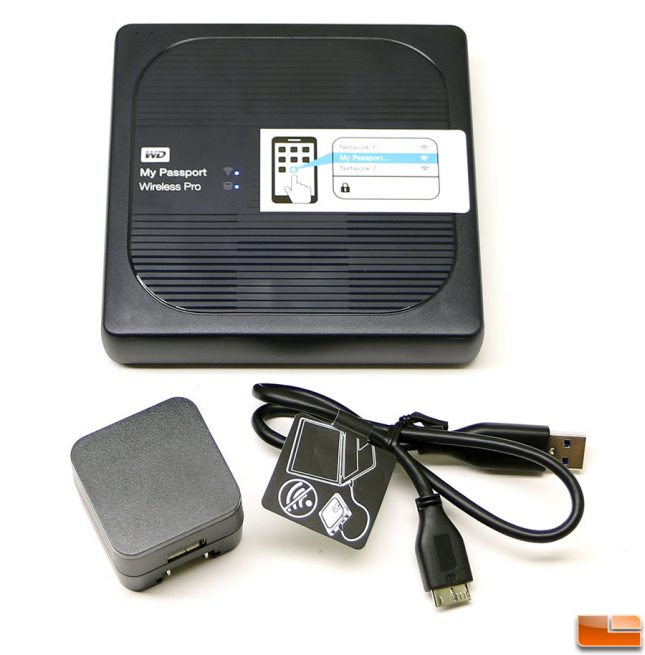 Inside the My Passport Digital retail box you'll find the device itself, a 2 foot long USB 3.0 data/power cable (Male Type-A to Micro-B), wall USB power adapter, quick install instructions and of course the warranty information.
It should be noted that the length and width of the My Passport Wireless Pro is identical on both the 2TB and 3TB models. All of the drives are 5.00 inches (126.0 mm) in length by 5.00 inches (126.0 mm) in width and 0.94 inches (24.0 mm) in height. The weight comes in at 1.00 lb (0.55 kg). This makes the WD My Passsport Wireless HD larger than than the original series by a pretty decent amount, but was still designed to be portable.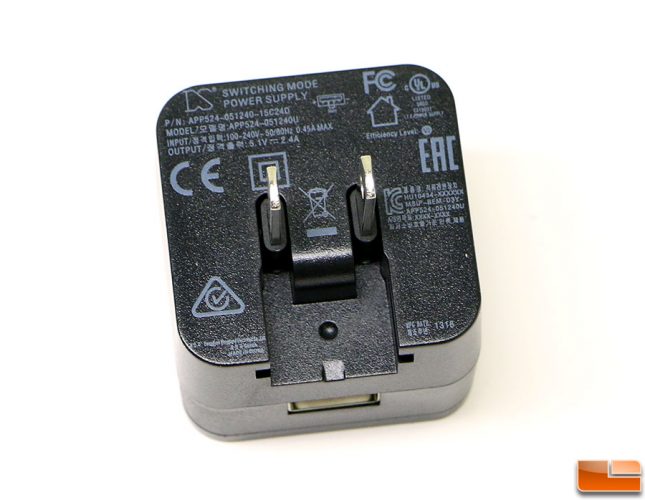 We usually don't talk about wall chargers too much, but WD included a 2.4A Travel Charge Adapter on the My Passport Wireless Pro models. This power supply outputs 2.4A at 5.1v and that means you'll be able to quickly charge the 6,400 mAh (24Wh) Li-Po battery! Not too often you see portable drive coming with a 12.24W adapter and it means that we were able to fully charge the battery from a fully dead state to 100% in about 3.5 hours.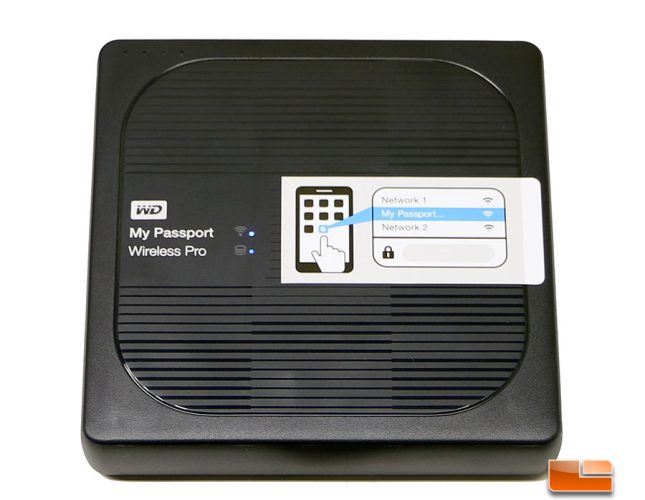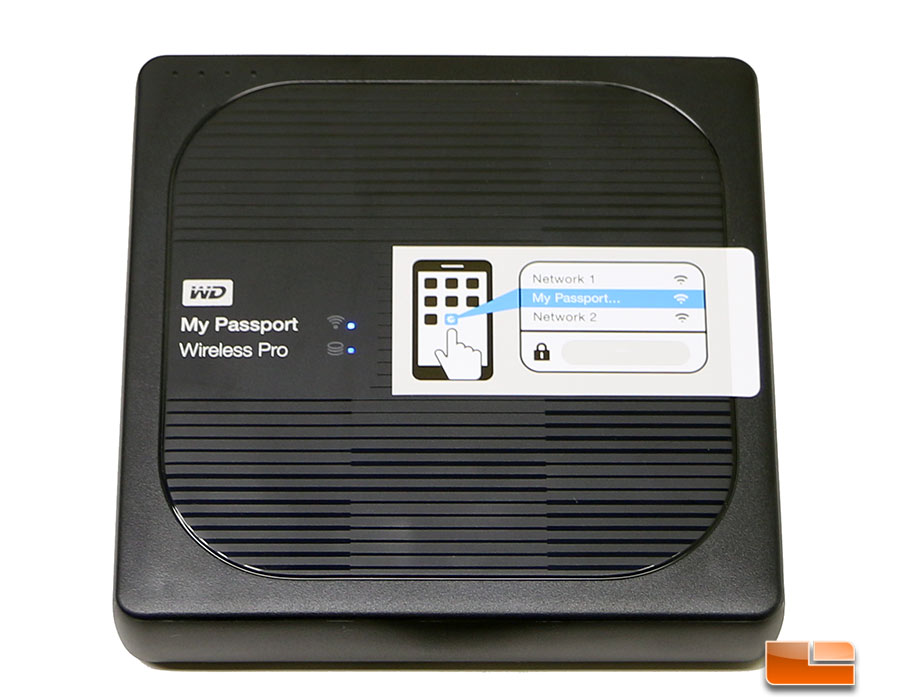 Since most devices connect to the My Passport Wireless Pro with only their Wi-Fi connection, the My Passport Wireless storage drive functions as a Wi-Fi extender as well. This means it has network pass-through capabilities, so youll still have access to the local network and even the internet if the router you are connected to offers such service. The password for the network is located on a sticker on the front cover.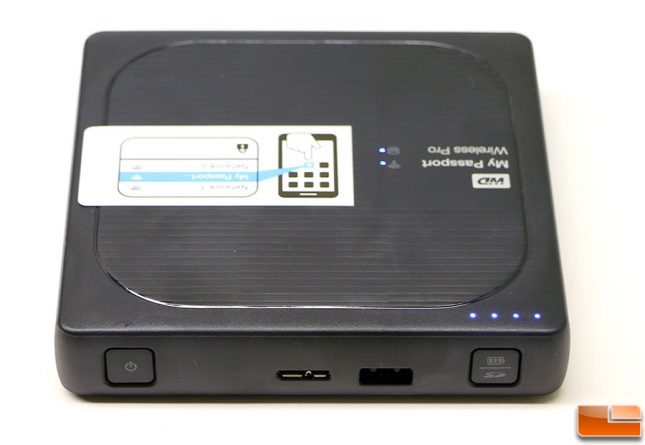 Along the top edge of the My Passport Wireless Pro you'll find the power button, USB 3.0 port that is used for charging and data transfers with a cable, a USB 2.0 port for data transfers and charging mobile devices and lastly the SD card/Battery Capacity Button. A quick button press will show the battery life on four LED lights on the front cover. The the LEDs blink / climb in succession as a the device is charging and represent 25, 50, 75 and 100%. If you have an SD card inserted and do a long press of this button you'll manually initiate an SD card copy/move (depending on how you have it setup in the settings) and the LED lights on the top cover are used as a file copy status indicator. Just remember not to remove the SD card until all the lights are lit solid!
The inclusion of a USB 2.0 port means that you can charge your mobile devices while transferring data simultaneously. The USB 2.0 port tops out at around 25 MB/s on this model, so if you have a ton of images it might be faster to take the SD card out and use the SD slot as it tops out at 75 MB/s.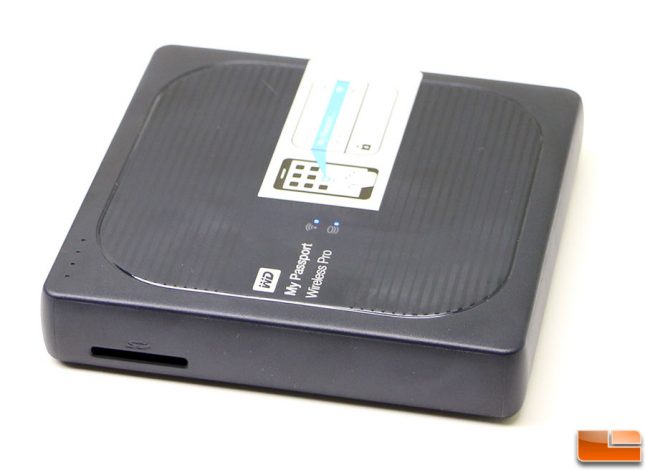 On the left side of the device you'll find the SD 3.0 card slot that allows you to back up or transfer your photos and videos from your SD card to keep on shooting. The built-in reader is officially rated at up to 65 MB/s read and 40 MB/s write speeds. Our testing showed that we were capable of hitting up to 75 MB/s and transferring 10GB of files took about five minutes. Some might have been hoping for a faster reader for the latest UHS-II memory cards, but this one is faster than the original and are glad to be not constrained by a USB 2.0 interface.
It should be noted that WD is doing intelligent file transfer on the new Wireless Pro device. They have an algorithm running that does a byte-by-byte comparison of SD Card content and files copied/moved to My Passport Wireless Pro ensures files are safely transferred.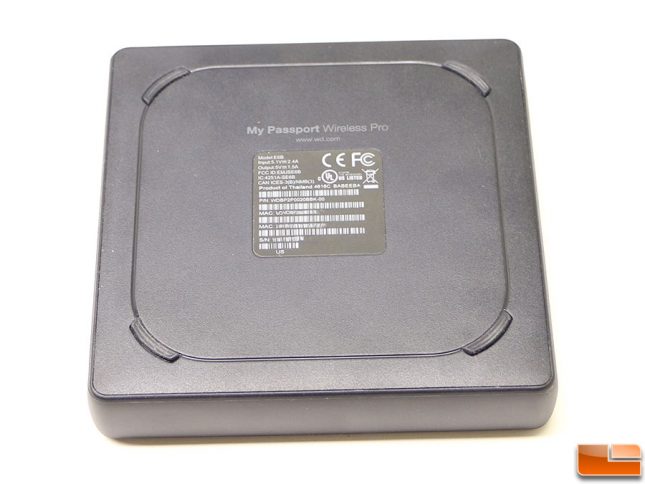 The back of the drive has some rubber feet on it along with the usual product labeling (serial numbers, MAC addresses, product number and so on).
Faster, longer battery life, more storage capacity and lower MSRPs. The WD My Passport Wireless Pro isn't looking like it will disappoint.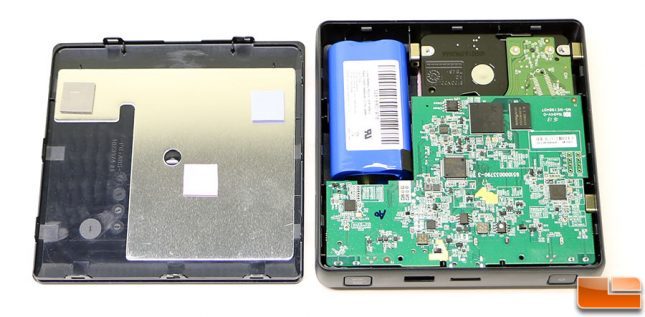 With the cover of the WD My Passport Wireless Pro removed we can see the guts of the system that is made up of mostly Realtek components. There are three thermal pads being used to help dissipate heat from the hottest components.
Realtek RTD1195PN Dual Cortex-A7 SoC
Realtek RTL871X Wi-Fi SoC
Realtek RTL8189ES 802.11n 1×1 2.4 GHz WLAN radio (SDIO Interface)
Realtek RTL8811AU 802.11ac 1×1 5 GHz WLAN radio (USB 2.0 Interface)
WD Blue WD20NPVZ 5400 RPM 2TB 2.5″ Hard Drive
Li-Ion battery RDJ10 – 6400 mAh 3.75V 24Wh (2 x 18650 cells)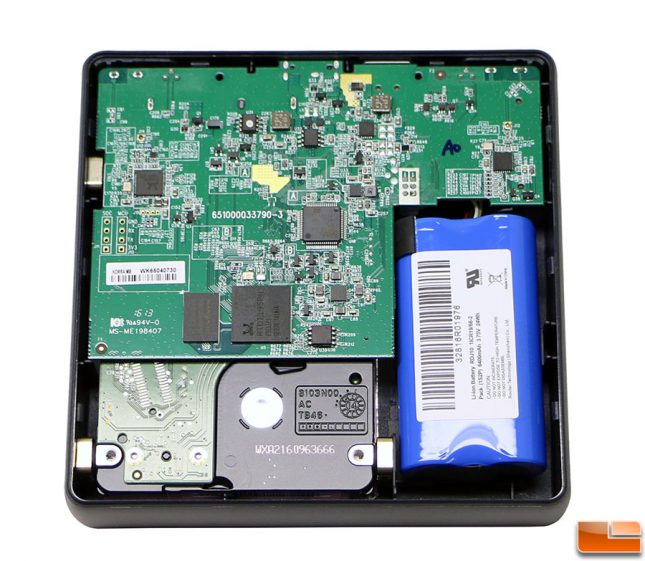 Let's take a look at how we can setup the My Passport Wireless Pro and see how it performs when it comes to transfer speeds and also wireless connectivity!