WD My Passport Wireless 1TB Storage Drive Review
By
WD Goes Wireless With The WD My Passport Wireless
Wireless devices are growing in popularity and lets face it we are slowly cutting the cords on many of the electronic devices that we use daily. Over the past several years a number of companies have come out with small wireless storage drives that allow you to backup or store large amounts of data from your smartphone, tablet, PC, or Mac. WD feels that now is a time to come out with a wireless storage device as previously they didn't feel like the time was right for a portable wireless storage product. WD today unveiled the WD My Passport Wireless, a Wi-Fi enabled external storage drive that allows you to save, access and share stored content wirelessly with pretty much any device on the market today. The My Passport Wireless comes in 500GB, 1TB, and 2TB capacities and runs $129.99, $179.99 and $219.99, respectively. Each model has a built-in rechargeable battery allowing it to power itself when you're on the road for up to 6 hours of HD streaming on DLNA capable devices and up to 20 hours of battery life when on standby. In addition to the 802.11n wireless connectivity the My Passport Wireless also sports a traditional USB 3.0 port and a SD card slot that will be much used by photographers. Add in the fact that the My Passport Wireless series is backed by a 2-year warranty and you have a very robust device that can do more than just store your backup files.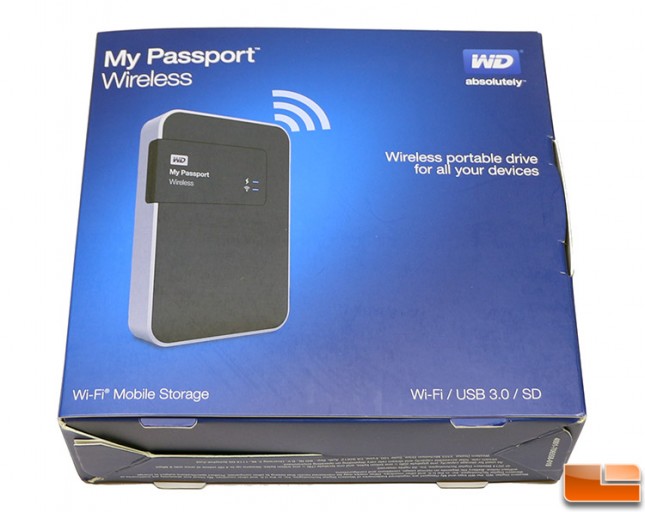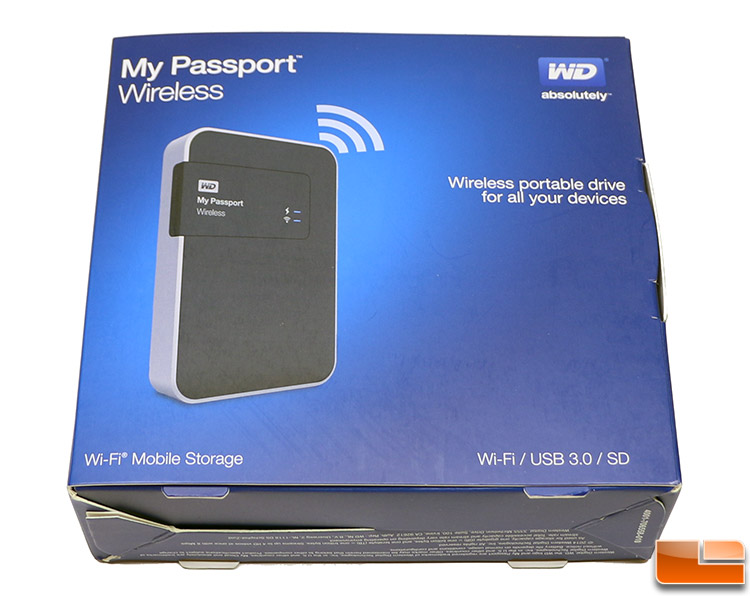 Today we'll be taking a closer look at the WD My Passport Wireless 1TB model that is sold under part number WDBK8Z0010BBK for $179.99 at select U.S. retailers and online at the wdstore.com. This 1TB model should hold up to 800 full-length HD movies or 380,000 MP3s with extra room for photos and office documents.

It should be noted that the length and width of the My Passport Wireless is identical on all three capacities, but the thickness (width) and weight do differ on all the models. All of the drives are 5.0 inches (127.0 mm) in length and 3.39 inches (86.0 mm) in width, so it will easily fit in the palm of your hand. The thickness for the drives is 0.86 inches (21.8 mm), 0.96 inches (24.4 mm) and 1.17 inches (29.8 mm) for the 500GB, 1TB and 2TB drives. The weight ranges from 0.55 lb (0.25 kg) to 0.77 lb (0.35 kg) with the 1TB drive we are looking at today coming in at 0.60 lb (0.27 kg).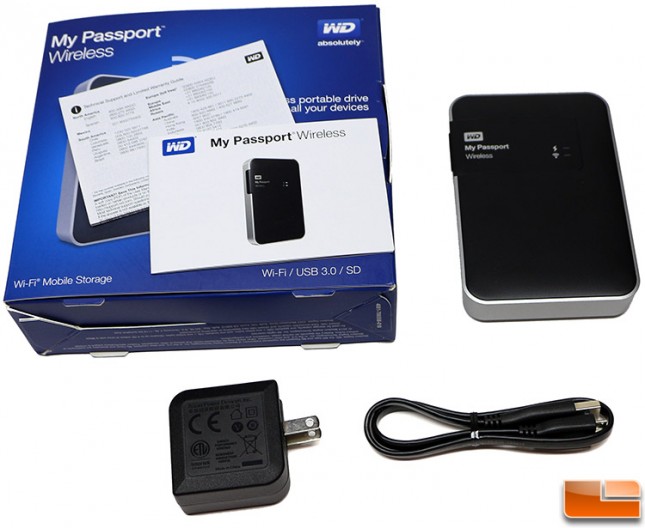 Inside the My Passport Digital retail box you'll find the device itself, a USB 3.0 data/power cable, wall USB power adapter, quick install instructions and of course the warranty information.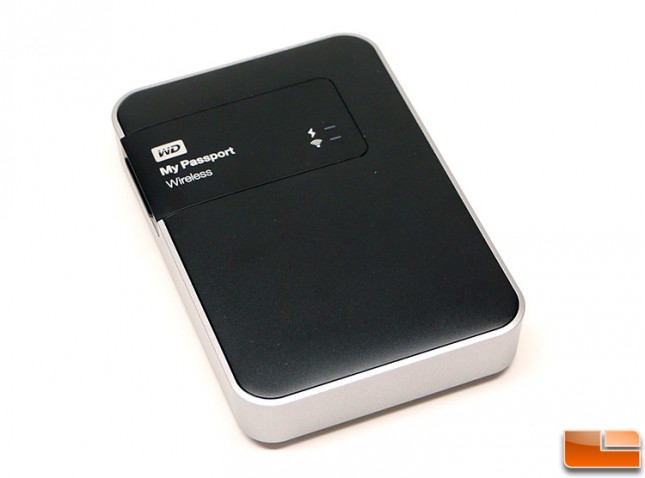 Since most devices connect to the My Passport Wireless with only their Wi-Fi connection, the My Passport Wireless storage drive functions as a Wi-Fi extender as well. This means it has network pass-through capabilities, so youll still have access to the local network and even the internet if the router you are connected to offers such service. This is a big plus and can certainly make life easier in some specific situations. On the front of the My Passport Wireless you'll find the battery indicator and WiFi indicator lights that let you know what your device is doing by changing colors, flashing and staying a steady color.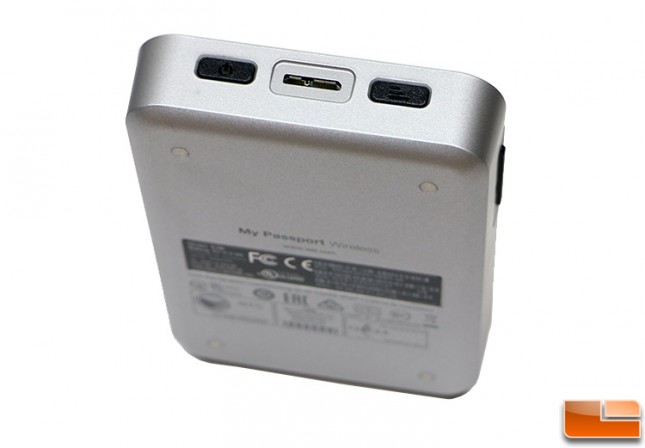 On the end of the My Passport Wireless you'll find the power button, USB 3.0 port that is used for charging and data transfers with a cable, and lastly the WPS/Battery Capacity Button. The Wi-Fi Protected Setup (WPS) button is used to produce a pin number that you then can use to connect to a router instead of using say WPS.
On the left side of the device you'll find the SD 2.0 card slot that allows you to back up or transfer your photos and videos from your SD card to keep on shooting. WD believes that the WD My Passport Wireless can be the one device used to back up all of the devices in your household and it can do it without the need of wires, a home network or even the Internet! We tested out the SD Card slot with a number of UHS-I and even a couple UHS-II SD cards and found them all to work perfectly. The back of the drive has some rubber feet on it along with the usual product labeling (serial numbers, product number and so on).
Let's take a look at how we can setup the My Passport Wireless and see how it performs when it comes to transfer speeds and also wireless connectivity for those that want to share the intrawebs!