WD My Passport Wireless Pro Review
By
WD My Passport Wireless Pro Setup and Software
There are a number of ways you can setup and use the WD My Passport Wireless Pro since it works on PCs, tablets, smartphones and so on. WD has done a great job at supporting Windows, iOS and Android and we were able to use the My Passport Wireless Pro with software/apps on devices running all three operating systems without any issues. Today, we'll be walking through the setup procedure and showing you the software on a PC over a wireless connection.
To connect to the WD My Passport Wireless Pro for the very first time we connected it wirelessly from our Dell XPS 13 laptop. We disconnected from our home WiFi connection and connected to the WiFi connection being broadcast by the My Passport Wireless Pro. It is a secure password protected broadcast, so be sure to use the supplied password on the cover as it will work on both the 2.4GHz and 5GHz bands.
Once you are done setting up the WD My Passport Wireles Pro you might think you can start using it straight away, but that isn't the case. The disk needs to be initialized, Plex Media Server needs to be downloaded and installed and finally the firmware already needs an update. All these little things take time and it took almost 25 minutes from the time we took it out of the box for all the basic setup and updates to be completed. The bad news is that you still need to install the WD My Passport App on all of your mobile devices and/or setup your cameras WiFi to connect with the device. Be ready to dedicate at least an hour or two to getting everything fully setup!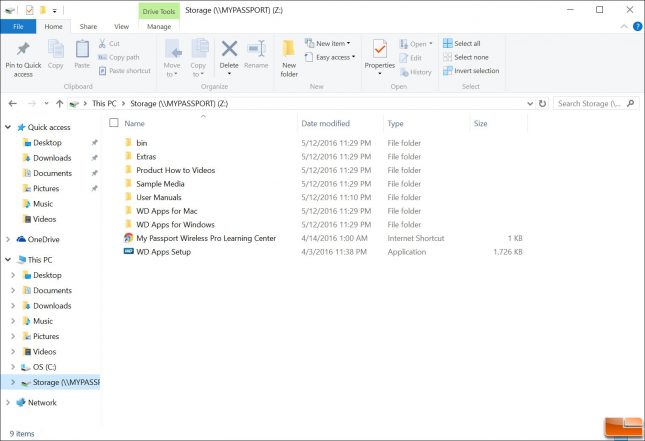 The My Passport Wireless comes pre-loaded with all kinds of goodies that will really help many people out. For example there is a folder of how to videos that can be watched and the user manual in PDF form to teach you how to use this Wi-Fi ready storage drive. There is also a folder of sample media files where you will find music, videos and pictures to play around with before you put on your critical data. The only software in the WD Software folder was WD Quick View, which is a utility that will discover WD network attached storage drives on the network and provide drive status information. To really setup the WD My Passport Wireless you'll wither need to download WD's My Cloud mobile app and pair it with the mobile devices and computers over Wi-Fi or you can do the setup on the PC with it hard wired by going to http://mypassport and setting it up locally (Mac users should use http://mypassport.local).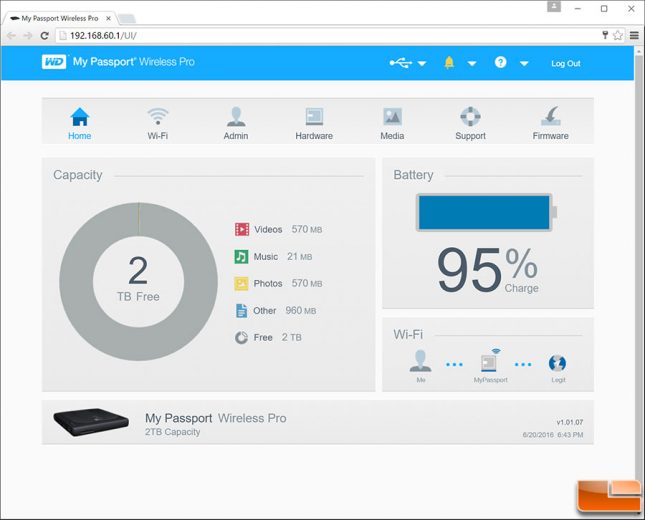 The WD My Passport Wireless Pro home screen is laid out very nicely and it is easy to figure out what is going on. Here on the home menu you can see quickly the vitals on the most critical areas of the drive. For example it shows we have 2TB of data free, our battery is down to 95% and that we are directly connected to the drive. The home screen also shows the firmware revision, date and even a quick breakdown on how much of the single drives capacity is being used up by the most popular file types. The WD My Passport Wireless is a fairly complex portable storage drive, but the user interface isn't overwhelming and is good for both beginners and advanced users.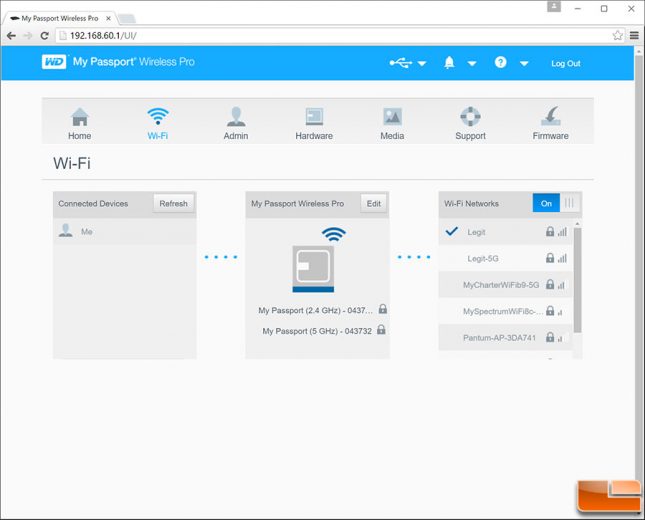 The next menu would be the Wi-Fi settings, which is where you can manage and monitor your wireless information. In the screen capture above you can see that the WD My Passport Wireless Pro was connected to our PC and also our home network. The My Passport Wireless Pro can be connected to up eight different devices at once thanks to the built-in 802.11ac dual-band (2.4GHz & 5GHz) wireless solution. WD says that the Wireless-AC solution should allow for the streaming of eight 8Mbps HD MP4 video streams simultaneously, which is twice as many streams as the original model.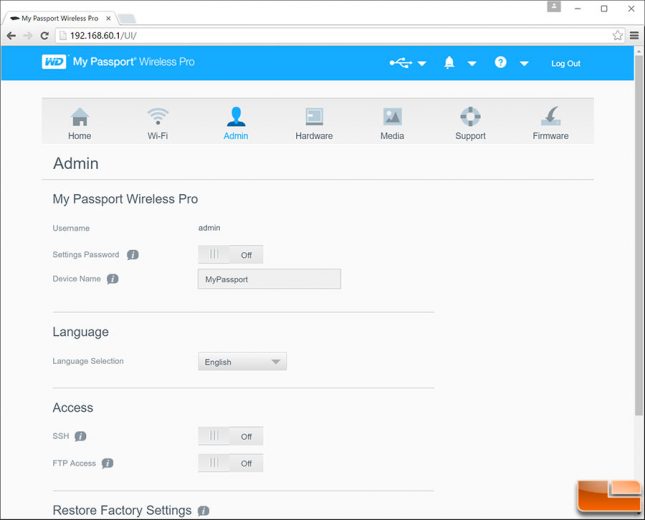 The admin page allows you to enable SSH and FTP access to the My Passport Wireless and you can also change your password and device name here. This also just happens to be the location where you can restore the factory settings, which is nice if you ever what to give this device to a friend or sell it down the road.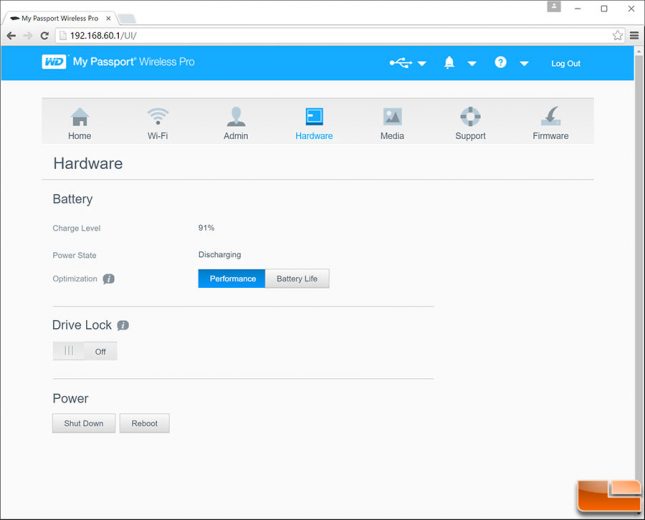 The hardware menu allows you to switch battery modes between performance or enhanced battery life. The 6,400 mAh power bank should last up to 10 hours in perfect conditions. WD came up with that number based on one user streaming a single 3 MBps 720p video over the 2.4 Ghz WiFi band. If you have more users connected or stream higher bitrate content your battery life will obviously be significantly lower. You can also lock the drive or power it down or reboot it if so desired from this menu. The drive lock will disable the USB 3.0 ports data connection, but it will still charge the device.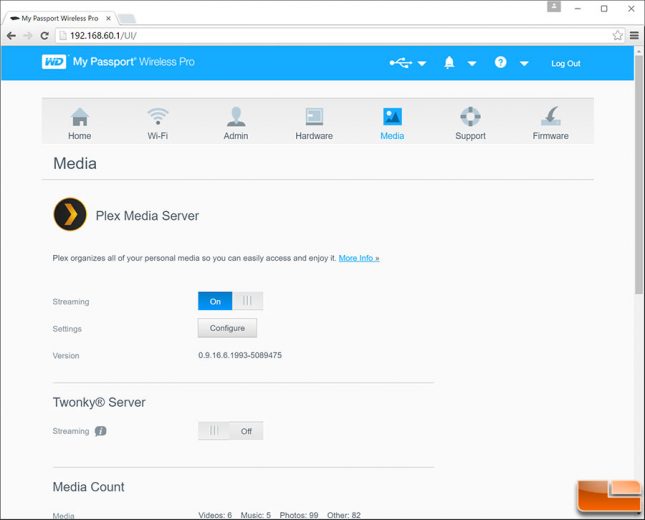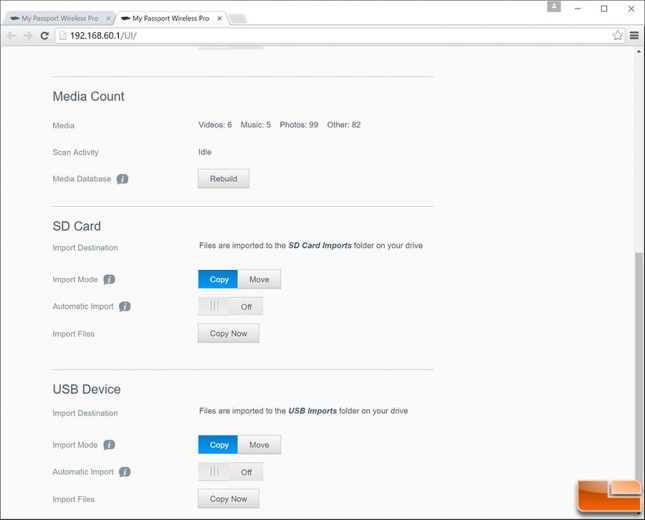 The media tab allows you to take a look and tinker with the PLEX and Twonky server settings. It also is where you adjust how the device handles SD cards and USB devices that are connected. By default the settings are set to copy your cards contents to a folder on your drive with the copy file transfer method. You can change it to move all the content off if you wish and you can also setup automatic importing for both inputs.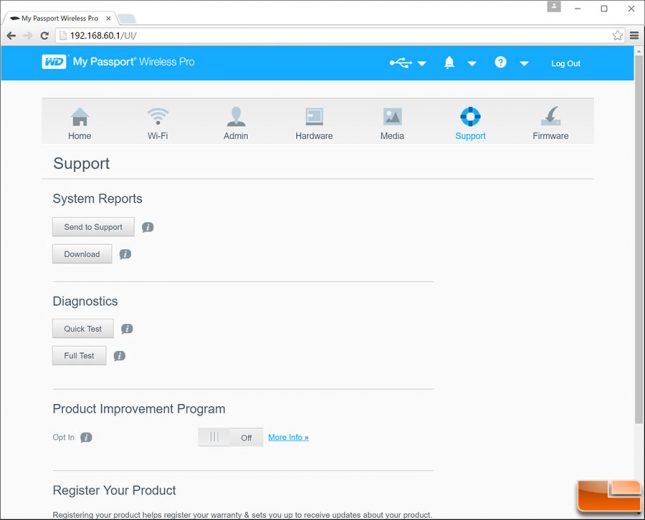 The support menu allows you to run system reports, register the device, perform diagnostics tests and even opt-in to an optional product improvement program.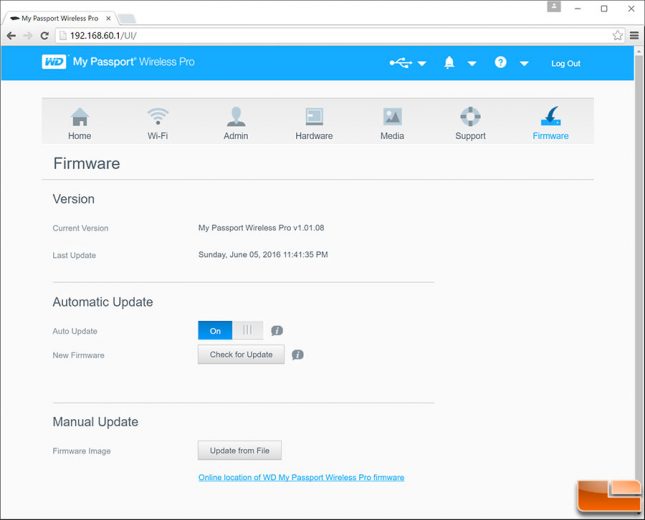 Finally there is the firmware menu that shows you what version of firmware that you are running and it also gives you the chance to check for updates and run a manual firmware image update if you already have a build downloaded and needing to be installed.
Let's take a look at the My Passport Wireless Pro when it comes to performance.