WD My Passport 4TB 2016 Edition Portable External Hard Drive Review
By
WD 4TB My Passport Portable External Hard Drive
The holiday season is officially here and chances are most of us will be travelling and taking more pictures than we normally would. Having a portable storage drive to ensure those memories are safely backed up is something you might want to think about. Portable storage solutions have continued to get better over the years and just this Fall the team over at WD did a complete redesign of their popular My Passport portable USB drive series. WD now offers the series in six vibrant colors – Black, Yellow, Red, White, Orange and Blue with a completely updated look.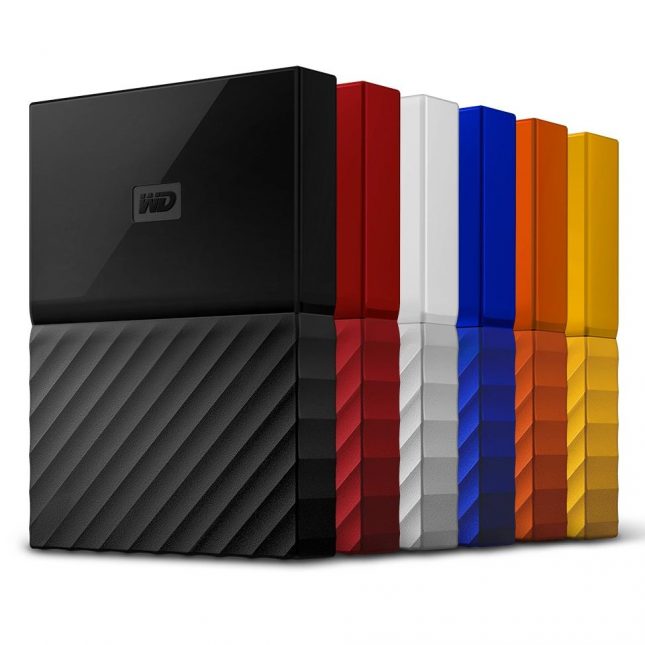 Inside you'll find a WD hard drive with capacities ranging from 1TB all the way up to 4TB! Under the hood we were told that nothing has changed from the My Passport Ultra series that was released in 2013 (read our review) and that is why the MRSP is the same on both drives. The WD My Passport Ultra will be phased out soon though, so if you like the looks of the old drives better then you best hurry. Since the insides are the same that means the My Passport 2016 models have 256-bit AES hardware encryption (password protection) and automatic data backups with the included WD Backup Software.
Online retail pricing starts at just $59.00 for the 1TB drive and goes up to $125 for the 4TB model, so you are looking at $0.06 per GB to $0.03 per GB. Hard to complain about pricing like that when you are buying something like that for backing up your data. Backing up your wedding photos might only cost you a quarter and backing up a 4GB movie that you ripped might set you back only $0.12. Sure, you might be spending over $100 on a backup drive, but when you apply the costs like that it isn't bad at all.
Here is the official WD My Passport product overview video for those that love videos.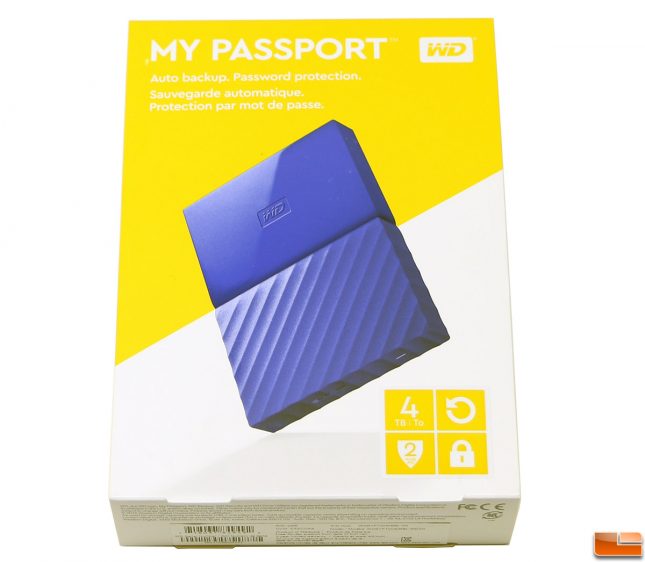 The model we'll be looking at for this review is the WD 4TB Blue My Passport (2016 edition) that is sold under part number WDBYFT0040BBL-WESN. Pricing on this model is $129.99 shipped on Amazon, but you'll see pricing vary depending on what color you want due to supply and demand. The lowest cost solution will be the black version and it available for $124.39 shipped on Amazon. The only difference is the color, so if you could care less about colors you might want to look at the pricing on all of them and see how they are. Priced at just over $0.03 per GB it is hard to complain about pricing.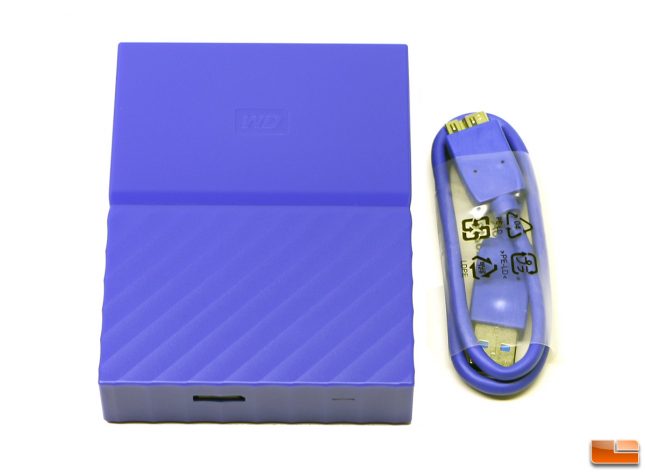 WD has redesigned the My Passport series for 2016 and the new models have a fresh new look that is pretty neat. The blue color on our My Passport matched perfectly with the included USB 3.0 data/power cable and we found this particular blue to be vibrant and fun.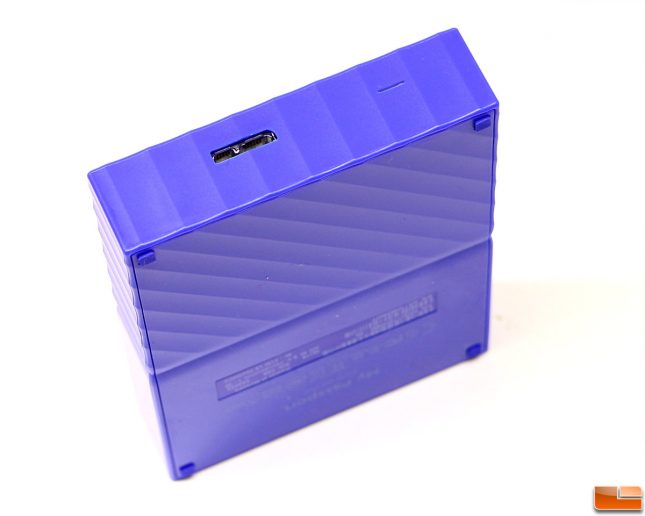 The WD My Passport features a USB 3.0 interface on the enclosure, but the included USB 3.0 cable is compatible with both USB 3.0 and USB 2.0 standard ports. There is a white LED light off to the right of the power connector that you can disable if you'd like. The bottom of the enclosure has four rubber feet to keep it from sliding around on a flat surface. The dimensions on the My Passport 2016 editions that are 2-4TB in capacity are 110 mm x 81.5 mm x 21.5 mm. The My Passport 2016 1TB version is slightly thinner at 16.3mm thick. The enclosure feels pretty robust, but remember this is a rotational hard drive inside and you don't want to drop the drive or move it during use.
When you first connect the WD My Passport 4TB drive to a PC you'll see that there is a application called WD Apps Setup (There is a version for both PC and MAC). Installing the WD Apps For Windows utility took just seconds and will allow you to install the WD software that handles backups, enables hardware encryption and a drive management tool.
If you setup the WD Backup Software Application you can automatically backup photos, videos, music and documents. You can adjust how often it backs up (hourly, daily, monthly) and to where it backs up. You can use this utility to backup to the My Passport or to the Dropbox cloud service. This software won't clone your entire drive, but it will capture the basic Windows folders as well as ones that you set to manually include. Once you have actually saved files you can use the restore function to move the files back to the original locations.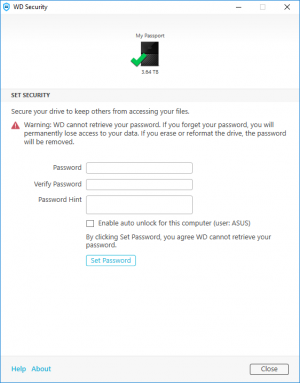 Next you have the WD Security application that will enable the My Passport's built-in 256-bit AES hardware encryption to help keep your data safe. If you forget your password you'll need to format the drive and start all over as there is no way to easily recover it. The 256-bit AES hardware encryption is done on the drive itself and not the USB bridge controller, so even removing it from the drive won't allow you to access the data without a password.
Lastly, WD Drive Utilities will allow you to to a number of management tasks for those that like to tinker with things. This utility lets you run a number of disk checks to ensure it is operating properly, turn off the white LED power/activity light, disable or adjust the sleep timer for when the hard drive enters sleep mode, erase the drive, check for software updates and register the drive. WD has given you all 'knobs to turn' with the software utilities included with the drive and we really like that.
You can find out more details about all the software features by looking at the 41-page My Passport user manual that can be found here as we are just giving you a quick overview of the key features.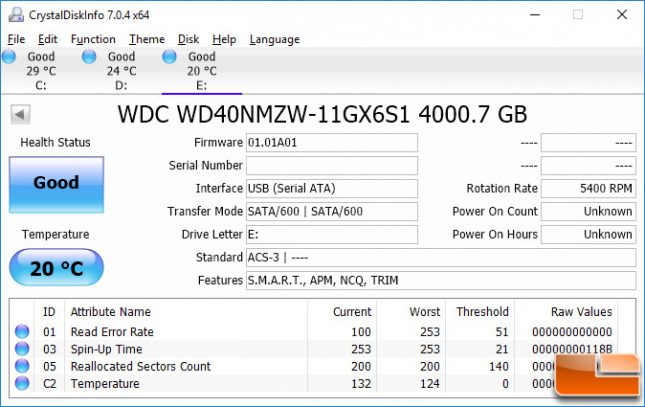 It should be noted that we tested the WD My Passport 4TB with firmware 0.101A01 and that was the latest available when we did our testing. Fresh out of the box the My Passport comes formatted for NTFS and is ready for use on Windows 7, 8.1 or 10 systems. Mac users will need to reformat this drive before use on Apple machines.
Let's take a look at some performance tests that we performed on the ASUS ROG Strix GL502 gaming notebook (review) and wrap this up!