WD Black 512GB M.2 PCIe NVMe SSD Review
By
Final Thoughts & Conclusions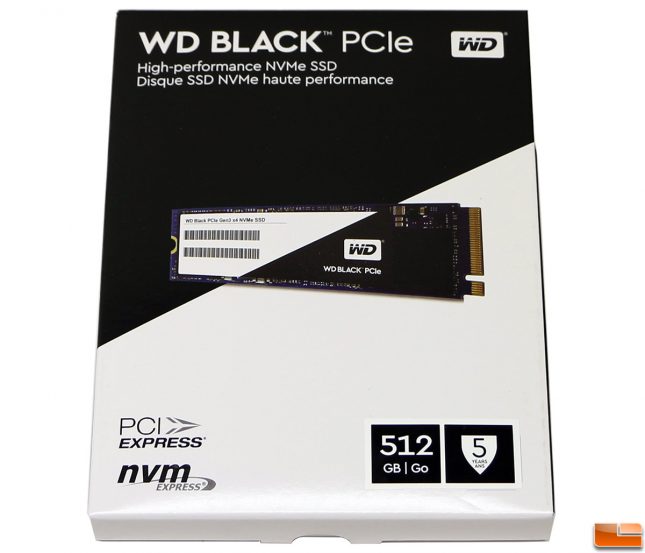 The WD Black PCIe SSD series was designed to be an affordable SSD that unlocks a new level of performance for PC users that have PCIe NVMe compatible systems. The performance numbers we were seeing from this SSD would place it in the entry-level NVMe SSD category, but they are pretty solid at 2,050 MB/s sequential read and 800 MB/s sequential write. We were never able to break 2 GB/s on any benchmark that we ran on our particular test system, but we came close to it on a number of the benchmarks. While the sequential read speed is pretty solid, the spot where this drive would be called lacking is in the sequential write department as it is only rated at up to 800 MB/s. It would have been nice to see higher performance numbers from WD's flagship SSD series, but we can't do anything about that.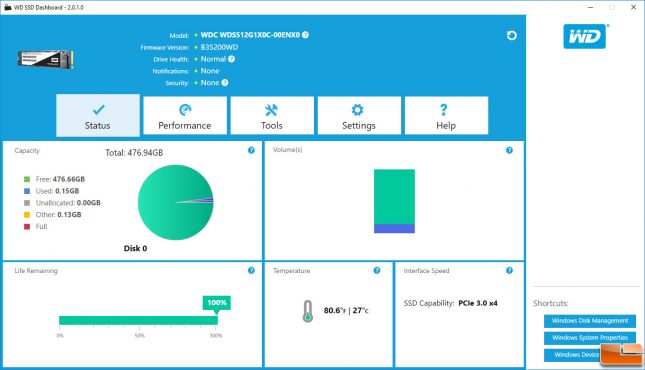 Our WD Black PCIe drive came inside retail packaging that had just the drive inside, so we take that as no accessory bundle of any sort is included. The good news is if you have at least one WD hard drive attached to your system you can download and install Acronis True Image WD Edition Software to clone your drive, backup your operating system, applications, settings and all your data. That is a nice little perk that is worth pointing out as it might save your butt some day if something every goes wrong. You will also want to download WD SSD Dashboard to ensure your drive is running at peak performance.
WD Black PCIe SSD Series Street Pricing:
When it comes to pricing, the WD Black PCIe SSD series are one of most cost effective NVMe storage drives on the market today. The 512GB model that we reviewed today is priced at $199.99 shipped or just $0.39 per GB. Not too many other M.2 PCIe NVMe SSDs can touch that and you can thank the cost effective 2D TLC NAND Flash memory for being part of the reason for the low price tag. The WD Blue M.2 SATA 500GB SSD runs $149.99 shipped and has sequential read speeds of up to 545MB/s and sequential write speeds of up to 525MB/s. The WD Black PCIe 512GB SSD might be $50 more, but having up to 2,050 MB/s sequential read and up to 800 MB/s sequential write speeds may be worth it to those concerned about performance. Having up to 4x greater sequential read speeds for an extra 33% when it comes to price is something most consumers would consider justified.
Legit Bottom Line: The WD Black PCIe SSD series isn't going to be smashing any performance records, but the overall performance numbers are better than the WD Blue SATA SSD series and we like the 5-year warranty!