WD Black 512GB M.2 PCIe NVMe SSD Review
By
WD Black PCIe NVMe SSD – WD Goes NVMe w/ TLC NAND
Last month we told you that WD was announcing the WD Black PCIe Solid State Drive (SSD) series that just happens to be the very first WD-branded client PCIe Gen3 x4 NVMe-based SSDs. WD recognizes that enthusiasts and the high-end computing market have moved over to PCIe SSDs to get many times more performance than traditional SATA storage drives. The WD Black PCIe SSDs have sequential read/write speeds of up to 2050MB/s read and up to 800MB/s write with the backing of a nice 5-year limited warranty. Those speeds are pretty impressive, but believe it or not they are on the lower side compared to many of the other NVMe drives on the market, so this is something we'd actually consider an entry-level PVIe NVMe SSD. We might not be making any brownie points over at WD by saying that, but their pricing shows that we thoughts are accurate. WD currently offers the Black M.2 PCIe NVMe series in two capacities; 256GB ($109.99 shipped) and 512GB ($199.99 shipped) at Amazon. Those Amazon prices put the WD Black 512GB drive around $0.39 per GB and that makes it one of the lower price M.2 PCIe NVMe drives on the market today. The Intel SSD 600P series is widely regarded as being the lowest priced NVMe series around and you can get the Intel SSD 600P 512GB for $179.99 shipped, so WD is bringing out the WD Black 512GB M.2 PCIe NVMe drive for $20 more than that particular model. WD appears to offer better performance and a matching 5-year warranty, so the price premium could be justified and that is what we hope to find out in our benchmarks.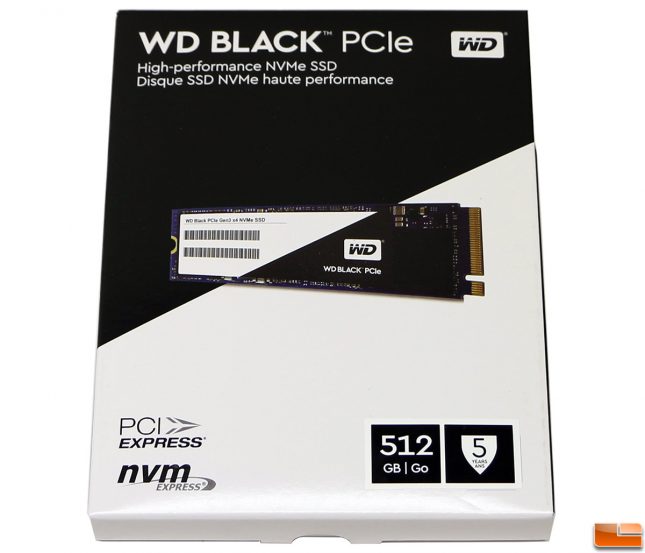 The WD Black PCIe SSD series uses a Marvell 88SS1093 controller and 15nm TLC NAND Flash by Sandisk. These components help the WB Black PCIe SSD reach sequential speeds of up to 2,050 MB/s read and either 700 MB/s write on the 256GB drive or 800 MB/s on the 512 GB drive. The 4K Random Read/Write performance (Q32, T4) is rated at up to up to 170,000 IOPS for 4K Random Reads and either 130,000 IOPS (256GB drives) or 134,000 IOPS (512GB drives) when it comes to the 4K Random Write performance. Write endurance ratings are 80 TBW and 160 TBW for the 256GB and 512GB models respectively, which are on the lower side. The good news is that the WD Black has a lengthy 5-year warranty and 1.75M hour MTTF rating!
WD Black M.2 PCIe NVMe SSD Specifications:
Marvell 88SS1093 M.2 PCIe Gen 3 x 4 NVMe Controller – Tri-core CPU architecture
2D TLC NAND Flash – Sandisk 15nm
Operating Temperature – 0 ~ 70C
MTBF: 1,750,000 hours
4K Aligned Random Read:
4K Aligned Random Write:

up to 130,000 IOPS (256GB), up to 134,000 IOPS (512GB)

Sequential Read & Write Transfer:

Up to 2,050 MB/s Read | Up to 700 MB/s Write (256GB)/Up to 800 MB/s Write (512GB)

Low Power Mode PS4: 5.5mW
Low Power Mode PS3: 50mW
Active Power: 135mW
Max Power: 8.25 Watts
Endurance:

256GB: 80 TBW
512GB: 160 TBW

Warranty: 5-Years
WD Black M.2 PCIe NVMe SSD Features:
NVMe 1.2 Protocol Support
Security Protocol: TCG Pyrite Security Subsystem Class (SCC) and SSD Password via ATA Pass-through (ATA Security), which provides a mechanism to control access to user data.
SLC Caching Technology – non-volatile write cache
On-The-Fly Error Handling Mechanism – Page-level striping with distributed parity providing a last line of data protection
TRIM Command – helps sustain drive's high performance over time
Dynamic and static wear-leveling – to help extend the life of the SSD
Bad Block Management
Background Garbage Collection
Error recovering using LDPC (Low-Density Parity Check) & ECC (Error Correction Code)
Minimal write amplification – increases endurance and performance
NVMe power management
Self-thermal throttling – To avoid cases where the SSD temperature exceeds the products allowable temperature envelope, or where NVMe power management does not throttle down effectively.

The drive that we'll be reviewing today is the WD Black PCIe Gen3x4 NVMe SSD that is 512GB in capacity and sold under part number WDS512G1X0C-00ENX0. We were expecting to see a black PCB on the WD Black PCIe SSD, but WD is sticking with blue for some unknown reason.

Flipping the drive over you'll find two more 128-gigabit planar MLC NAND Flash chips and a spot for more memory, but it is not being used.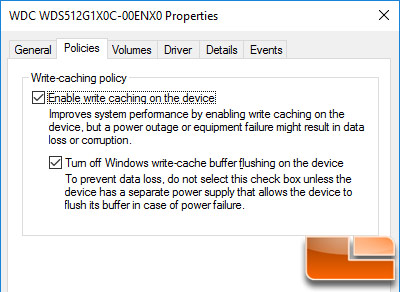 The WD Black PCIe SSD series does not require NVMe drivers to work properly on a PC, but you can manually install other brands NVMe drives if you really wanted to do so. We used the default StorNVMe drivers in WIndows 10, but manually disabled the write-cache buffer. The standard Windows NVMe driver in Windows 10 and Windows 8.1 doesn't pass the Force Unit Access (FUA) command. FUA commands bypass the DRAM cache on the SSD and write directly to the drives cache resulting in really bad performance. Storage review sites that use AS SSD, Anvil and PCMark (Storage 1.0) may show low write performance due to this. You can do registry hacks to disable FUA or simply turn off Windows write-cache buffer flushing in Windows Device Manager for the storage drive you want to benchmark. Companies like Intel, Samsung and OCZ have released special NVMe drivers for some of their NVMe drivers to remedy this situation. We'll show you Anvil scores with Windows Write-Cache Buffer Flushing off to show you the performance difference that can be seen by turning this feature off.
Let's take a look at the test system and then jump into the benchmarks.