WD Black 512GB M.2 PCIe NVMe SSD Review
By
Sustained Write Performance & Temperatures

Triple-Level Cell TLC NAND based SSDs perform usually quite well, but when you copy a large amount of data to the drive without and idle time you'll often find a large drop in write speed. TLC NAND is great in applications where write operations are limited , but is usually not recommended for critical systems that have heavy write operations as they have lower endurance ratings than SLC or MLC NAND and of course sustained write performance isn't stellar. In recent years drive manufactures have been figured out that by using SLC or TLC treated as SLC as a cache they can keep the drives overall write performance high as long as the amount of data being written to the drive fits in the cache. If you overflow the cache, you are then writing directly to the TLC NAND and the write performance will drop down to that level. It should be noted that the SLC cache will clear once the drive idles, so this only impacts long writes that are many GB in size. This might not be a typical workload scenario for this ultra-value or mainstream drives, but still something worth pointing out!
Let's take a look at the WD Black PCIe M.2 NVMe 512GB drive to see how it handles sustained write scenarios.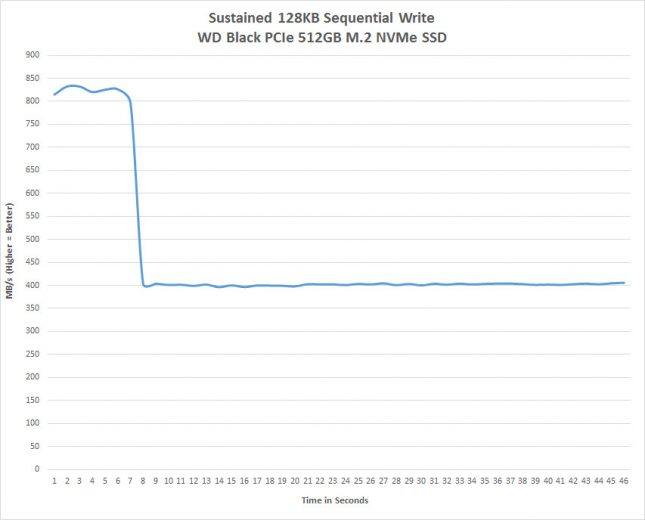 We secure erased the drive before running this test and found that the performance started out at around 815 MB/s and them improved up to over 832 MB/s after a short time. After about 7 seconds the performance went from ~800 MB/s down to around 400 MB/s, so this is the point at when the WD Black PCIe SSDs small SLC cache filled up and the data began being written directly to the TLC NAND Flash. Looking at our data it appears that WD went with a 5.5-6GB cache on this particular model When you average the test results over the 45 second period the average speed is 465.64MB/s.
Here are some 45 second average sustained write speeds on recently tested drives:
MyDigitalSSD BPX 480GB – 1391.78 MB/s
Corsair Force MP500 480GB – 1369.39 MB/s
Patriot Hellfire M.2 480GB – 1226.38 MB/s
Samsung SSD 960 EVO 1TB – 1223.07 MB/s
Samsung SSD 850 EVO 500GB 527.23 MB/s
Crucial MX300 750GB SSD 522.4 MB/s
ADATA SU800 512GB SSD 520.85 MB/s
Toshiba OCZ VX500 512GB SSD 520.41 MB/s
WD Black PCIe 512GB SSD – 465.64 MB/s
Intel 600p 512GB – 427.295 MB/s
Toshiba OCZ Trion 150 480GB 347.75 MB/s
Samsung SSD 960 EVO 250GB – 326.37 MB/s
WD Blue SSD 1TB 314.81 MB/s
Kingston UV400 480GB 267.04 MB/s
OCZ Trion 100 480GB 192.19 MB/s
ADATA SP550 480GB SSD 103.53 MB/s
Not bad performance and the WD Black PCIe 512GB SSD finishes just ahead of the Intel 600p that is it priced slightly higher than.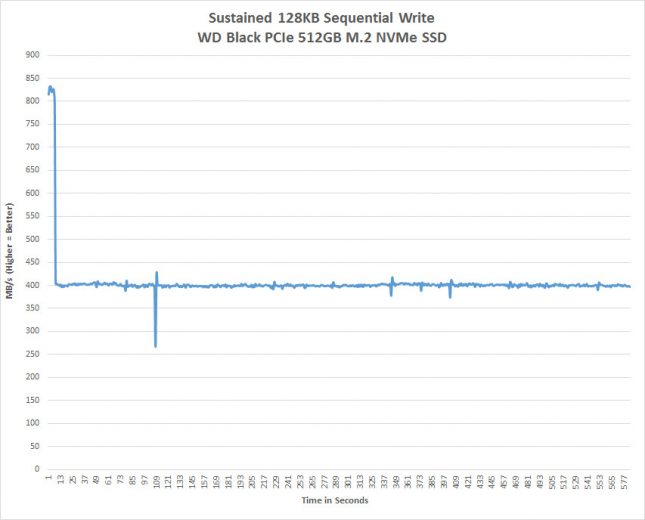 When you take a look at extended sustained write performance you can see that see a couple major performance dips down to 600 MB/s, but for the most part the sustained write performance stays well above 1,300 MB/s. Interesting to see the performance jump up twice like it did, but we aren't going to complain about seeing solid sustained write performance.
WD Black PCIe 512GB SSD Temperatures
A quick look at the drives temperatures showed that we were hitting just 44C and that was with a 120mm case fan sitting directly over the WD Black PCIe 512GB M.2 NVMe drive blowing cool air over it. Before we started the sustained write test we were bouncing around 26-27C on the drive at idle. We set the polling rate to 30 seconds for this test and you can see how the drive heats up in this test below.
We are pretty impressed with the thermal performance on the WD Black PCIe SSD and this single-sided M.2 PCIe NVMe drive looks like it will work well in laptops and mobile designs in addition to desktops.
Let's take a look at some common benchmarks!