VIA PT Series Chipset Preview
By
VIA PT894 Pro Chipset
The last and the greatest VIA PT chipset would be the PT894 Pro. This is the enthusiast solution and features dual PCIe graphics. This is what VIA has to say about it:
"Targeted at Professional and High-End Enthusiast Segment. First chipset to enable dual PCI Express Graphics Motherboards for Intel Pentium 4 Processors. Support for the latest IntelPentium 4 & Celeron Processors. Full Support for 1066MHz FSB. VIA StepUp Technology. DDR2 400/533/667. DDR 400/333/266. Easy DDR to DDR2 Migration. VIA Flex Express Architecture. VIA DualGFX Express Graphics. Ready for all industry dual GPU standards. Enhanced multi-display support for up to 4 monitors. High Bandwidth PCI Express Peripherals. 2 PCI Express connections to the South Bridge.
VIA PT894 Pro Architecture. Only Company to support 20-lanes of PCI Express Graphics Bandwidth through the Chipset North Bridge. Ideal Configuration for Multi-Display Environment. PCI Express x16 Lane for primary graphics display. Cost Effective Support for 3 or 4 Multi-Display environments."
This time around all of the 20 PCI-Express lanes are for graphics use only. Therefore forcing you to have the VT8251 south bridge if you would like to have any x1 PCIe motherboard slots. The primary PCIe slot will be x16, while the secondary slot will be x4.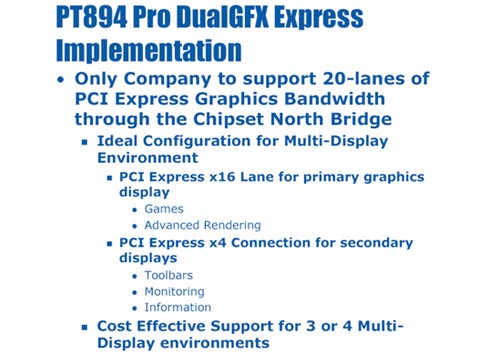 Here is the block diagram for the PT894 Pro Solution: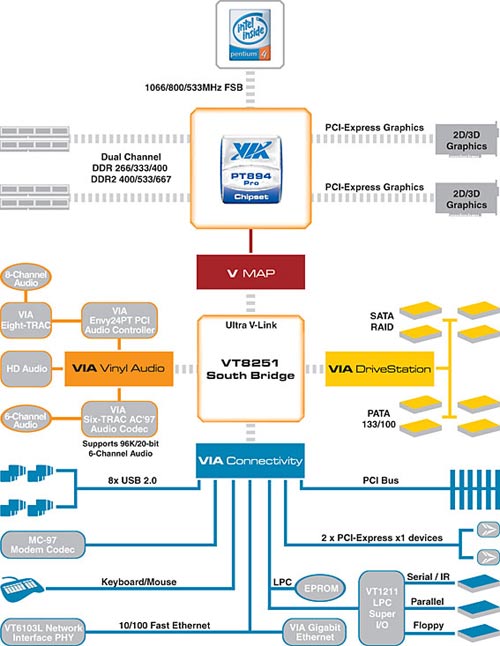 The VIA 8251 South Bridge:
Features:
2 x PCI-Express

Connects 2 single PCI Express devices

VIA DriveStation

2 Integrated IDE interfaces for 4 ATA133 devices

4 SATA ports for 4 SATA HDDsgSATA II

Advanced Host Controller Interface (AHCI)

Command queue

Support for Port Multiplier

Integrated V-RAID

RAID 0, RAID 1, RAID 0+1 & JBOD

Support for RAID 5n8 USB2.0 ports

Integrated VIA 10/100 Ethernet

High Definition Audio?

192k/24bit 8-channel audio

AC97 96K/20-bit 8 channel audio

Ultra V-Link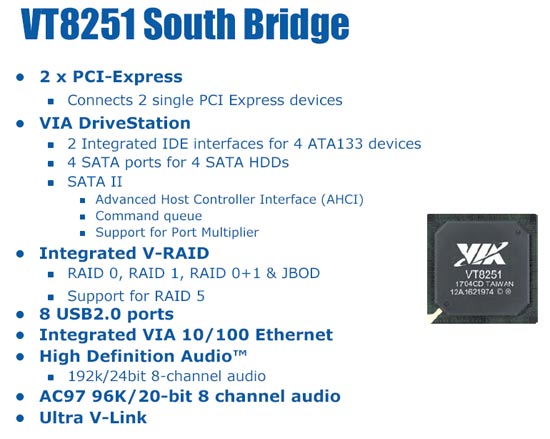 Now that we have taken a look at all the chipsets we can look at some pre-production boards!