VIA PT Series Chipset Preview
By
New VIA PT Chipsets!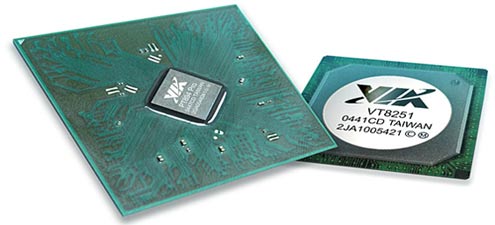 VIA announced three new Pentium 4-based chipsets this week that they hope will cover the needs everyone from the entry level user to the enthusiast who demands the most. VIA commented on how their new PT series of chipsets will fill the void that the Intel 9xx series of chipsets hasn't and can't fill. By this they mean the Intel 915 and 925 chipsets were almost exculsively using DDR2 memory and PCI Express technologies. It is common knowledge that DDR2 and PCIe does not offer a significant performance increase alone, so why force users to pay for what they don't need? This is where the new PT880 Pro, PT894 and PT894 Pro chipsets fit in. VIA designed these chipsets to allow for an easier upgrade path for end users.

The following is the VIA?s PT series of chipsets:
PT880 Pro: The Value Performance Board (Replaces i865/i875 boards)
PT894: The Mainstream Performance Board (Replaces i915 boards)
PT894 Pro: The Workstation/Enthusiast Board (alternative for i925/i925XE boards)
It looks like VIA really does have alternatives to all the current Intel chipsets! The question is now to see if the new VIA chipsets fill the voids they noted that Intel left open. For starters the entire line of VIA PT chipsets offers full support for the latest 1066 FSB processors! In addition to this they off VIA technologies such as; Ultra V-Link, Flex Express Architecture that includes DualGFX, High bandwidth peripherals and a Universal Graphics Interface.
Everyone knows that Legit Reviews loves memory and VIA has us impressed with their StepUp technology. Their chipsets all allow for both DDR1 and DDR2 support, meaning end users can gradually migrate from DDR1 to DDR2 technology at their own pace! All this is done through a high performance memory controller that supports DDR2 400/500/667 and DDR 266/333/400. Expect us to do a battery of memory tests on these chipsets once the retail boards hit the market.
For the audiophiles the chipsets support VIA?s Vinyl Audio w/ Qsound. Last, but certainly not least is VIA DriveStation. DriveStation allows for V-RAID, RAID 5, SATAII support and VIA?s port multiplier technology! This will be the first chipset that offeres RAID 5 to desktop users on the Intel platform side.