VIA PT Series Chipset Preview
By
VIA PT880 Pro Chipset
The first chipset that we are going to take a look at is the VIA PT880 Pro. This chipset is targeted at the performance mainstream market and is dubbed the perfect stepping stone solution for system integrators and enthusiasts during PCI Express transition. This board is considered by VIA to be the ideal replacement platform for the ever popular i865/i875 motherboards.
What makes this value board so appealing is all the unique features that the board allows that the other competitors don't. The first is the full DualGFX support. This allows consumers to use either an AGP or PCIe video card. Better yet you have the ability to run both cards at the same time! Meaning when you are ready to upgrade to PCI-Express graphics you simply add the PCIe card and keep the AGP card installed. This will give you hardware support for use of up to 4 monitors. Gamers and developers who can use more than one monitor will greatly benefit from this configuration. Imagine playing a video game and never having to hit "tab" to check the score or view the game map!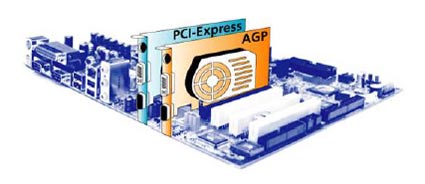 The AGP slot on the board is a full 8x AGP slot that goes through the north bridge (see block diagram below) and supports all the AGP video cards past and present. The PCI Express slot is only running at x4 PCIe and not the x16 that other chipsets are running at. While on paper a x16 PCIe bus looks better than a x4 PCIe bus it shouldn't have an impact on graphics performance for the end user. Even the fastest PCIe graphics cards don't utilize the entire x4 PCIe bus, so as of right now there are no negatives to using a x4 PCIe bus. None the less the DualGFX configuration looks promising!
The next feature that sets this board apart is the ability to use either DDR1 or DDR2 memory. This again allows an easy transition to DDR2 for all the consumers (the majority of them as it is) to upgrade when the budget sees fit. I'm seeing a theme with these chipsets already, the ability to upgrade at will. Seems like VIA had the consumers budget in mind when designing these chipsets and that is something rarely seen in the hardware industry these days!
For those of you who like looking at block diagrams here is a block diagram of the VIA PT880 Pro Chipset.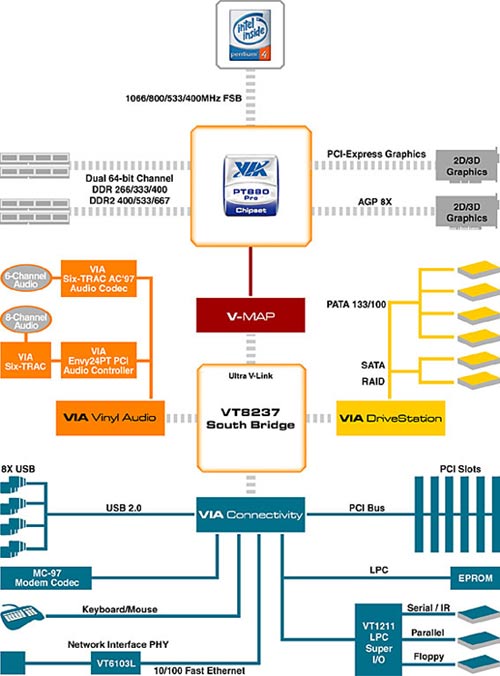 Now that we know what the PT880 Pro is all about lets move on to the PT894/894 Pro Chipsets!