Thermaltake Water 3.0 Ultimate AIO CPU Cooler Review
By
Thermaltake Water 3.0 Ultimate
Thermaltake has a long history of manufacturing computer hardware ranging from cases, power supplies, keyboards, mice, headphones and coolers. As with most hardware, they are constantly looking at improvements and updating their offerings. Currently there are three key models in the Thermaltake Water 3.0 All-in-One (AIO) liquid cooling solution product line. The smallest are a pair of 120mm radiator coolers called the called the Water 3.0 Performer and Water 3.0 Pro. The main difference between the two is that the Performer comes with a 27mm thick radiator for $68.95 shipped whereas the Water 3.0 Pro comes with a 49mm thick radiator for $86.50 shipped. The next step up from there is the Water 3.0 Extreme S with a 240mm radiator that 27mm thick and runs $94.99 shipped. Legit Reviews did a review on that model a couple weeks ago and found it to be a solid cooler. If you wanted something bigger you are going to be looking for a 360mm radiator based model and there aren't too many on the market. The Thermaltake Water 3.0 Ultimate (part number CL-W007-PL12BL-A) just happens to be one of the few and boasts a 360mm radiator that is 27mm thick for $139.99 with free shipping. All Thermaltake Water 3.0 coolers are based on Asetek Gen 4 cooling technology and are backed by a 3-year warranty. Today, we'll be looking at Thermaltakes largest AIO Liquid Cooler, the Water 3.0 Ultimate (Tt Product Page).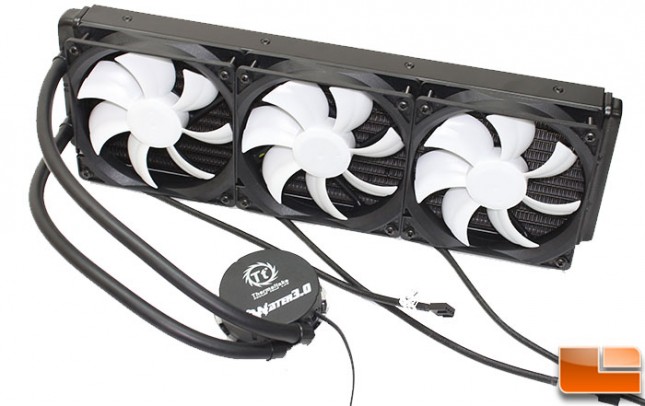 If the overall design of the Tt Water 3.0 Ultimate looks familiar, that is because it is based on the Asetek Gen 4 cooling technology, with just a few tweaks by Thermaltake. What makes the Water 3.0 Ultimate different from most other AIO Liquid Coolers, is it's size. There are few 360mm liquid coolers currently on the market, so Thermaltake is one of the companies leading the pack for these new monster AIO Liquid Coolers. The overall dimensions of the radiator is 393 x 120 x 27mm, of course that increases the weight to 1.32kg (2.91lbs).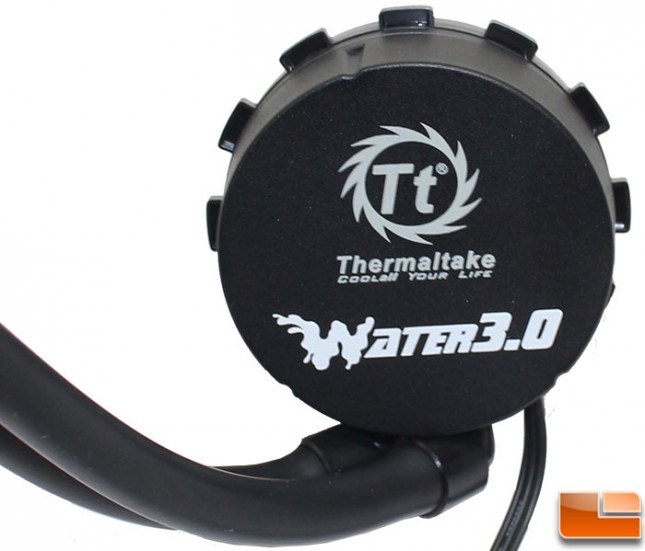 Following similar design principles of AIO Liquid Coolers, the Water 3.0 uses an integrated pump into the baseplate that spins at 3600RPM. It is totally sealed, making it maintenance free for those of us that want to the added benefits of a liquid cooled system, but not the added concerns over a custom built system. The tubes that carry the liquid from the radiator to the pump are smooth rubber, and are 326mm (12.83in) in length.
Thermaltake Water 3.0 Ultimate Specifications:
Water 3.0 Ultimate Specifications – CL-W007-PL12BL-A
Water Block
Material: Copper
Pump
Motor Speed: 3600 +- 150RPM
Rated Voltage: 12V
Rated Current: 325mA
Fan
Dimension: 120 x 120 x 25mm
Speed: 1000 – 2000RPM
Noise Level: 20dBA
Rated Voltage: 12V
Rated Current: 0.3A
Max Air Flow: 99CFM
Connector: 4 Pin
Radiator
Dimension: 393 x 120 x 27mm
Material: Aluminum
Tube
Length: 326mm
Material: Rubber
Weight
1.32kg
Compatibility
Intel: LGA 2011 / 1366 / 1150 / 1155 / 1156
AMD: FM2 / FM1 / AM3+ / AM3 / AM2+ / AM2
Chassis Compatibility
Thermaltake Core V51 and V71 & Urban T81
Warranty
3 Years
Now that we know a little about the Water 3.0 Ultimate, let's take a look at the packaging and what's included with this Water 3.0 system.