Thermaltake Water 3.0 Ultimate AIO CPU Cooler Review
By
Legit Reviews Test System
Before taking a look at the installation and temperatures, let's take a quick look at the test system used for this test. The test system is running an Intel i5-4690K processor on a Gigabyte Z97M Gaming-5 motherboard, pushing the processor to 4.4GHz. All testing was done using a fresh install of Windows 8.1 64-bit on a Samsung EVO 750GB SSD.
Intel Z97 Test Platform:
This is what CPU-Z tells us about the test system.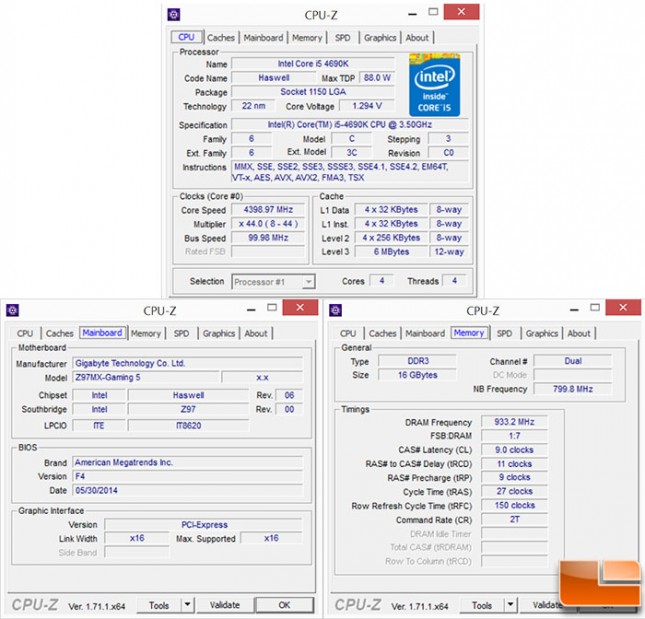 Here is a quick look at the test system we'll be doing the testing on.
Intel LGA1050 Test Platform
Component
Brand/Model
Live Pricing
Processor
Intel Core i5-4690K
Click Here
Motherboard
Gigabyte Z97MX Gaming-5
Click Here
Case
NZXT Razer H440
Click Here
Memory
Kingston HyperX Blu DDR3 1866MHz
Click Here
Video Card
eVGA GTX 970 SC
Click Here
Hard Drive
Samsung Evo 750GB SSD
Click Here
Storage Drive 2
Western Digital 3TB Red NAS
Click Here
Keyboard
Corsair K60
Click Here
Mouse
Thermaltake Level 10
Click Here
Power Supply
Thermaltake Smart M850W
Click Here
Operating System
Windows 8.1 64-Bit
Click Here
Time to check out the installation and testing of the Water 3.0 Ultimate.