Thermaltake Chaser A71 Full Tower PC Case Review
By
Final Thoughts and Conclusions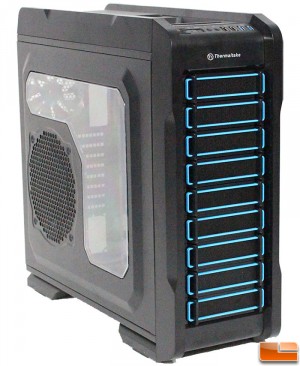 The latest full tower to be added to the Chaser line has to offer a lot to be a worthy successor to the Chaser MK-I. It needs to take what everybody liked about the MK-I and expand on those features. While both cases offer great cooling options, Superspeed USB 3.0 and a hard drive dock, the A71 includes a 200mm side panel fan, a storage tray and a major design overhaul to the front bezel. However, the MK-I included Thermaltakes Colorshift fans, and a headset holder on the side panel. So there are a few small differences. The Chaser A71 is a worthy addition to the Chaser line.
Internally you will find room for five hard drives, either 3.5″ or 2.5″ using hard drive trays. In addition, there are three 5.25″ drive bays, and one additional 3.5″ drive bay, so there is plenty of room for drives and other devices. As for a video card, any card up to 13.5 inches (34.4cm) will fit with ease.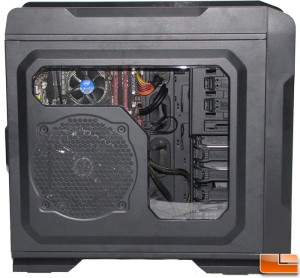 As for cooling, Thermaltake has included three 200mm fans and one 120mm fan; one additional 120mm or 140mm fan can be added. However, it doesn't necessarily stop there, if you prefer liquid cooling, there are options built into the A71 for that as well. A 2x120mm liquid cooling radiator will fit at the top, or a 120mm radiator in the back. We can't forget the CPU cooler, here a cooler up to 6.3 inches (16cm) will fit. Knowing how people like to change the CPU cooler to optimize performance, Thermaltake has put a large hole in the motherboard tray to make that transition easier.
I'm impressed by how easy it is to clean the bottom fan filter; however the front fan filters can still use attention. It would be nice if the front fan filter(s) were as easy to clean as the bottom. How they are now, you either need to vacuum it out, or take off the front bezel to properly clean it. A pull out filter would be much easier and make it so there is no excuse for a dirty filter.
A full tower case can start around $90 and go over $400; however most full tower cases are between $100 and $200. The Thermaltake A71 is in the lower half of that, selling for $134 shipped under the part number VP400M1W2N. That includes everything we have discussed, and a 3 year warranty.
Legit Bottom Line: If a mid-tower case is not large enough for you, the next step up is a full tower. The Chaser A71 has the space needed to support the components that enthusiasts want. Plenty of cooling options, an integrated hard drive dock, support for the longest video cards, high quality construction and Superspeed USB 3.0 support makes this one case that won't let you down.