Thermaltake Chaser A71 Full Tower PC Case Review
By
Chaser A71 Internal Impressions
The side panel is easily removed by taking out two thumb screws on the back. The exterior paint has also been done internally which makes for a nice finish as the inside portion of the case is painted black. The motherboard tray has a large hole to access the back of the motherboard to make it easier to change CPU coolers. Three 5.25 drive bays are tool-less using push button type of clips with blue accents while the fourth 5.25″ drive bay uses screws and is generally intended for 2.5″ drive bay devices. While the five 3.5″ drive bays use a drive tray system. There are five large holes which have rubber cable guards installed, three smaller non-protected holes and one small hole for the 8-pin motherboard power connector which does not have rubber cable guard for cable management.

At the bottom of the chassis is the area for a power supply. All ATX power supplies should fit, even the extended length ones. While there are two feet to raise the power supply, they do not have any rubber on them which is typically there to help reduce vibration noise from the power supply fan. If a standard length power supply is installed, a 120mm or 140mm fan can be installed as well.

At the back of the case, we find the seven expansion slot covers are the vented style, and held in place by thumbscrews. The rear exhaust 140mm fan has a three pin fan connector, which is why Thermaltake provides two converters to 4-pin Molex.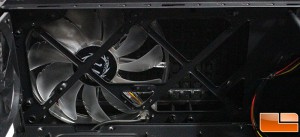 From the inside, we can see the top exhaust fan, and the support brackets. If desired, the top fan can be replaced by a couple of 120mm fans or water cooling radiator blocks.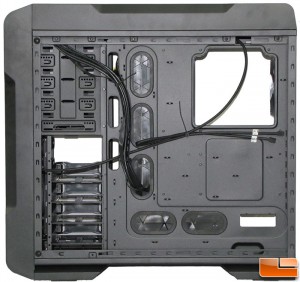 The back of the motherboard tray is fairly normal; the one nice surprise was the sheer amount of places that can be used to secure the cables to keep them tidy. Granted once the back side panel goes into place, most won't see this side again. However, securing the cables helps to ensure they stay out of sight.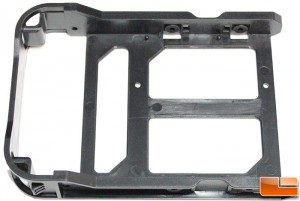 Thermaltake uses drive trays on the Chaser A71, these are not tool-less, screws will be needed to secure the drive to the tray. These trays are designed to support both 3.5″ and 2.5″ drives.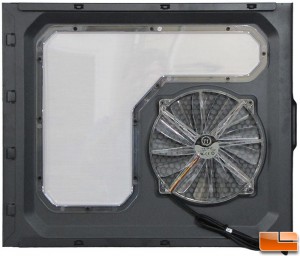 The side panel window is held in place with screws, which will make it easy to replace for those that wish to mod it. The included 200mm Blue LED fan on the side panel is the Thermaltake TT-2020, this fan is listed as being a 200 x 200 x 20 mm fan, running at 600RPM at 13dBA.