Thermaltake Chaser A71 Full Tower PC Case Review
By
Thermaltake Chaser A71 Full Tower Chassis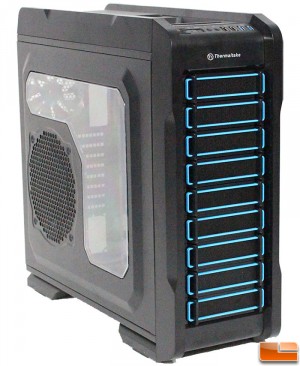 Thermaltake is constantly revamping their case line to provide users options. The original Chaser MK-I full tower was popular among enthusiasts; Thermaltakes response was evident at CES 2013 when they expanded the Chaser line. Continuing with the style of the MK-I, they have released the A31, A41 and now the A71 Chaser cases. The A31 and A42 are mid-towers, and offer many of the same features as the A71, just in a smaller package. A few of the differences include adding two additional USB 2.0 ports on the front (in addition to the two Superspeed USB 3.0 ports), and an integrated hard drive dock.
The Chaser A71, comes in at 21.1 x 8.7 x 22.2 inch's (H x W x D), and weighing close to 22lbs. In comparison, the A31 is 19.7 x 8.4 x 19.5 inch's and 14.5lbs. Looking at the sizes, the A71 is a few inches taller and longer than the A31 mid-tower. All of Thermaltake's cases come with a 3 year warranty, which gives some comfort in the quality that Thermaltake provides such a lengthy warranty for a case. In addition, when you are looking at a case that will set you back around $134 shipped, under the part number VP400M1W2N, you want to be sure it is going to last as long as possible.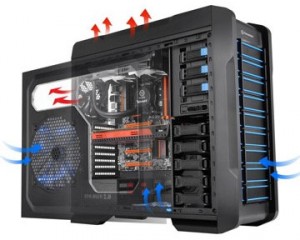 Being a full tower, you can imagine there are many cooling options. Ranging from liquid cooling, to the included fans, there is no reason to allow your system to overheat in the Chaser A71. Thermaltake has included three 200mm fans and one 120mm fan. If necessary, an additional 120mm or 140mm fan can be installed in the bottom of the case. Another option is to swap several of the fans for a liquid cooling option. At the top of the case, up to a 2 x 120mm radiator will fit, or in the back, a 120mm radiator.
Thermaltake Chaser A71 Key Features:
Top-mounted 2.5 or 3.5HDD Docking Station enables blazing fast file transfer and effortless hot-swap drive replacement.
Innovative 5.25 & 3.5 tool-free drive bay design minimized the troubles of installing ODD, HDD and SSD devices for more expandabilities.
Enables user to simply build up a complete high-end water cooling solution with 240mm radiator liquid cooling system and extra long graphic card supported to protect users hardware and increase CPUs overclocking potential, most importantly delivers outstanding cooling efficiency in the entire case
Case Type Full Tower
Dimension (H x W x D) 537 x 221 x 565mm (21.1 x 8.7 x 22.2 inch)
Net Weight 10 kg/22.1 lb
Side Panel Transparent Window
Color Exterior & Interior : Black
Material SECC
Cooling System

Front (intake) : 200 x 200 x 30 mm fan (600rpm, 13dBA)
Rear (exhaust) : 120 x 120 x 25 mm Turbo fan (1000rpm,16dBA)
Top (exhaust) : 200 x 200 x 30 mm Blue LED fan (600rpm, 13dBA)
Side (intake):200 x 200 x 20 mm Blue LED fan (600rpm, 13dBA)
Bottom (intake) : (Optional) 120 x 120 x 25 mm or 140 x 140 x 25 mm

Drive Bays

Accessible : 3 x 5.25, 1 x 3.5
Hidden : 5 x 3.5 or 2.5
HDD Docking : 1 x 3.5 or 2.5

Expansion Slots 8
Motherboards 9.6 x 9.6 (Micro ATX), 12 x 9.6 (ATX), 12 x 13 (Extend ATX)
I/O Ports USB 3.0 x 2, USB 2.0 x 2, HD Audio x 1
PSU Standard PS2 PSU (Optional)
LCS Upgradable

Supports 1/2, 3/8, 1/4 water tube
Radiator Top: 1 x 120mm or 2 x 120mm
Rear: 1 x 120mm

Other CPU cooler height limitation: 160mm
VGA length limitation: 344 mm
Next, lets take a look at the packaging and the accessories that came with our review sample.