Thermaltake Chaser A71 Full Tower PC Case Review
By
Chaser A71 Hardware Installation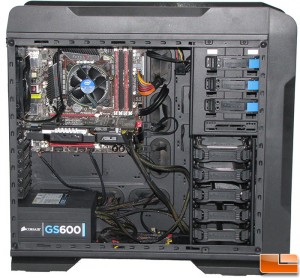 Installing a system into the Chaser A71 is a breeze thanks to the large amount of space. While a Micro-ATX motherboard was installed here, a standard ATX would still fit with plenty of space. The ASUS 560TI isn't very much longer than an ATX motherboard either, but once again there is a large amount of space behind the video card for the extremely long cards.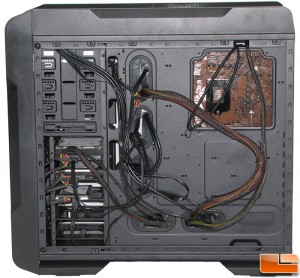 With the large number of cable routing options, there is no reason to have a messy interior, leave that to the back of the motherboard tray. Even then, Thermaltake provides enough cable tie locations so almost every cable can have it's own tie!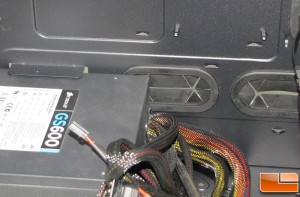 At the bottom of the case, the power supply gets installed like every other power supply installation. I noticed that one of the cable management holes is partially covered by the power supply. This isn't a long power supply; it is a standard length one. I'd like to see the entire hole be available for cable management; however it is a small amount of space lost. There is still plenty of room to put the power supply cables behind the motherboard tray.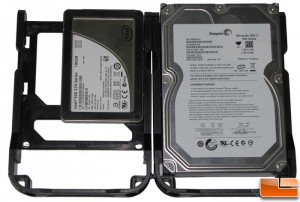 The hard drive trays are a nice method of installing drives, for 3.5″ drives, it provides an snug fit, where screws wouldn't be absolutely necessary; I would recommend using the included screws if the case is going to be moved after it's filled. The 2.5″ drives will fit on the trays as well, utilizing holes in the bottom of the tray and the drive. For the 2.5″ drives, you must use screws to secure them to the tray, no getting around it with those drives.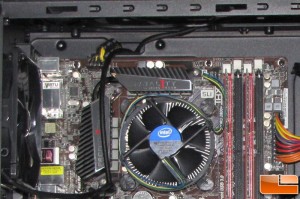 One of the little annoyances in cable management is the tight fit of the motherboard 8-pin power connector, usually a small hole is provided which makes squeezing the connector in a tight fit. Thermaltake has enlarged the hole which made putting the 8-pin power connecting through it a simple task. Even routing the top exhaust fan power cable through afterwards was easy.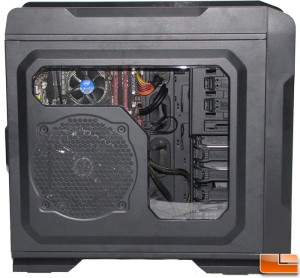 Sliding the side panel back into place, a view through the window shows how much of your typical system will be visible. The CPU cooler and RAM is the most visible, about half of the 5.25″ and 3.5″ drive bays are visible. The large 200mm fan covers the entire area of the expansion slots on the motherboard, so it can provide plenty of airflow to all the slots.