Thermalright TRUE Spirit 140 Direct CPU Cooler Review
By
Introduction to the Thermalright TRUE Spirit 140 Direct
Thermalright is a company that has been around for more than a decade, and theyve been dedicated to making high quality performance cooling products for the enthusiast. While we havent had a chance to review a Thermalright product in several years, were happy to have another one on the bench to check out. Today were going to take a look at a variation of the TRUE Spirit series.
What makes the TRUE Spirit 140 Direct unique over the others in its series is the fact that it utilizes direct touch heatpipes five 6mm heatpipes to be exact. Utilizing direct contact heatpipes allows for superior cooling versus having to touch a copper base and then dissipate into the heatpipe. Another unique feature of the TRUE Spirit 140 Direct is the reduced installation height. Because of the direct touch heatpipe system, this cooler is 4mm lower than the TRUE Spirit 140 Rev. A and a whopping 9mm lower than the TRUE Spirit 140 Power. This reduced height will allow users to install this cooler into even more compact cases.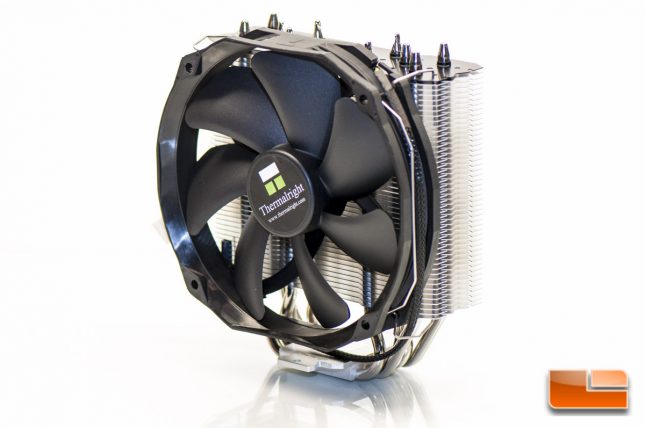 Included with the cooler is a single TY-140 Black (140mm) PWM fan, designed to be near silent. How silent? Its rated to run between 15 21 dBA with a max speed of only 1300 RPM. This fan is also capable of pushing roughly 73.6 CFM (125 m/h), though no static pressure information is listed.
This cooler was released late 2016 and can currently be had for $46.95 shipped on Amazon. Thermalright didn't have any warranty information listed on the product or their website, but we reached out to them and they informed us the cooling unit itself has a 2-year warranty.
Compatibility wise, the TRUE Spirit 140 Direct is compatible with any current Intel or AMD socket, including sockets as old as the Intel LGA775 or AMD AM2. Also, great news for new Ryzen owners is that this cooler is also compatible with the new AM4 socket!
TRUE Spirit 140 Direct Specifications
| | |
| --- | --- |
| Length | 152 mm |
| Width | 77 mm |
| Height | 161 mm |
| Weight | 760 g |
| Fan Dimensions | 152 x 140 x 26,5 mm |
| Material | Hybrid |
| Fan Speed | 300 – 1.300 U/min |
| Air Flow | 28,7 – 125 m/h |
| Noise | 15 – 21 dB(A) |
| Connector | 4-Pin PWM |
| Heatpipe | 5 x 6 mm |
| Max. TDP | 200 Watt |
| Manufacturer Number | True Spirit 140 Direct |
| EAN Code | 814256001267 |
This cooler looks pretty nice initially and is stated on the packaging to be simple to install, but we will find that out in later sections. First, lets take a look at how this cooler is packaged and take a quick look at it.