Thermal Image Testing on AMD X370 Motherboards by ASUS, Gigabyte and MSI
By
MSI X370 Xpower Gaming Titanium Thermal Performance: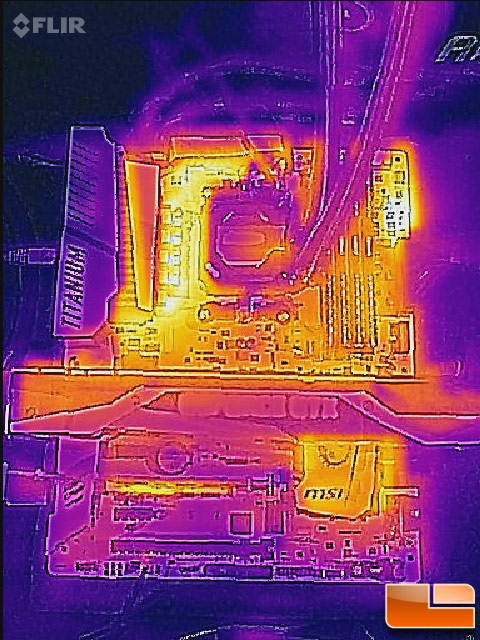 The last motherboard that we'll be taking a look at today is the MSI X370 Xpower Gaming Titanium motherboard ($299.99) and on this board MSI went with a 10 phase digital power delivery design in a 6+4 configuration for the processor.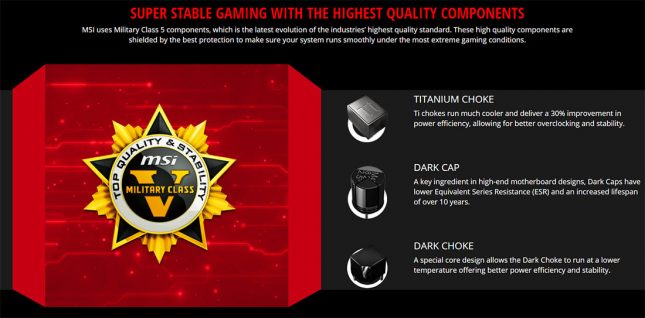 MSI didn't mention too much about their design on the boards landing page, but did note that this particular board uses Military Class V components.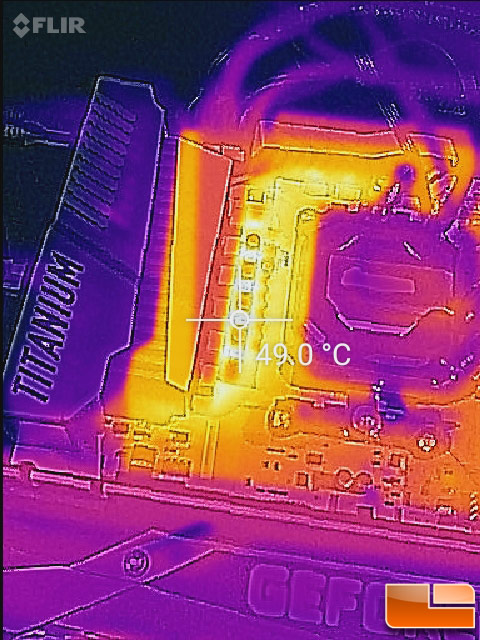 After doing a 10 minute stability test with AIDA64 we noticed that the highest surface temperature on the CPU VRM phases on the MSI X370 Xpower Gaming Titanium was at was actually the capacitors and they were hitting right around 49C.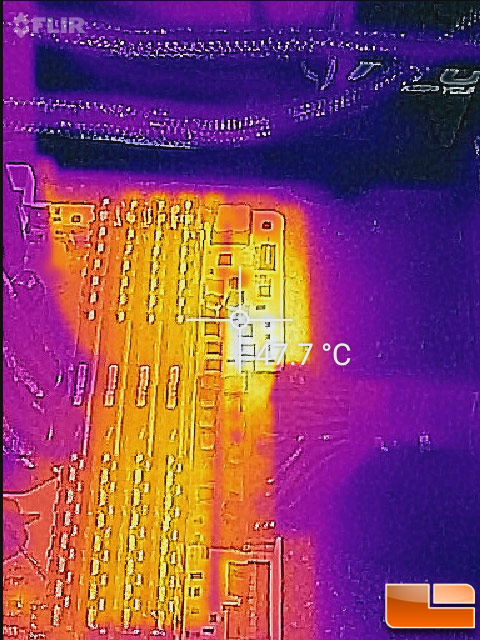 The two phase memory power design was hitting around 48C, so we are pretty close to having identical temperatures on this board compared to the Gigabyte GA-AX370-Gaming 5. Not too shocking as both boards have a 10 Phase power design versus the 12 Phase power design found on the ASUS ROG Crosshair VI Hero.
The take home message from doing this article is that the keeping the CPU digital power components cool is important, but don't forget about the memory power controller as it too gets just as hot, if not hotter! All of our testing was done on an open air test bench with a 140mm fan blowing up from the bottom of the PCIe slots, so we didn't have much airflow blowing across the top of the board besides the CPU water cooler fans moving some air around. Not bad temperatures with that kept in mind and we had all four memory DDR4 banks populated and cranked up to 1.35V.