The Koolance Exos-2
By
The Exos-2 External Cooling Unit
The Exos-2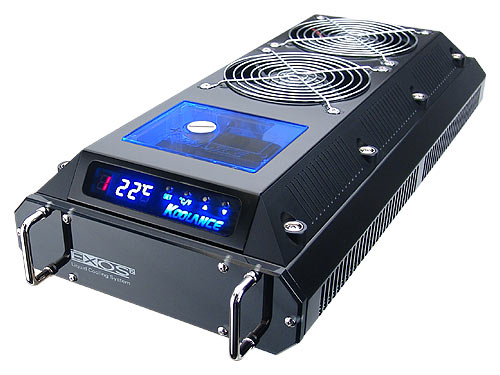 The Exos-2 itself is a beefy unit weighing in at just over 8lbs and measuring 8.4″ x 3.75″ x 19.5″ (21.3cm x 9.5cm x 49.5cm). Those of you familiar with the first Exos will recognize the shape of the Exos-2, but this second generation cooling system has undergone a serious makeover.
Gone are the three 80mm top mounted intake fans, replaced here by two more efficient, and quiet 120mm fans. In front of the intake fans is the reservoir which holds the system's coolant and redundant 2 litre per minute pump assembly.
In the even one pump were to fail, the second pump could handle the load long enough to shut down the system without damaging any components. The reservoir itself has a clear plastic top, which makes maintaining your fluid level easy, and using some blue backlighting, it adds a really nice touch to the look of the system while in operation.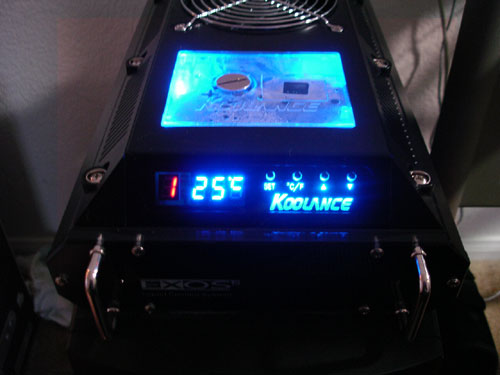 Moving down to the front we see the control panel and gauges. Here you can monitor the system temps and set your fans speeds. Using a set of three temperature probes we'll cover later, you can use the control panel to either automatically adjust the Exos-2's fan speeds, or use one of ten manual fan speed settings.

Along both sides of the Exos-2 are a series of exhaust vents. As cool air is sucked down through the intake fans, it is circulated over systems radiator, measuring a quite impressive 7.2″ wide x 10.75″ long x .75″ deep, and finally blown out through the sides. The fans themselves are controlled by the front panel in conjunction with the systems three thermal probes. Using manual settings from 1 to 10 (with one being the lowest and as near silent as possible) as well as AUTO, which lets the system run the fan speed based on temperatures pre-programmed into the Exos-2.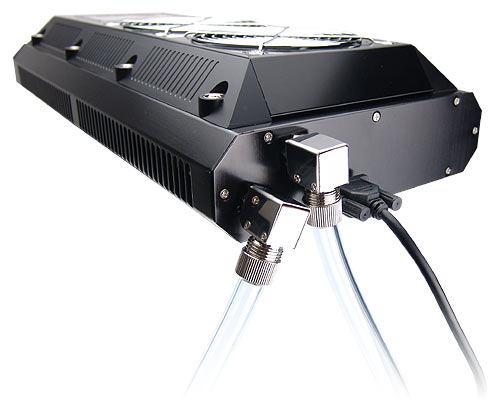 The external chassis is very attractive and should look great perched atop any normal case. I tried the black Exos-2 with 4 different cases and with each it looked right at home, definitely adding to the aesthetics of my system. Nothing like a little bling to top off your case!