The Koolance Exos-2
By
Introduction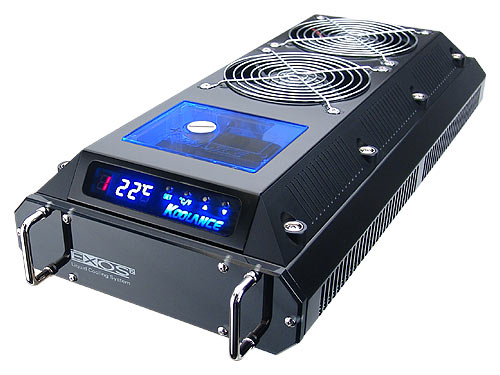 With Summer fast approaching (It already well over 100F here), there is no better time to take a look at some advanced cooling solutions.
My first foray into water cooling, almost four years ago was a Koolance kit, the PC-601 to be exact. At the time it was a great system for a noob, but a lot has changed since my first experiment with water cooling.
Today, we take a look at the latest and greatest from Koolance, one of the premier players in system cooling, the Koolance Exos-2. For people using smaller cases, external water cooling allows them the benefit of improved cooling without cramping the precious room in their case. The Exos-2 is not for the faint of heart, retailing for over $300, it is a high end kit for the enthusiast. Featuring the ability to dissipate 700W of heat(that right 700W!), the Exos-2 at first glance should be the cooling system of choice for people who wants the best cooling solution yet can't afford the extreme cooling and price of a Prommie or Vapochill.
One problem with pre-built cooling kits has always been additional component coolers. While all kits have CPU blocks, Koolance has taken their variety of blocks to the next level with an incredible assortment of high quality blocks for their systems.
In writing this review I wanted to put the Exos-2 to the test by cooling not just my CPU, but my motherboard chipset, video card, and HDD. I was surprised by the results of my testing, as you might be. Before we get there, lets take a look at the system specs and take a tour of the Exos-2, component coolers, and our test system.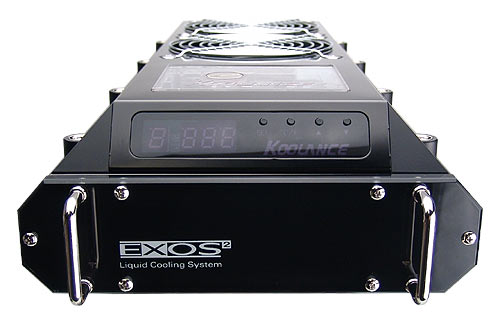 Courtesy of Koolance
"Derived from Koolance's internationally renowned Exos line, the Exos-2 brings all new features and performance to the "chassis independent" cooling realm.
The Exos-2 is available in black or silver aluminum, both integrating a 700W cooling system. Dual 120mm radiator fans, 3/8″ (10mm) tubing, reservoir LED lighting, and vastly improved display functionality are now available in an external unit! Like previous Exos, the system will connect with any PC through a standard rear card slot.
External compression fittings for a tool-less hose setup
Radiator fan speeds adjust automatically, or with 10 manual levels
Blue reservoir LED lighting
Top coolant fill plug
Variable safety shutdown temperature
Adapted power connection – does not require an AC power outlet
Koolance coolers which use 6mm (1/4?) ID nozzles, such as the GPU-180-L06 video cooler, can still be effectively used in PC3-720 series systems. Using a parallel tubing configuration with hose splitters will help maintain coolant flow rate through these systems. Appropriate hose splitters and both 1/4″ and 3/8″ tubing are included.