Super Talent 2GB Mega Screen MP3 Player Review
By
Introducing the SuperTalent Mega Screen
Today we have an MP3 Player from Super Talent. Called the Mega-Screen, this little player is packed with features. Super Talent has been in the MP3 player industry since April 18, 2006 and their Mega Screen MP3 players have been obviously designed for style as well as function. They are available in white and black models with 512MB, 1GB and 2GB storage capacties. Since they use flash memory for storage these players are very affordable. Marketed as an Ipod Nano competitor the 2GB Mega Screen that is being reviewed can be found over at Newegg for $85.99, which makes it a great option for a stocking stuffer.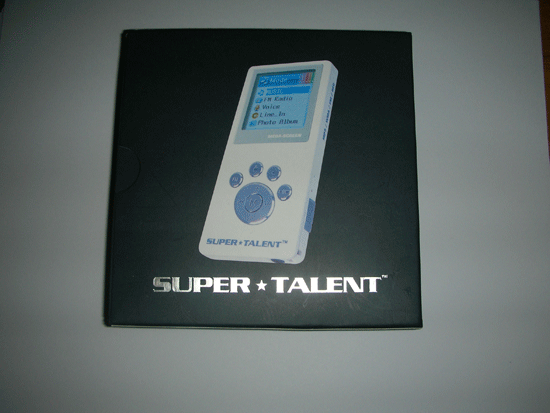 The button layout is a model of simplicity. In addition to a big 128×128 pixel color OLED display, these units include an FM tuner, support for six languages, and a hi-speed USB 2.0 interface. The powerful lithium battery, which delivers six to eight hours of operation, is rechargeable through the USB port.
Key Features:
Mfr Part Number: MP3/4-2GBK
Color: Black
Memory Capacity: 2 GB
Interface: USB 2.0
Display: 1.5″ MEGA Screen (262K Color OLED, 128×128 Pixels)
Music Format: MP3(8Kbps~320Kbps) / WMA (20Kbps~320Kbps)
Recording: Line-in Real Time Mic/Voice Recording (ADPCM Type); Built-in FM/FM Tuner Recording
Lyrics Supporting
Language: English/ Chinese/ Spanish/ Portuguese/ Korean/ German
Battery: Rechargeable LITHIUM Battery
Operating System: Windows 98/SE/ME/2000/XP/2003; Mac OS 8.6+; Linux 2.4.1+
Dimension: 87 x 42 x 9 mm
Weight: 36g
Items Included: Earphones, USB2.0 Cable, Product Manual, and Drivers.
Battery charging time: 240 minutes
Noise ratio: 90 dB
Output: earphone 32R 10mW
Frequency: 20 Hz~20 KHz
Upload speed: 1000KB, download 750 KB
Warranty: 1 year
Lets take a closer look to see if this player can stack against the Ipod juggernaut.