SteelSeries Siberia Elite Gaming Headset Review
By
Steelseries Siberia Elite Gaming Headset
SteelSeries is perhaps a brand that needs little introduction. In-fact, it's very likely you've heard of their name and products through some of your favorite eSports teams SteelSeries sponsors, from other gamers such as your friends or the greater community, or on tech enthusiast sites such as this one. Then, there's the Siberia V2 which might be SteelSeries's best known gaming headset in recent time. It was first released in 2009 as SteelSeries new flagship headset and its success spawned numerous colors and related designs including USB and lighted variants. For many long years, the Siberia name was dominated by the Siberia V2 until now. The Siberia Elite is the proud new member to the Siberia family that continues the tradition Steelseries set forth with the original in 2004.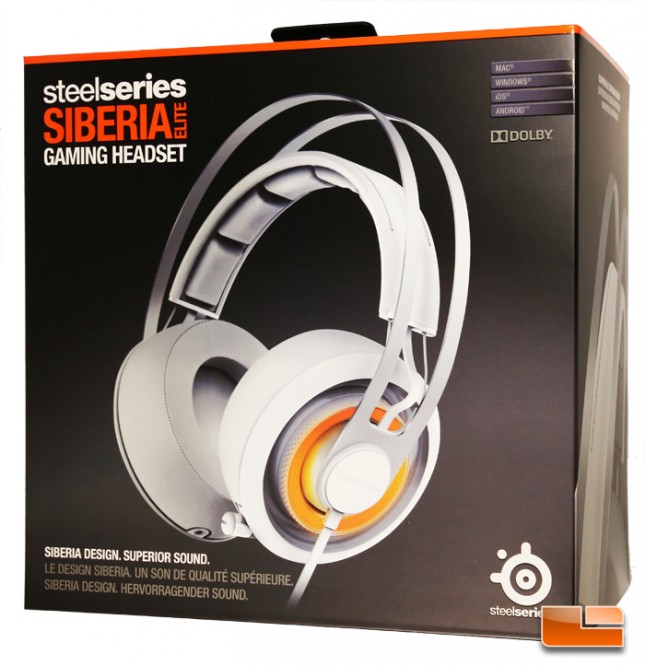 Just like how past iterations of the Siberia headsets were premium gaming headsets in their time, the Siberia Elite is one of SteelSeries's new first-class audio products and it costs a pretty penny. For $199.99 shipped on Amazon, this headset features the makings of a premium gaming headset with an aesthetic that hasn't quite been seen before. The Siberia Elite includes familiar SteelSeries design elements such as a retractable microphone and suspended self-adjusting headband found on the Siberia V2. New appearances include volume control being integrated onto the headset, the multicolor headset lighting, and the SteelSeries USB Soundcard V2 which is an actual plug-and-play portable external sound card. This headset comes in two colors, white and black, of which the former we have for review.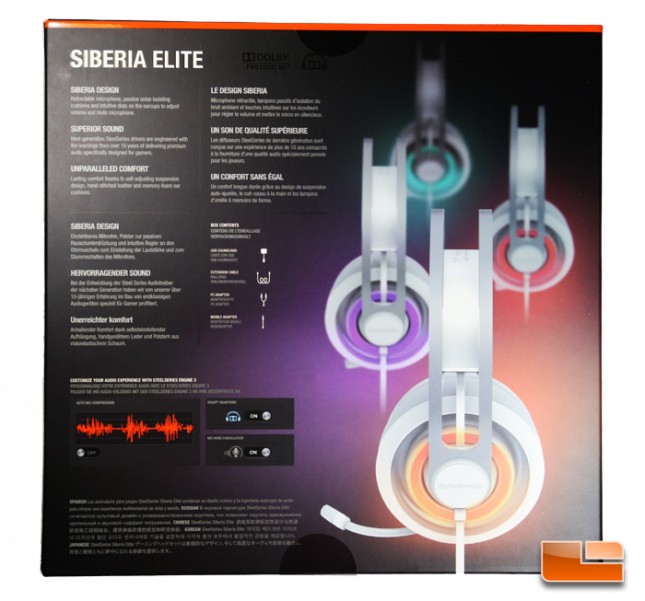 SteelSeries Siberia Elite Headset Features:
Siberia Design Retractable microphone, passive noise isolating cushions and intuitive dials on the earcups to adjust volume and mute microphone
Superior Sound Next-generation SteelSeries drivers are engineered with the learnings from over 10 years of delivering premium audio specifically designed for gamers
Unparalleled Comfort Lasting comfort thanks to self-adjusting suspension design, hand-stitched leather and memory-foam ear cushions
Customize Your Look 16.8 million colors
SteelSeries Siberia Elite Gaming Headset Specifications:
Headphones
Cable Length: 1.2m
Extension cable: 2m
Connector: 3.5mm 4-pole+3-pole x2
Microphone

Mic Patter: Uni-directional
Frequency: 75 16000 Hz
Impedance: <2.2k Ohm
Sensitivity: -38dB

2-year warranty
SteelSeries shipped this review sample in a black box with Enter the unheard printed in a large white font.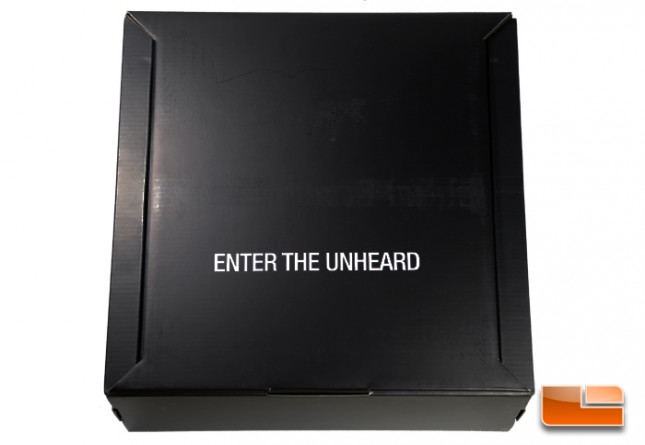 Peeking inside the big box is the Siberia Elite retail packaging.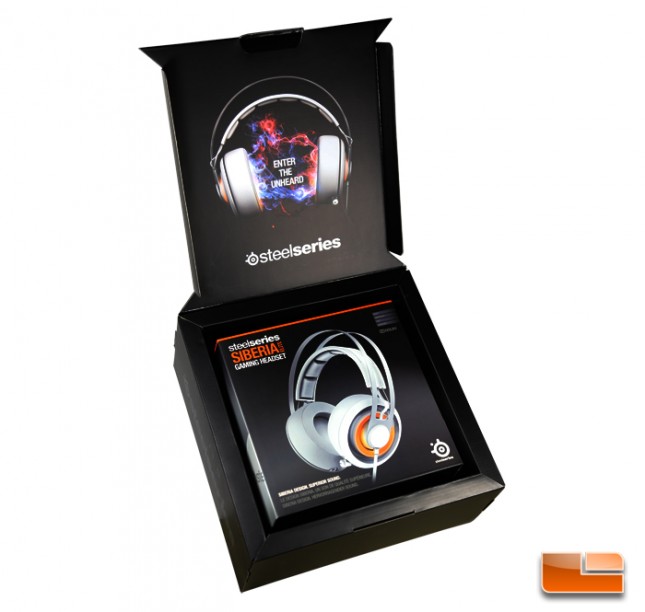 Behind the cardboard sleeve is the box which itself opens up like a shoebox and the Siberia Elite can be seen nested in a molded cradle.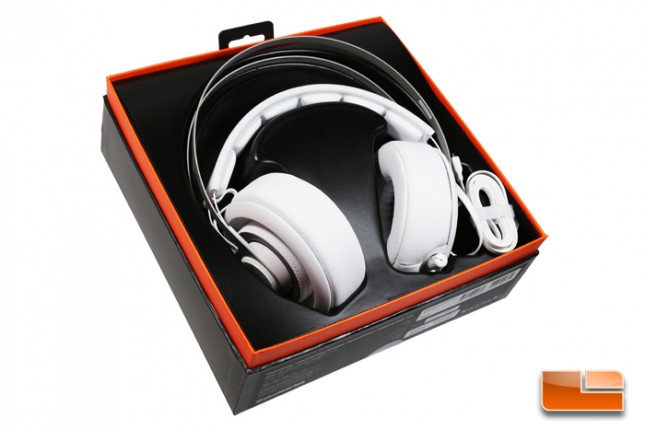 The SteelSeries Siberia Elite comes with a 2 meter extension cable, one swappable end with dual 3.5mm headphone/microphone jacks, one swappable end for mobile devices, a SteelSeries sticker, user manual, and the SteelSeries USB Soundcard V2. On the following pages, we'll further examine what's in store so keep on reading!