Spire CoolGate 2011 CPU Cooler Review
By
Spire Coolgate 2011 – Small But Mighty
Since 1998 Spire has been manufacturing and providing cooling solutions for computer manufacturers worldwide. Initially they specialized in OEM (original equipment manufacturer) and ODM (original design manufacturer) products, though as of late they have branched off into the enthusiast segment of the computer market. Spire has designed and produced products ranging from cases to power supplies and aftermarket cooling products.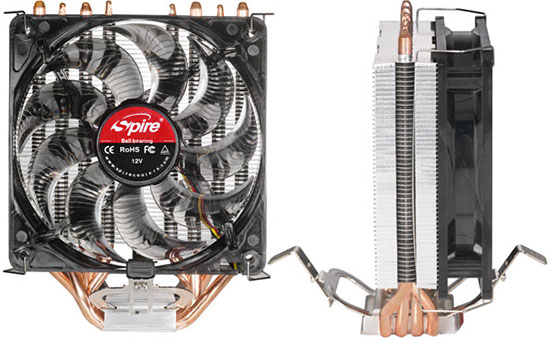 Today were going to be looking at the Spire Coolgate 2011 CPU cooler. This cooler is currently priced at just $34.29 or 21.86. The Coolgate 2011 is designed to be lightweight, compact, quiet, and most of all affordable. With four 6mm, U-shaped, copper heat-pipes its not designed to be the greatest aftermarket cooler on the market. More so to replace the loud, inefficient cooling solutions that ship with Intel and AMDs current CPU offerings.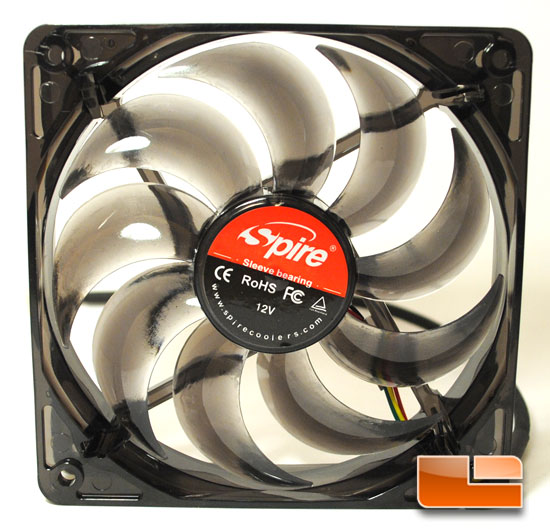 The Coolgate 2011 comes bundled with a sleeve bearing 120mm fan which has a rated speed of 800-1600 RPM and is capable of pumping out 71 CFM at 19 dBA. The included fan has a 4-pin PWM (pulse width modulation) connector. There are no LEDs on the included fan, but it is sleeved nicely so there arent any stray wires hanging around once the CPU cooler is installed.
Spire Coolgate 2011 HSF Main Features:
Four (4) 6mm all copper U-shaped sinter-powder heat-pipes
All direct touch heat-pipes with the processor heat spreader
Straight lined heat-pipes allowing air to easily pass through
50 stacked aluminum wide fins for best surface rate
120mm (universal) BlackStar 9 blade fan design
Anti-Vibe soft fan corners, spring mounted fan clips
Supports AM2/AM3/FM1 and 775/1155/1156/1366 sockets
PWM Fan speed control management for silent computing
BlueFrost SP802 Thermal compound included
Best cooling performance on hot cpu's up to TDP 130W
3 years manufacturer limited warranty
Spire Coolgate 2011 HSF Specifications:
Model: SP996S1-V1-PWM
Materials: Aluminum fins, copper heat-pipes
Dimensions: 13146153 mm (L W H) (without included fan)
Weight: 495 Grams with included fan, 375 grams without a fan
Spire Coolgate 2011 Compatibility:
The CoolGate 2011 is conform CE/ROHS & WEEE directive and compatible with ATX and MICRO ATX platforms
Intel 775/1155/1156/1366 sockets
AMD AM2/AM2+/AM3/AM3+/FM1 Sockets
Spire Coolgate 2011 MSRP: