Sapphire Nitro R9 390 8GB & Nitro R9 380 4GB Video Card Review
By
Sapphire Nitro 380 and 390 Video Cards Review
AMD decided to do a refresh of their graphics chips, rather than a complete overhaul. This has been widely publicized for sometime now that there is little to no difference in performance between the previous generation GPU and the "new" generation. So, what is Sapphire doing with the latest AMD GPU? They are taking this as an opportunity to introduce us to a new line of graphics cards called, Nitro. Sapphire Nitro Gaming Series cards are geared towards the average gamer, who is focused on getting the biggest bang for their buck but still wants to get a graphics card with top of the line features. With this new line, they are focusing on giving the average gamer what they want, high quality components, high performance, reliability and acceptable noise level.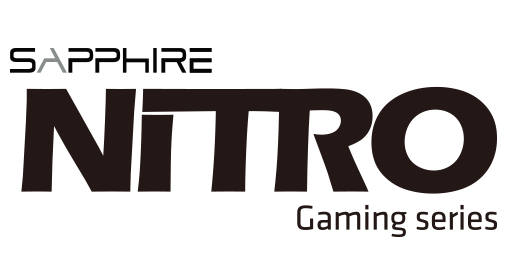 Here is what Sapphire has to Say about the Nitro Gaming Series of AMD Radeon graphics cards.
"The SAPPHIRE NITRO series boasts a range of features previously reserved for high-end cards, including long-life capacitors and award-winning Black Diamond Chokes, as well as new versions of our award-winning cooling solutions. Its elegant contours with purposeful black and gunmetal finish have been designed to suit any build. And the latest graphics architecture from AMD ensures fast, reliable gaming, performance tuned for any level of gaming. So whatever kind of gamer you are, the SAPPHIRE NITRO series offers you the maximum gaming experience for your budget."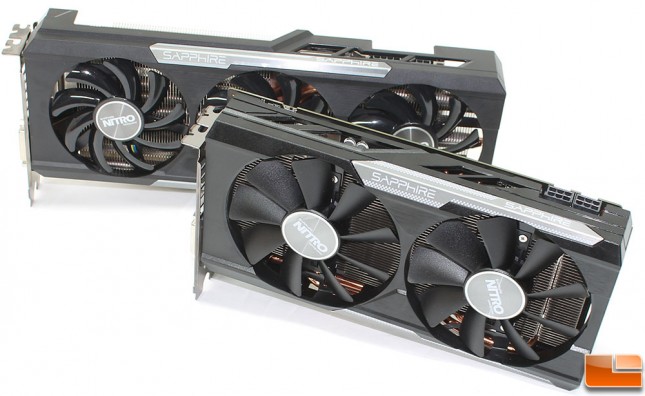 The two Sapphire Nitro R300 series graphics cards that we are looking at today are the Sapphire Nitro R9 390 8GB and the Sapphire Nitro R9 380 4GB. These cards are basically updates of the AMD Radeon R9 285 and AMD Radeon R9 290 that have been on the market for some time. In the chart below we compared the Sapphire Nitro R9 380 4GB to the Sapphire Dual-X Radeon R9 285 2GB and then the Sapphire Nitro R9 390 8GB to the Sapphire Tri-X Radeon R9 290 4GB.
| | | | | |
| --- | --- | --- | --- | --- |
| | Dual-X 285 | Nitro 380 | Tri-X 290 | Nitro 390 |
| Microarchitecture | Tonga | Tonga | Hawaii | Hawaii |
| Manufacturing Process | 28nm | 28nm | 28nm | 28nm |
| Transistors | 5000M | 5000M | 6200M | 6200M |
| Stream Processors | 1792 | 1792 | 2560 | 2560 |
| Core Clock | 965MHz | 985MHz | 957MHz | 1010MHz |
| ROPs | 32 / 112 | 32 / 112 | 64 / 160 | 64 / 160 |
| Memory | 2048MB | 4096MB | 4096MB | 8192MB |
| GDDR5 Memory Clock | 1375Mhz | 1450Mhz | 1350MHz | 1500MHz |
| Memory Bus Width | 256-bit | 256-bit | 512-bit | 512-bit |
| Memory Bandwidth | 179.2GB/s | 185.6GB/s | 345.6GB/s | 384GB/s |
| Typical Board Power (TDP) | <200W | 225W | <300W | 375W |
| Warranty | 2 Years | 2 Years | 2 Years | 2 Years |
| Launch Price | $214.99 | $219.99 | $259.99 | $329.99 |
As you can see the stuff under the hood of the GPU remains the same, but process enhancements during GPU manufacturing has allowed AMD and their board partners to increase the clock speed of the GPU and memory while not increasing the TDP of the board (Sapphire didn't give exact TDP's for the R9 200 series cards). The memory has been doubled from the original amount the the cards launched, which is one of the biggest changes on the new Radeon R9 300 series of cards. You can find a Sapphire Radeon R9 290 with 8GB of memory on it today, but the all the Radeon R9 390 cards come with that amount. The price on the cards have gone up, but most of that is due to extra memory cost.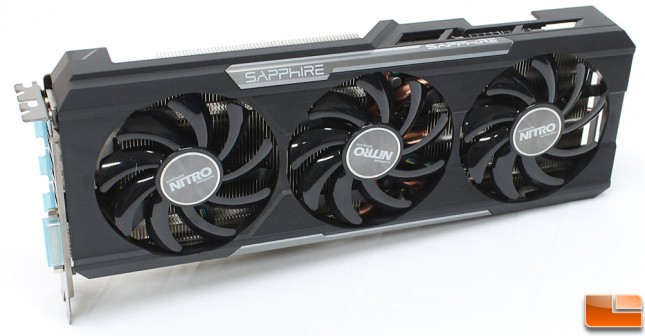 One of the first changes Sapphire made with the Nitro series, is that there will be only one card in the series for each step. If you want an AMD Radeon R9 390 graphics card, there is only one Nitro 390. Of course, there are other Sapphire 390 cards available with different features, but if you want a great AMD 390 card without focusing on the extras, the Nitro series is your choice. Finally, the Nitro 300 series brings a new way to select a graphics card, with Sapphire rating system that should take the guess work out of which graphics card is better (ie a rating of 4 is better than 3).
With the Nitro series, Sapphire is taking away flashy colors. For this reason, each of the graphics cards in the Nitro 300 series will look very similar. They will have a black fan shroud with grey highlights. The high quality components that has gone into the Nitro series includes Sapphires Black Diamond chokes, long life capacitors, dual ball bearing fans and an enhanced Intelligent Fan control system.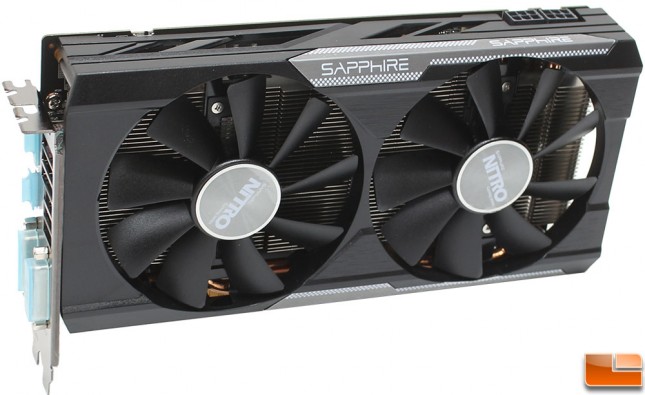 In addition to the new Nitro graphics cards, Sapphire has launched a new community website for enthusiasts and gamers. Sapphire Nation will serve as a hub for Sapphire's promotions, social media campaigns, news and reviews by fellow gamers. They already have a good amount of content available for you to take a look at, with much more planned.
Let's take a quick look at the new Sapphire Nitro cards and then get to doing some performance testing.