Samsung SSD 970 PRO NVMe 512GB SSD Review
By
Linear Write, File Transfer and Game Load Time Testing
AIDA64 Disk Benchmark
We've had some people ask for AIDA64 linear write tests to be done, so we fired that utility up to see what would happen.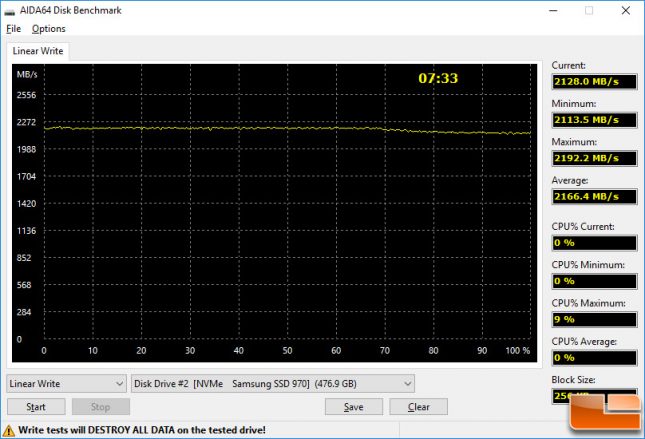 When you take a look at extended sustained write performance we found that it took around 7.5 minutes to fill this 512GB drive! The average write speed for the Samsung SSD 970 PRO was 2166.4 MB/s! Super impressive results and even more so when you find out that this test was done on an open air test bench in a room that was 74F with no air circulating or blowing over the drive. We noticed a slight dip in performance when it was around 68% full, but that dip took it from its peak speed of 2192 MB/s down to just 2114 MB/s. That is a decrease of only 78 MB/s or less than 4% of the overall linear write performance. This drive is a beast, so those looking for a drive that can handle long sustained write periods should look no further.
Real World File Transfer
Let's see how real-world was when writing a movie folder containing seven 1080P movies over to the SSD. For this test, we are going to simply stress write performance by transferring over a 30.6GB folder of movies off of a PCIe NVMe SSD to the drive being tested to see how performance looks.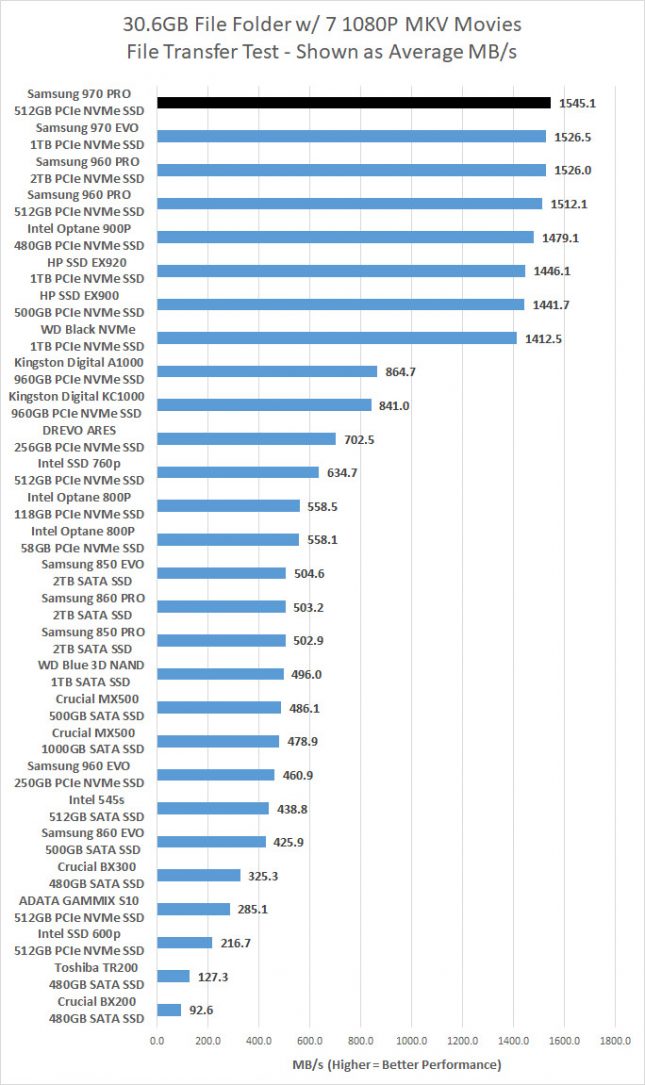 The Samsung SSD 970 PRO 512GB finished our file transfer test at 1545.1 MB/s, which makes it the fastest drive that we have tested in this workload! The Samsung SSD 970 EVO 1TB drive wasn't too far behind though.
Game Load Time Testing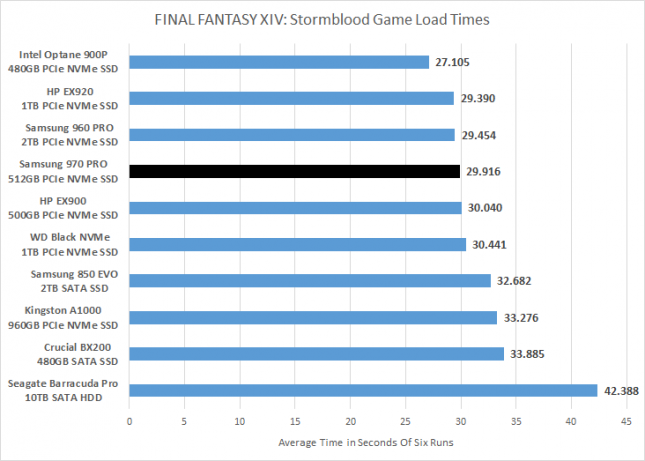 We recently added game load time testing to our test suite and haven't had time to test all the drives, but it looks like the 970 PRO 512GB is on part with the 960 PRO 2TB when it comes to game load times. Most modern PCIe NVMe drives with NAND Flash appear to load this particular game title around in around 30 seconds with the only drive really performing better is the Intel Optane 900P with 3D Xpoint memory technology.