Samsung SSD 970 PRO NVMe 512GB SSD Review
By
Samsung SSD 970 PRO Arrives Ready For Battle
Samsung has led the NVMe SSD market since the first consumer drive was released in 2015, but in recent months the NVMe market has been flooded with drives from other brands. The Samsung SSD 950 PRO NVMe series in 2015 and the Samsung SSD 960 PRO NVMe series in 2016 allowed Samsung to have the performance crown, but other manufactures have been able to catch up to Samsung this year. Samsung hopes to swat those other brands back down today with the introduction of the Samsung SSD 960 PRO successor, the Samsung SSD 970 PRO. The Samsung 970 PRO will be available starting May 7th, 2018 in 512GB and 1TB capacities. Manufacturers Suggested Retail Prices (MSRP) will be $329.99 and $629.99 USD, respectively. These drives are only available in M.2 form factor standard and use the PCIe Gen 3×4 lane interface.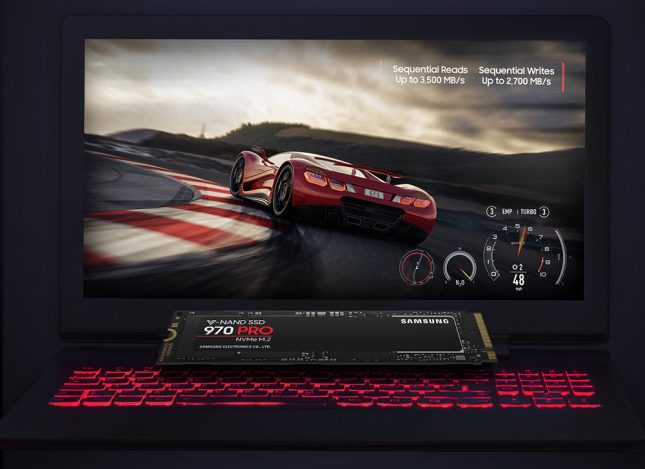 The Samsung SSD 970 PRO is still using 2-bit MLC V-NAND, but Samsung is moving on from 48-layer V-NAND used on the 960 PRO to the latest 64-layer V-NAND that they have developed. Samsung also designed a new controller for this drive that is called Phoenix. The Samsung Phoenix controller still has a 5-core design like the Polaris Controller used on the 960 PRO series, but the ARM Coretex CPUs have been updated and they run at a higher clock speed now. That higher clock speed played a crucial role in Samsung achieving faster data transfer speeds on this series. Samsung says that the 970 PRO is able to provide up to 3,500/2,700 MB/s of sequential read/write performance respectively and up to 500,000 IOPS of both 4KB random read/write performance. Lastly, Samsung is now using faster and more energy efficient LPDDR4 DRAM for cache memory over LPDDR3 DRAM that was used on both the 960 PRO and 950 PRO series. So, the 970 PRO has a new controller, NAND, DRAM cache and firmware version! Everything is new!
Samsung NVMe SSD Comparison
970 PRO
970 EVO
960 PRO
960 EVO
950 Pro
Controller
Samsung Phoenix
Samsung Polaris
Samsung UBX
Form Factor
M.2 2280
Interface
PCIe 3.0 x4
Protocol
NVMe
NAND
Samsung 64-layer MLC V-NAND
Samsung 64-layer TLC V-NAND
Samsung 48-layer MLC V-NAND
Samsung 48-layer TLC V-NAND
Samsung 32-layer MLC V-NAND
Capacity
512GB, 1TB
250GB, 500GB, 1TB, 2TB
512GB, 1TB, 2TB
250GB, 500GB, 1TB
256GB, 512GB
Sequential Read
3500 MB/s
3500 MB/s
3500 MB/s
3200 MB/s
2500 MB/s
Sequential Write
2700 MB/s
2500 MB/s
2100 MB/s
1900 MB/s
1500 MB/s
4KB Random Read (QD32)
500k IOPS
500k IOPS
440k IOPS
380k IOPS
300k IOPS
4KB Random Write (QD32)
500k IOPS
480k IOPS
360k IOPS
360k IOPS
110k IOPS
Endurance (500GB/512GB)
600TBW
300TBW
400TBW
200TBW
400TBW
Launch Date
April 2018
October 2016
October 2015
So, it looks like the 970 PRO offers up to 29 percent faster sequential speeds and 39 percent faster random speeds than those with the 960 PRO. If you haven't upgraded since the Samsung SSD 950 PRO you are looking at up to 80 percent faster sequential speeds and up to 3.5x faster random speeds! If you are still running a hard drive, SATA SSD or one of the first PCIe SSD models the performance differences will be even greater. The Samsung SSD 970 PRO is aimed at enthusiasts looking for the best drive around and those that are willing to pay the premium for a 2-bit MLC NAND drive over a 3-bit MLC NAND drive. The endurance on the Samsung PRO series has been increased for the first time in years. Samsung has a 600TB TBW (Total Bytes Written) rating for the 512GB version and 1,200TB TBW for the 1TB version. That means the TBW rating of the 970 PRO for each capacity is 50% greater than the 960 PRO series, but the warranty remains the same at 5-years.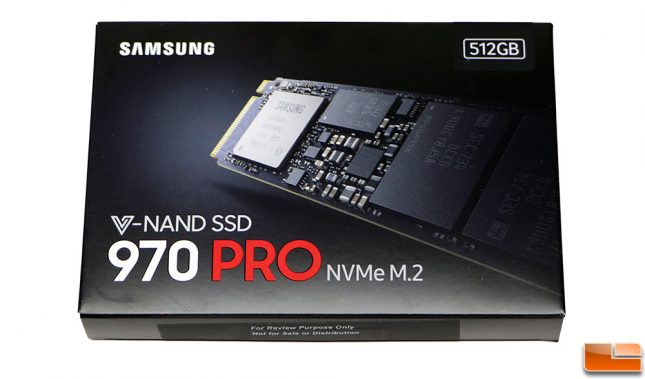 Samsung SSD 970 PRO Performance, Endurance & Pricing:
Model
MZ-V7P512
MZ-V7P1T0
Capacity
512GB
1024GB
Cache
512MB LPDDR4
1GB LPDDR4
Controller
Samsung Phoenix
2bit MLC NAND
Samsung 64-Layer
Max Sequential Read
3,500 MB/sec
Max Sequential Write
2,300 MB/sec
2,700 MB/sec
4KB Random Read QD1/1T
15,000 IOPS
4KB Random Write QD1/1T
55,000 IOPS
4KB Random Read QD32/4T
370,000 IOPS
500,000 IOPS
4KB Random Write QD32/4T
500,000 IOPS
Avg. Active Read
5.2W
Avg. Active Write
5.2W
5.7W
Idle (ASPT on)
30 mW
DevSLP Power (L1.2 mode)
5 mW
MTBF
1.5 million hours
Endurance / TBW
600 TB
1200 TB
Warranty
5-Years, Limited
MSRP in USD
$329
$629
The exact model that we'll be testing today is the Samsung SSD 970 PRO 512GB that is sold under part number MZ-V7P512 for $329.99 shipped or $0.64 per GB. This is the smallest capacity available for this series as has slightly lower speeds than the larger 1TB model. There is no Samsung SSD 970 2TB model at this time as the demand for the 960 PRO 2TB model was not that high. The Samsung SSD 970 PRO 512GB drive has sequential speeds of 3500 MB/s read and 2300 MB/s write. With regards to 4K Random Read/Write performance, you are looking at 370k IOPS read and 500K IOPS write. These speeds aren't as glamorous as the 970 PRO 1TB model, but they are still damn fast.

The Samsung SSD 970 PRO has a black PCB design with a black label covering the major components. One interesting thing that you might have noticed from the image above is that the top of the controller is now silver. Samsung enhanced the thermal solution on this drive by nickle coating the Phoenix controller to help dissipate heat faster in order for the drive to maintain peak performance speeds for as long as possible.

The back of the Samsung SSD 970 PRO doesn't have any components on it since this is a single-sided 'gum stick' drive, but there is a special sticker on the back that has thin copper film inside to help dissipate heat. Samsung says that the new components along with the nickle coated controller have allowed for better thermal performance. The algorithm Samsung uses to trigger the Enhanced Dynamic Thermal Guard (DTG) has been also been raised. Internal testing done by Samsung has shown that the 970 PRO is able to transfer 27 percent more data or about 67GB of data by a sequential write operation before the DTG trigger point is reached and performance is throttled.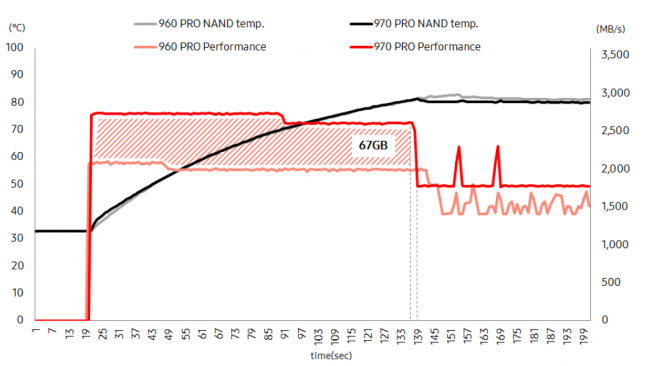 If you peel the label off the front of the 970 PRO you'll find two 64-Layer Samsung MLC V-NAND chips, a Samsung DRAM IC and the Samsung Phoenix controller.

The Samsung SSD 970 EVO series has an AES 256-bit hardware-based encryption engine built-in to ensure that your personal files remain secure and is TCG Opal v2.0 and Encrypted Drive-IEEE1667 (MS eDrive) compliant. Samsung has also launched Samsung NVMe Driver 3.0 with the released of the 970 series. This driver should be used on all Windows builds over the built-in driver for optimal performance, but also allows the 970 PRO to work properly on Windows 7 for those that still don't want to move to Windows 10. Samsung Magician and Data Migration Software are included with the 970 series, but have no new features introduced.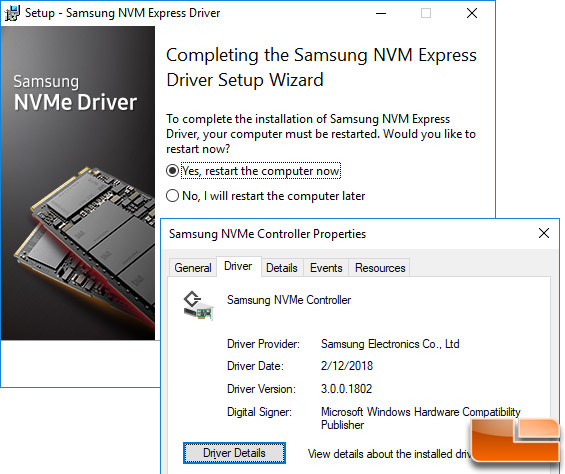 Now that we've covered all that, let's take a look at the test platform and get straight to the benchmarks!